Governors are paying more attention to technology than ever before
Between rural broadband investment and emerging technologies that can transform government operations, state executives are tuning in to the latest trends.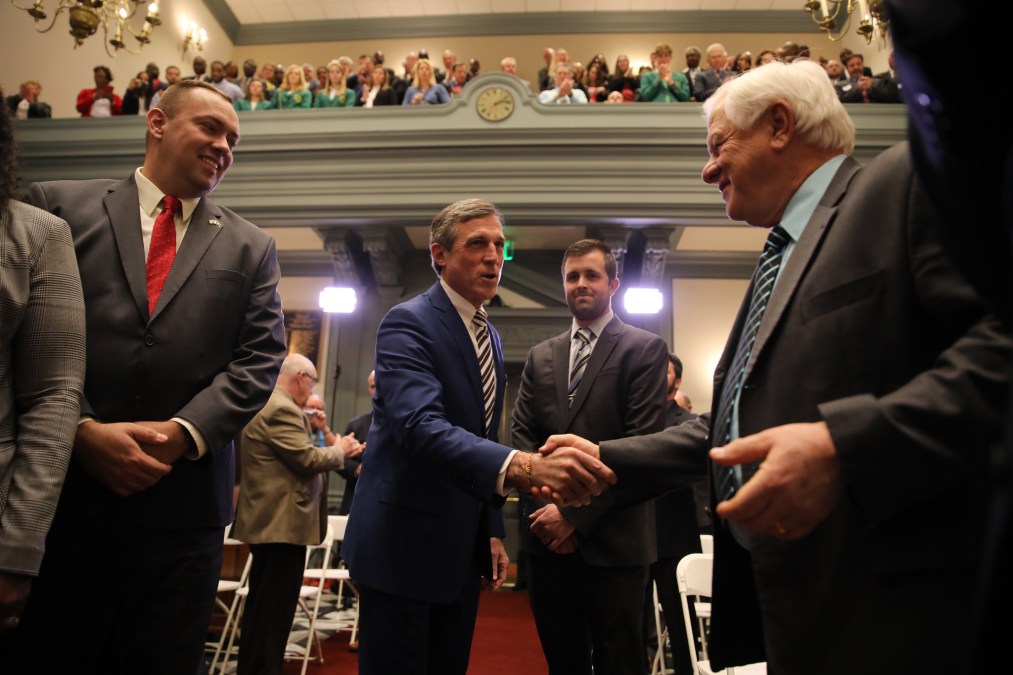 Until a few years ago, work related to technology in state government was mostly limited to back-office information technology shops. But emerging technologies are now taking center stage as governors see the role they can play in supporting the economy and recognize the necessity of digital connectivity in creating a resilient workforce.
At least 18 governors mentioned substantial investments to rural broadband in their state of the state addresses, according to a Brookings Institution report published Tuesday. Even in 2013, just six governors mentioned the topic.
Brookings credits governors' growing interest in broadband in part to the Federal Communications Commission's $2 billion Connect America Fund. Using grants from the fund, several states are looking to expand internet access in rural areas. Missouri will receive $255 million from the fund over the next 10 years, California will receive $149 million, and Virginia will receive $109 million.
Other states have announced their own initiatives. Both Oregon and Washington recently opened offices to coordinate and support rural broadband efforts, along with $5 million and $25 million allocations for broadband expansion, respectively. Oregon is looking for ways to boost its rural expansion fund, most recently with a proposed tax on wireless service, which is being criticized by large wireless providers as unfair to consumers.
Indiana Gov. Eric Holcomb announced a $100 million dedication to broadband expansion in his state last month, noting that "internet is just as essential to Indiana's prosperity today as highways were a century ago."
Populations without access to wired or wireless broadband connections are shrinking as now more than 92 percent of the American population can access a high-speed connection, according to the FCC's 2018 broadband report. State investment in broadband is also causing connection speeds to rise in grade schools across the country as 88 percent of American schools meet now meet the federal government's short-term connectivity goal of 100 megabits per second per 1,000 users, according to the FCC.
The advent of fifth-generation wireless technology now has states increasingly seeking to connect residents to the internet without laying new cable. Both South Dakota Gov. Kristi Noem and Connecticut Gov. Ned Lamont have outlined the use of 5G to connect underserved communities and to attract companies to their urban centers.
All-digital and citizen-friendly
Inside government, governors are looking to new technologies like blockchain to modernize operations and embracing trends like IT consolidation that until recently were relatively arcane practices touted only by chief information officers.
North Dakota Gov. Doug Burgum is standing behind the state's continued IT consolidation efforts, which are now extending to the state's cybersecurity operations. The tech-entrepreneur-turned-politician claimed in his address these efforts have saved the state $500,000 in operating costs so far.
Connecticut Gov. Ned Lamont announced plans to create "the first all-digital government," an echo of calls heard for years from many CIOs who have sought to create online systems that would allow state residents a single-point-of-entry for all government business.
In Ohio, Gov. Mike DeWine put his lieutenant governor, Jon Husted, in charge of a new office called InnovateOhio, which is tasked with using technology to improve government services, including training programs for industrial workers to learn robotics and more data sharing between agencies.
"We want to make government more customer-service friendly, improve outcomes and save money, use data analytics and determine what things work best," Husted told StateScoop in January. "But to do it, particularly for a Midwestern state, we have to be attractive to talent and become a more innovative state."
Though many of these initiatives a mere rebranding of old ideas, their elevation to the executive office means greater financial support and greater chance of success. Each governor also seems to have a different take of how technology can improve their state.
Noem aims to modernize South Dakota's public meetings with the use of streaming services and a new website to more easily navigate the agenda. Oklahoma Gov. Kevin Stitt wants to put $20 million toward agency service modernization and data analytics. Delaware Gov. John Carney is going offer cash incentives "to state employees who come up with and implement innovative, cost-saving initiatives."
Arkansas Gov. Asa Hutchinson, who announced in his January address a new workgroup to study cybersecurity, data analytics and blockchain technology, is shaking up his state's organizational structure by reducing 42 cabinet agencies to just 15. The state's technology offices will be relocated in a new department that's to play a central role in the effort.
As Arkansas CIO Yessica Jones told StateScoop when the initiative was announced last year, managing transformation and innovation is what technologists do.