FCC looks at alternatives to support rural broadband expansion
The chief of the FCC's Office for of Strategic Planning and Policy Analysis delivers a call to action for states to help expand broadband access.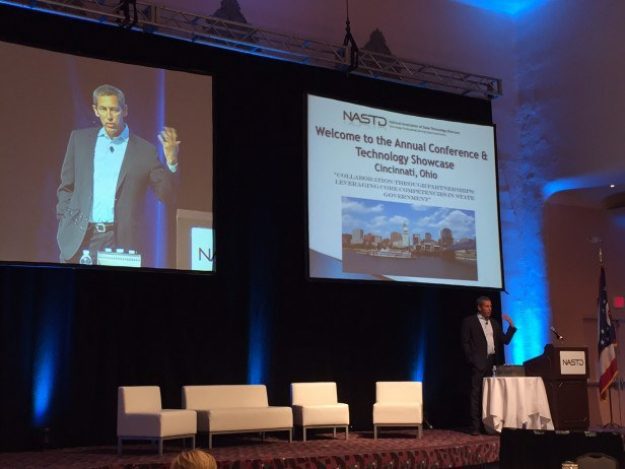 CINCINNATI — The Federal Communications Commission has a message for states with rural areas that still lack access to broadband Internet connections.
"If you don't have broadband in a rural area by now, maybe it's time to rely on somebody other than a telephone company," Jonathan Chambers, chief of the FCC's Office of Strategic Planning and Policy Analysis, said here Wednesday in a presentation at the annual conference for the National Association of State Technology Directors. "Cable providers aren't building out in rural areas."
Telecom companies have historically led the charge to expand high-speed Internet nationwide, but they've moved more slowly in remote areas, he said. And with a deadline looming tomorrow for telecom providers to accept, or forgo, FCC funds for rural broadband expansion as part of the "Connect America Fund," he's not optimistic companies like Verizon and AT&T will step to the plate.
"They make more money in wireless than they will building out fiber to rural areas," Chambers said. "It's their decision and an appropriate decision for them. But that doesn't mean that people in rural areas ought to just live with whatever gets deployed to them."
Instead, he wants to see state and local governments take the lead in pushing for this change.
"In rural areas, let communities build their networks; the cable companies, the telephone companies, won't," Chambers said. "Invest in co-ops, find the way to do it, make the money available."
Chambers' vision is to provide millions of homes in these rural areas with a "10-1 connection," meaning that people will have access to Internet with speeds of 10 megabits for downloads and 1 MB for uploads.
But he said that likely won't be possible with the limited help they'll be receiving from smaller telecom companies. Now he wants to see others fill the void and take on the project.
"In the areas where they turn down the support we're offering, we'll make that money available through a reverse auction system for any entity that's willing to build a fiber network," Chambers said.
"And what we'll find out as a nation over the next several years is whether others will step up, whether communities will step up, whether some rural telephone co-ops might step up and go outside their territory, whether some rural electric co-ops might step up and build fiber networks."
Chambers pledged the FCC will make the economics of the project "inarguable" with these federal funds, but beyond the dollars and cents, he views broadband expansion as a necessary mandate for states and localities.
"People in rural areas shouldn't stand for something that's less than other people have grown to expect," Chambers said. "I've had fiber in my home for 14 years, I wouldn't move somewhere where I couldn't get a fiber connection, I wouldn't expect my kids to move somewhere where they couldn't get a fiber connection, and if I were in a rural area, I wouldn't stand for it."
Now Chambers said the FCC is eager to start moving the project forward, calling these next few years "a time to build."
"We're looking for partners in doing this, we're looking for partners that have the same vision," Chambers said.