Digital driver's licenses solve problems of convenience and security, officials say
Maryland and Wyoming are wrapping up pilot programs exploring digital, mobile driver's licenses and preparing to offer them to the broader public.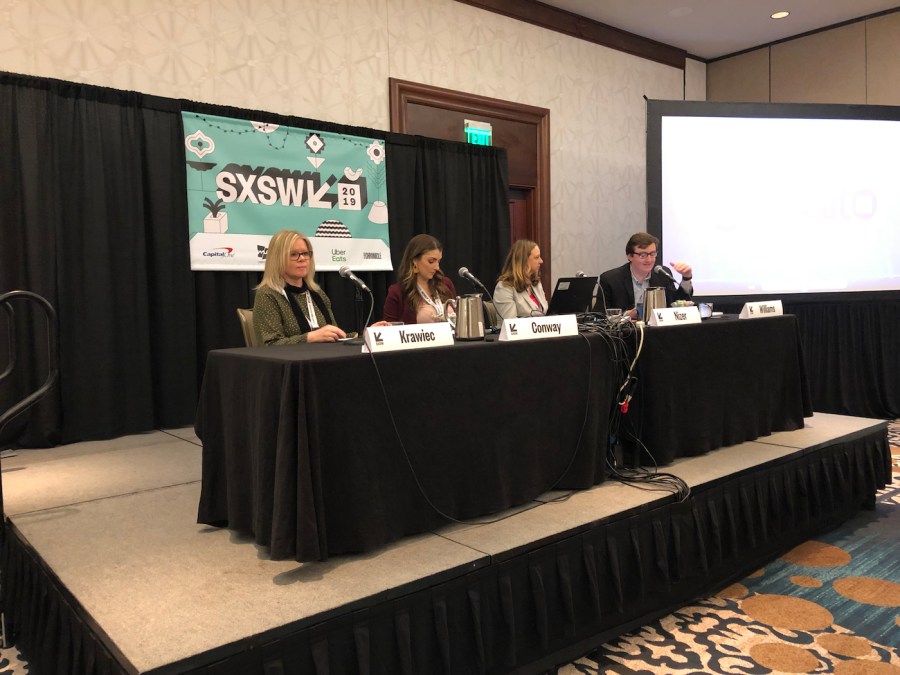 Driver's licenses are perhaps the government-issued document individuals rely on the most, but as government services are increasingly digitized, licenses themselves remain firmly analog. But that could be changing, said transportation officials from Maryland and Wyoming, both of which are testing the adoption of digital licenses that allow residents to carry a secure form of identification on mobile devices.
Renée Krawiec, of the Wyoming Department of Transportation, and Christine Nizer, of the Maryland Motor Vehicle Administration, made the case for moving off plastic cards and toward mobile apps during a session Monday at the South by Southwest conference in Austin, Texas. (The panel was moderated by StateScoop associate publisher Jake Williams.)
Krawiec's and Nizer's departments are both wrapping up pilot programs in which agency employees and members of their families volunteered to use digital driver's licenses on a mobile device instead of their physical licenses. In both states, participants found it easier to conduct transactions that require verifying identity, they said. The digital licenses were accepted at bars, liquor stores, casinos and in simulated traffic stops. During the pilot, however, participants were required to retain and carry their physical driver's license as well.
One of the biggest appeals of a digital license, Nizer said, is that it can be verified through scanning a QR code the user generates on an app, while information on a traditional card like date of birth, home address, height and weight can remain concealed.
"There's no reason the person at the liquor store should get your address, birth date and driver's license number," she said.
Tiffany Conway, a marketing director with for Gemalto, a software firm that developed the digital licenses, said they are more adaptable to changing security threats than their physical counterparts.
"States work really hard to put security features on and make physical credentials safe," she said. "But renewal periods can be five, eight years. There's really not an opportunity to add physical credentials. But with a digital ID you can make updates."
Digital driver's licenses could also help resolve inconsistencies between different government-issued documents. Krawiec, noting that Wyoming has a relatively large population of commercial long-haul drivers, said that while commercial driver's licenses expire every four years, the medical certifications the state requires of truckers lapse after two years. But with a digital license app, she said, the state could send truckers a nudge that it's time to renew their medical forms.
"With them on the road all the time, they don't get mail that often," she said.
Digital driver's licenses could also be used to speed up the application process for other government-issued credentials. Krawiec said her department is working with Wyoming's Game and Fish Department to use the digital driver's licenses to verify applicants for hunting licenses and with the Division of Criminal Investigation on concealed-carry weapons permits.
Other states have toyed with digital driver's licenses, including Florida and Delaware. Louisiana officials last year rolled out an app that gives residents a digital replica of their licenses, though the app is still verified visually, not a digital scan.
But there are security concerns that come with turning government-issued identifications into lines of code on a mobile phone. The digital licenses in Maryland and Wyoming are stored in "isolated encrypted buckets" on holders' phones separate from other data, Conway said.
"It's not in with your photos," she said. "We take into consideration the enrollment process.
The application process is also just as rigorous as a traditional trip to the DMV.
"This is a government-issued document," Conway said. "You can't just sit on your couch and take a selfie and say 'I want an ID.' "
Both states are also in the process of seeking legislative endorsements of their digital license programs before they're rolled out beyond the agency volunteers. The Maryland House of Delegates recently passed a bill supporting the new licenses, Nizer said. Krawiec said her department reviewed Wyoming's laws and concluded there was nothing preventing it from expanding its initiative, but she is still hoping for "legislative buy-in."
"Long term this is about issuing digital credentials," she said.
Editor's Note: This story was updated to clarify details about the digital driver's license pilot.