Drivers in Louisiana can now show police their ID on an app, instead of a card
The state is the first in the nation to launch a digital driver's license.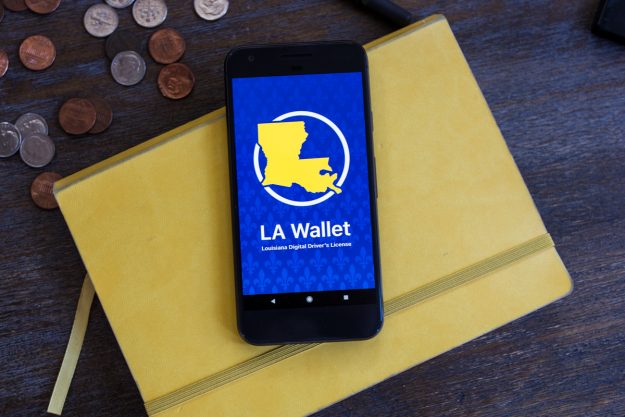 Louisiana is the first state to permit the use of a smartphone-based driver's license, the office of Gov. John Bel Edwards has announced.
"Most people never leave home without their smartphone and with this App, they will never be without their driver's license," Edwards said in a press release last week.
Several states have tested digital driver's licenses or ID cards in limited pilots, but the launch of the LA Wallet app on iOS and Android platforms — on June 26 and July 2, respectively — makes Louisiana the first state to open the technology for everyday use to the general public.
By downloading the app and paying a fee of $5.99, users can now legally present the image of their driver's license or ID card at traffic stops or checkpoints, instead of presenting a physical card.
The governor says state police requested a "hands-off procedure" that allows officers to validate a suspect's credentials without touching the individual's phone, owing to Fourth Amendment considerations.
A key benefit of the digital ID is that updating information such as the cardholder's address, for instance, can be performed without the need to print and wait for a new card.
If the user's phone is lost or stolen, the ID can be unlinked from the device through a website. To prevent forgery, the app contains a feature similar to the holograms and seals printed on the state's physical ID cards.
"When requested to validate the authenticity of a digital license, a user can press and hold the screen on their device and a Louisiana State Seal overlay appears on top of the license," the program's website reads.
The Louisiana-based software company that develops the app, Envoc , says it has taken "every security measure" to ensure that users' personal information is safe.
"All communication to and from the app is encrypted over https connections, and the app was not only tested by Envoc's expert quality assurance team but also a third party for additional security," the website reads.
The digital credential is active through the life of the user's driver's license or ID card. When a card expires, users are required to pay another $5.99 fee to reactivate it. The 2016 state law that permits use of the technology also puts a maximum fee of $6 on app installations.
According to the app's website, the state legislature is now reviewing how the technology could eventually be used to pass through airport security, for alcohol and tobacco purchases and use in other states.