Written by
Colin Wood
Jason Clarke, the chief operating officer at the Delaware Department of Technology and Information, has been named as the state's new acting chief information officer, officials confirmed Tuesday.
Clarke, who joined DTI as a customer relationship specialist in 2007, is filling in for James Collins, who stepped down this month after six years as the state's top technology official and two decades in state government for a role with Microsoft. Before joining DTI, Clarke spent six years as a product consultant at Bank of America. According to the DTI website, Gov. John Carney selected Clarke for the CIO role because of his "willingness to take on challenges and ability to build rapport with customers and combine policy with process to continuously improve delivery of services."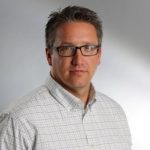 Clarke now heads a statewide technology agency of 300 staff, heading broadband expansion efforts, managing the state's approximately 3,600 applications and assisting in the state's coronavirus pandemic response efforts.
The governor's office on Tuesday also announced the launch of a new contact-tracing app, called COVID Alert DE, that was developed by the developer NearForm. Delaware's app, like those made by a growing number of states, relies on the API jointly developed by Google and Apple. In a press announcement, the state encouraged all its residents to download the app to assist its efforts to better understand how the disease spreads and to warn those who may have been exposed.