Data-science collaboration in LA earns global smart-city award
Los Angeles was the only U.S. city to be recognized this year, honored for its work with colleges and universities promoting data-driven decision making.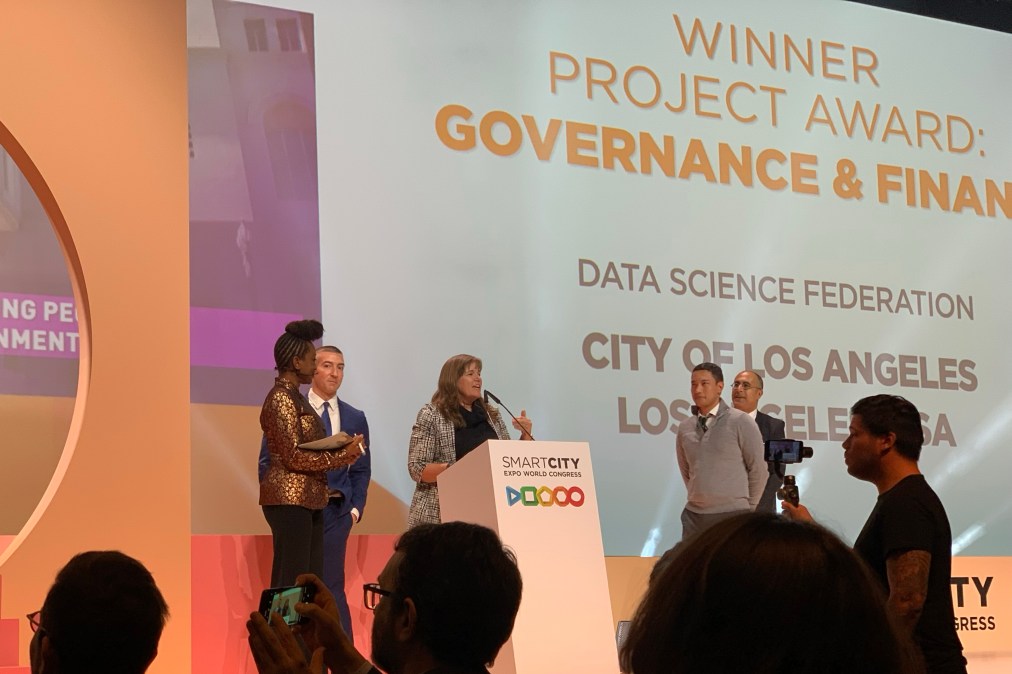 A program that encourages collaboration between the City of Los Angeles and its educational institutions has been recognized as one of the world's top smart-city projects. The Data Science Federation, a partnership between the 2nd-largest U.S. city and 18 of its colleges and universities, was awarded the Governance & Finance Award by the Smart City Expo World Congress conference in Barcelona, Spain this week.
The federation, launched in 2017, promotes data-driven decision making in city government and provides educational opportunities for students from underprivileged neighborhoods. Jeanne Holm, the city's deputy chief information officer, accepted the award on behalf of the city on Wednesday.
"It's homework for their hometown," Holm said of the federation. "Just a huge thank you to every city department out there who tries new things, creates new data and for every teacher in the classroom helping kids understand data science."
Los Angeles won out over a municipal big data project in Huzhou, China, and a conversational artificial intelligence partnership between 70 cities in Norway.
Los Angeles was the only U.S. city to win in the World Smart City Awards, which presented eight awards to cities and companies this year. Hexagon Geospatial, a digital mapping company headquartered in Madison, Alabama, won the Urban Environment Award for its work with the Italian public utility Hera, using data from satellites and operations to trigger predictive maintenance for sewer systems.
The World Smart City Awards 2019 winners:
City of the Year — Stockholm, Sweden
Innovative Idea Award — FCC Environment (UK) Limited
Digital Transformation Award — Yingtan, China
Urban Environment Award — Hexagon Geospatial
Mobility Award — La Paz, Bolivia
Governance & Finance Award — Los Angeles Data Science Federation
Inclusive & Sharing Cities Award — Buenos Aires, Argentina
Other American projects have been recognized in years past. Atlanta's Smart Corridor project won the Mobility Award in 2018. Marketplace.city, an American website that allows cities to browse and rate vendors, won the Innovative Idea Award in 2017. New York City won the City Award in 2016 for building "a smart and equitable city."
Editor's Note: The travel expenses for StateScoop to provide news coverage of the Smart City Expo World Congress in Barcelona, Spain, were paid for by Mastercard.