Countering disinformation a hemisphere-wide conflict, officials say
Disinformation that undermines democracy and trust in government is an international challenge, speakers at the Cities Summit of the Americas said.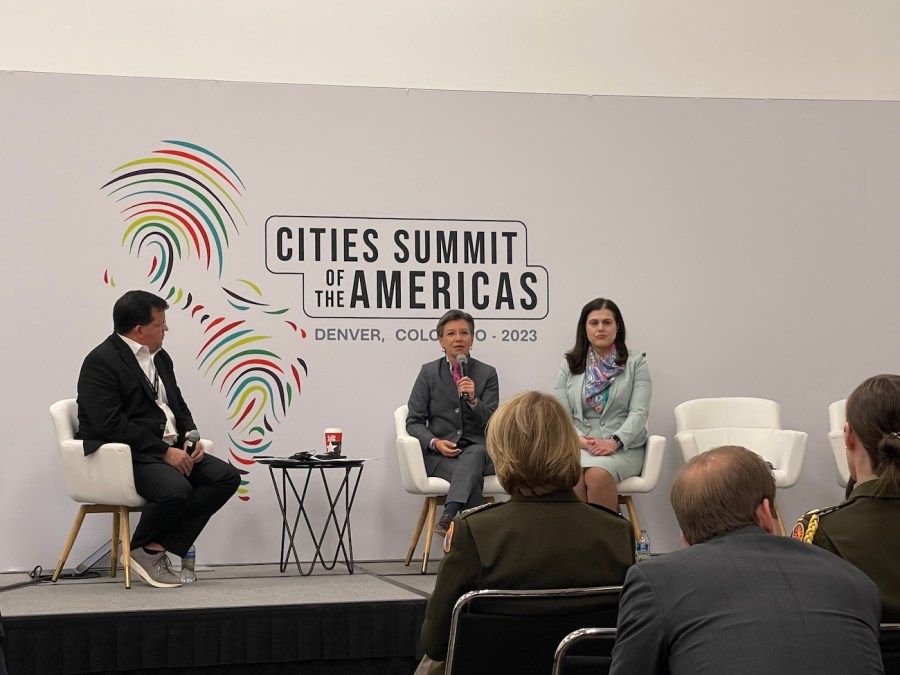 DENVER — A barrage of state-sponsored and conspiracy-fueled disinformation is a conflict occurring up and down the Western Hemisphere, forcing governments to come up with new ways to beat back messaging that undermines democracy, threatens public health and antagonizes, U.S. and other officials said Friday.
Speaking the inaugural Cities Summit of the Americas, an international conference put on by the State Department, Army Gen. Laura Richardson, the commander of U.S. Southern Command, said the same kinds of disinformation campaigns that actors in Russia and other adversarial nations have attempted for years in U.S. elections are prevalent across the rest of the Americas.
Among the messages these sources spread, Richardson said, are those that "prop up authoritarian candidates and discredit the candidates that support democratic values." She also said Kremlin-backed channels attempt to undermine regional stability by stoking fears of military action in a region that shares a complicated history with the United States.
"Russia spreads conspiracy theories that the U.S. and regional allies are planning to invade and overthrow governments, which hinders our ability, all of our ability to resolve regional security challenges together," Richardson said. Two Russian government-sponsored networks — RT and Sputnik — have a combined audience of 31 million in Latin America, the general said.
Richardson said Chinese-aligned media is also active in the region, attempting to play down illegal fishing operations and fueling suggestions that COVID-19 originated in the United States. And while she said efforts — between Southern Command, regional governments, academia and non-governmental organizations — have seen some success in correcting false narratives through information-sharing agreements, much remains to be done.
"Our adversaries hate to be called out and they hate to be exposed," she said. "Messaging early and often informing citizens of the problem and being transparent and truthful, will allow you to control the narrative. Otherwise, the fake news agencies will tell your story for you and undermine your efforts."
Governing in a time of frustration
At the state and local level, getting citizens accurate information is easier said than done. During a panel discussion following Richardson's remarks, Colorado Secretary of State Jena Griswold said an anti-disinformation unit her office created in 2020 to address falsehoods about voting equipment and procedures has had local success, but that disinformation remains rampant for election officials nationwide, seeping into voting laws and sparking illegal behavior.
"It has affected every aspect of election administration and my job," Griswold said. "Laws to suppress the right to vote have been passed. Local election administrators have compromised their own voting systems. It has led to political violence, which just four, five years ago was something we would've said only happens some place else."
Colorado last year enacted a new law, backed by Griswold, increasing the penalties for tampering with election procedures and equipment. The law was inspired by the case of Tina Peters, who in 2021 while serving as clerk in Mesa County, a Republican stronghold, was charged with allowing an unauthorized individual to remove election data that was later presented at a conference celebrating conspiracy theories about the 2020 presidential election.
Peters was sentenced earlier this month to 30 days of home confinement in a separate obstruction of justice case; a former employee of Peters' was sentenced this week to 30 days in jail for her role in the tampering case. Peters faces seven felony counts related to the tampering case in a trial set to begin this fall.
Griswold's co-panelist, Bogota, Colombia, Mayor Claudia Lopez, said the past few years have made it more difficult to gain citizens' trust. Lopez said that during the first year of the pandemic, the Colombian capital city lost 1.1 million jobs and overall poverty doubled, with extreme poverty rates tripling.
"We have to govern in time of frustration," Lopez said. "I think the first thing to confront is to offer truthful information at all times with empathy, respect and hope, because that's what people need."
'Never surrender'
Lopez said her region lacks mechanisms for elected officials to share intelligence on disinformation campaigns and collaborate on pushing back against it. While the U.S. Department of Homeland Security — and several states, including Colorado — have well-established programs for communicating about disinformation threats, Lopez said that's one thing she doesn't talk about with her fellow mayors.
"I have a lot of sharing with my colleagues, working together on violence, education, vaccinations, climate change, but not disinformation," she said. "We have to confront disinformation, making people aware they are under attack not from missiles or guns. This is a topic that is waiting to be more prevalent among Latin America mayors."
Speaking later with StateScoop, Griswold said her office's anti-disinformation efforts, including Spanish-language broadcast and social media messages directed at Colorado's Hispanic voters, have bolstered trust in the state's election systems.
"It's adding that critical thought and then alerting Coloradans of the prevalence of disinformation and pointing them in the right direction of where to get good information on elections," Griswold said.
Griswold's office told StateScoop that mail-in ballots — a consistent target of 2020 election deniers — accounted for more than 95% of all votes cast in 2022, regardless of party registration.
"Don't wait for the disinformation to reach you. Be proactive," Griswold said during the session with Lopez.
The Bogota mayor offered her own strategy on combatting disinformation: "Never surrender. They want to make us all crazy and angry and fearful."