Cities need collaboration to deliver more inclusive services, CIOs say
A handful of city leaders are trying to make services more inclusive and equitable by working together and learning from each other.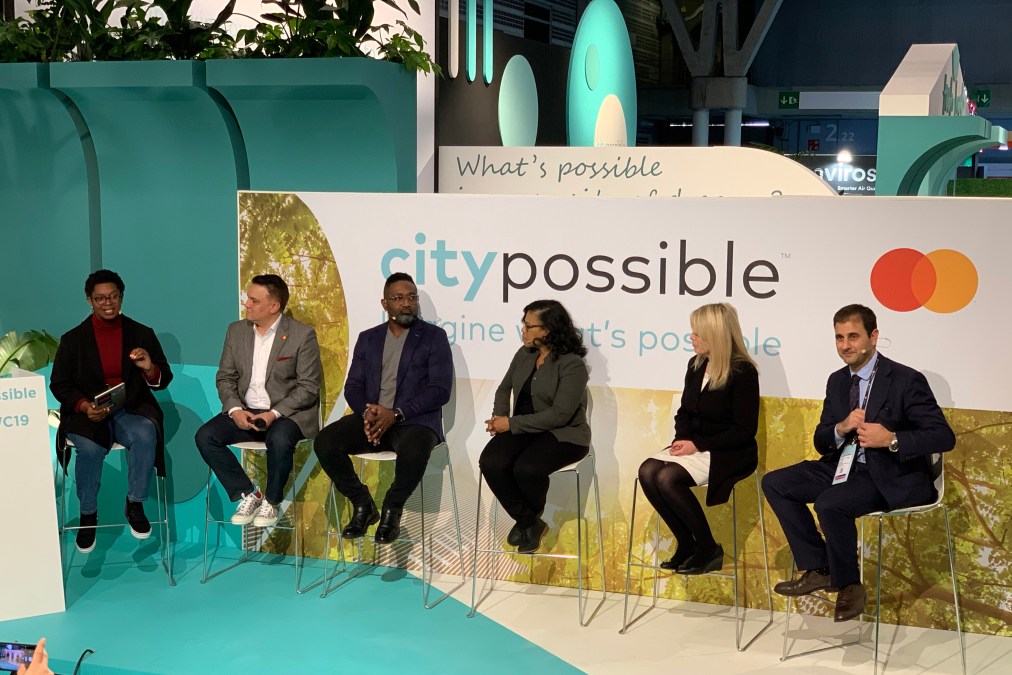 For city leaders looking to build more inclusive government services, learning from each other and working together are key, current and former city officials said at a conference Tuesday.
New Orleans Chief Information Officer Kimberly LaGrue said that, for her, building a more equitable city means using data to make decisions about how best to serve low-income residents.
"We used data on who we were as a city [and found] that 60 percent of our low-income residents don't have access to broadband," LaGrue said on a panel at the Smart City Expo World Congress in Barcelona.
With that information, LaGrue said the city knew it should be intentional about how to manage digital infrastructure across the city and establish programs designed with all residents in mind.
The city also knew collaboration was a must, she said. Looking at examples of collaboration in other cities, like Washington, D.C. and Chicago, LaGrue said the city established offices in low-income areas of the city to help residents repair their devices and get connected to the internet.
Through running those centers, she said, city leaders affirmed that mobility and transportation were key parts of breaking down the digital divide.
"We're not going to bridge the digital divide if we don't provide resources," LaGrue said.
City Possible — a group housed within Mastercard's Global Cities division that promotes collaboration between city governments, the private sector and academia — helped the city explore how launching a municipal ID card might help its residents. The card could allow residents to more easily access city services, serve as a form of identification for those who struggle to get a state ID and even potentially offer low-income residents the opportunity to access financial services.
"This partnership really helped us to flush out what our ideas could be around a program, so it wasn't just getting a card, it wasn't just about the technology, but we also talked about people being under-banked and having solutions that give them access to financial resources," LaGrue said. "It was really important for us to not just bring a technology solution along, but bring our residents along with it."
Miguel Gamiño, executive vice president of Mastercard's Global Cities and former NYC chief technology officer, said inclusivity is about bringing cities and companies together and allowing collaboration to drive progress.
"City Possible is not [a non-governmental organization], it is very firmly rooted in the private side of the business, because we're directed to take these discussions into action," Gamiño said. "That's a good thing. It means we're not just going to leave this event and feel finished. We are again compelled to follow up and carry this into action."
Ugo Valenti, the director of Smart City Expo World Congress, said collaborations like Mastercard's are important and represent a shift in the conference's focus, from being more about technology to conversations about inclusion.
"We want to make sure that every day more and more cities apply to these types of programs so they can share and collaborate with each other," Valenti said. "We're going to build something together so that we can deliver this to the whole world. We need to go beyond public-private partnerships. We need to go to public, private and people partnerships. That's the most important thing."
Michael Pegues, CIO of Aurora, Illinois, said that if localities can be more inclusive, the conversation about inclusivity can move up to the state, national and even global level.
"We talk about a city like Aurora being the second-largest city in the state of Illinois," Pegues said. "Our government is a lot more agile than the City of Chicago. If we can take the lead and lead boldly at our level, then we can set the model for our major metropolitan areas, making sure that we understand that if we start local and we go regional and we go global, we pull our communities forward as well. That's how you be inclusive."
Editor's Note: The travel expenses for StateScoop to provide news coverage of the Smart City Expo World Congress in Barcelona, Spain, were paid for by Mastercard.