Chicago's environmental sensor network is getting an upgrade
City officials behind the 130-device "Array of Things" plan to greatly expand the capabilities of the mesh network.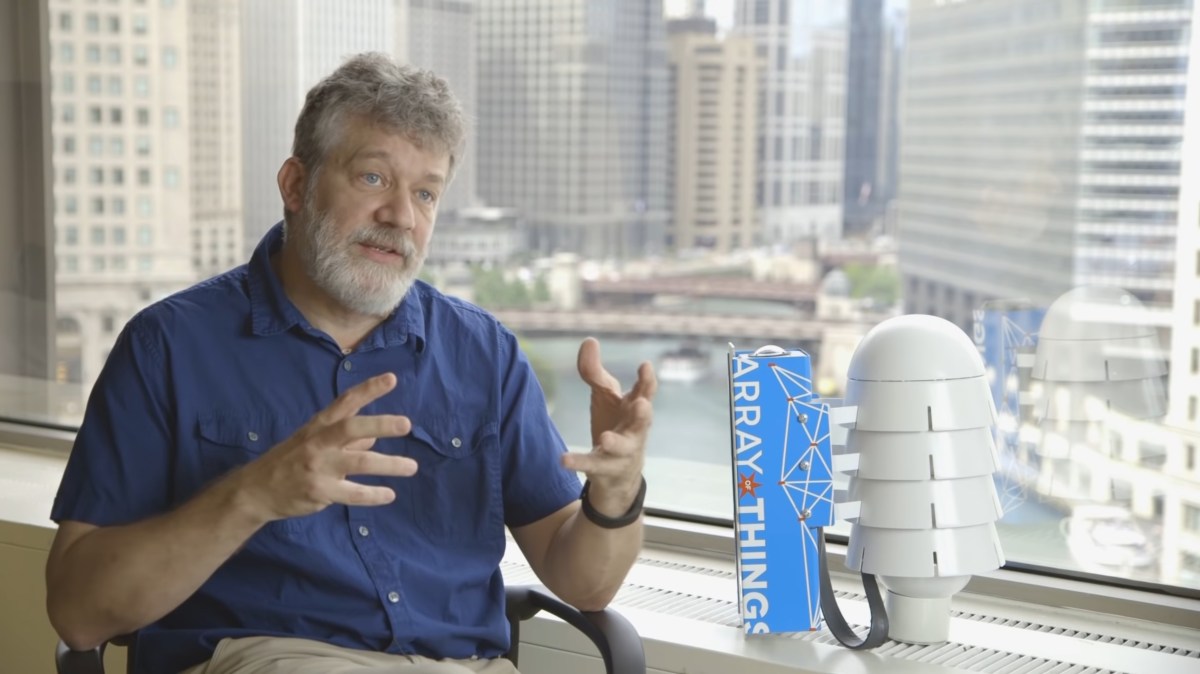 A network of 130 environmental sensors placed around Chicago over the last four years is only starting to scratch the surface of how internet-connected devices can improve a city's efficiency and safety from natural disasters, the lead researcher behind the effort said Wednesday.
Charlie Catlett, a senior computer scientist at the U.S. Energy Department's Argonne National Laboratory, said that the network — called the "Array of Things" — will be upgraded this year with internet-connected "nodes" detecting air quality, traffic patterns and noise that are 200 times more powerful than the devices currently installed around Chicago, setting the city up to analyze data in new ways.
"We think that this edge computing, making a city smarter, is not just about what we can sense today, but it's about building the underlying infrastructure we'll need as better sensors become available," Catlett said during a webinar hosted by the Austin Smart City Alliance.
The array launched in 2016 as a joint project between the Argonne lab and the University of Chicago, funded mostly by a $3.1 million grant from the National Science Foundation. Since then, Catlett has led the placement of roughly 130 sensors around the city to measure dozens of factors, including temperature, barometric pressure, light, vibration, particulate matter, carbon monoxide, nitrogen dioxide, sulfur dioxide, ozone and ambient noise levels. The sensors also use video analytics to count pedestrians and cars.
Chicago officials had planned to expand the number of sensors to 150 last year, until those installations were derailed by the COVID-19 pandemic. Catlett said he's currently working with the city to plan the data sets that will be collected by the new nodes.
The new nodes will make use of software-defined networking, allowing Catlett and his team to transmit a new program to the sensors rather than having to put up a new device to take a new type of measurement, like the number of people wearing masks on a given sidewalk, he said. Several dozen sensors scheduled to be installed around O'Hare International Airport, he said, could be programmed to create a computer model that would allow officials to test incentives for taking public transit into the city.
Catlett said he's also planning to install nodes at railroad crossings throughout Chicago to measure how long gates take to rise and close and how much congestion is caused by passing trains. A 2017 study by the Chicago Metropolitan Agency of Planning found that waiting at railroad crossings cost Chicagoans $58 million annually; Catlett said the data will help inform city officials which crossings are the most dangerous for drivers and which cause the greatest delays.
But the benefits of the new nodes might not be realized for years. Biological sensors for sewers to automatically detect the presence of opioids or diseases like COVID-19 won't be available for at least a year, Catlett said, but laying the groundwork for new technology now can help fight future pandemics.