California launches new state procurement portal
California agencies launched a portal to improve how businesses sell products and services to the state.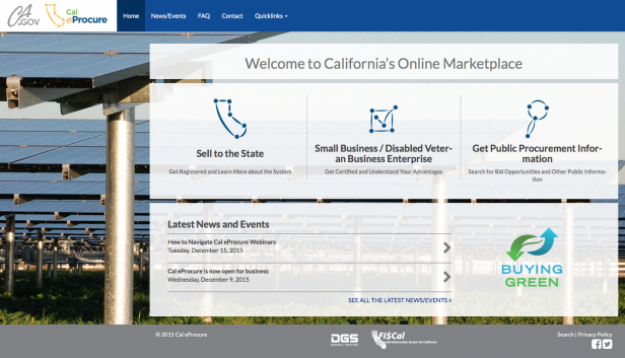 SACRAMENTO, Calif. — A replacement for the Golden State's procurement portal for vendors is now live, thanks to a partnership between the California Department of General Services and FI$Cal, the Financial Information System for California.
Cal eProcure, which launched December 9, will replace BidSync, the current procurement portal. The new site design provides a more responsive, mobile-compatible user interface and attempts to offer a "modern, more streamlined way of doing business with the state of California," according to an announcement from the site.
Brian Ferguson, deputy director of public relations for the state's Department of General Services said eProcure was designed to function as a one-stop-shop for vendors. The site centralizes state procurement resources and offerings in one place — a process that Ferguson said will make procurement easier for both government and the private sector.
"This is just one module of a giant system," Ferguson told StateScoop. "For us, we're pulling information that was spread all over the internet into one place so that we can do business more efficiently."
The site includes the ability for businesses to register for small business and disabled veteran business enterprise, or SB/DVBE, certifications through eProcure. SB/DVBE firms registered on the previous procurement site have been preregistered into the new system, and will be able to update their profiles and desired notifications. Users can also search state purchase agreements and the state contracting and procurement registration system.
More improvements are expected in the coming weeks aimed at improving compatibility for different users and making it easier to post state solicitations and bids on the site.
StateScoop's Jake Williams contributed to this report from Washington, D.C.