Biden tells counties Rescue Plan funds can be used to prepare for infrastructure boost
President Joe Biden used a speech to the National Association of Counties to highlight local accomplishments of his pandemic relief plan.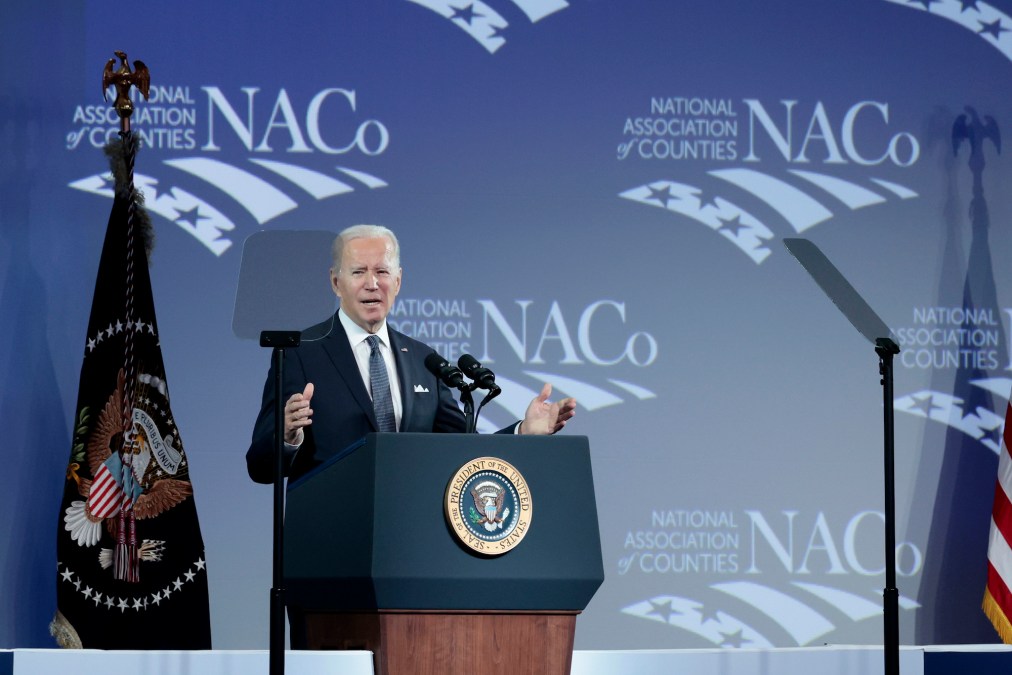 President Joe Biden on Tuesday told a roomful of county officials that money they received from last year's American Rescue Plan should be used in part to lay groundwork for projects that could be pursued under future rounds of funding through the more recent infrastructure spending plan.
In remarks to the National Association of Counties' legislative meeting in Washington, Biden ran through many of the local efforts that've been funded by his signature pandemic relief measure, which included $350 billion in direct aid to state and local governments. Local governments have so far used the money to cover a wide range of programs, including IT, cybersecurity and broadband upgrades.
In touting his agenda, Biden drew on his political origins as a council member in New Castle County, Delaware, and how he wanted the Rescue Plan to aid local governments directly.
"If you get money for the state, what happens is it goes through the state legislature," he said. "Well, I wanted to make sure the money goes directly to the counties."
Biden opened his speech by noting he only spent two years in county government before making it to Washington in 1972: "I used to be a county councilman," he said. "And I ran for the Senate because it was too damn hard being in the council."
The Rescue Plan has been one of the most-discussed topics at NACo's meeting, with CIOs and other officials describing the complexities in figuring out how to make the most of it over the act's five-year runway. But with billions more on the way from last November's Infrastructure Investment and Jobs Act — including $65 billion for broadband development — Biden and members of his administration said the pandemic relief money can be used to prepare for future awards.
"You don't have to wait until the projects start," Biden said. "You can use the resources from the American Rescue Plan now."
Earlier in the day, White House Senior Adviser Gene Sperling made a similar point in encouraging counties to start figuring out the labor needs that may arise from new infrastructure plans.
"You know $1.2 trillion is coming down the pike," he said "You know that's going to create a demand for workforce. You can use your American Rescue Plan funds to prepare workforce for infrastructure jobs to come."