New Jersey Gov. Phil Murphy finally appoints a new chief technology officer
Technology veteran Christopher Rein, who most recently served in cybersecurity roles with the state, will inherit an IT consolidation effort launched by his predecessor.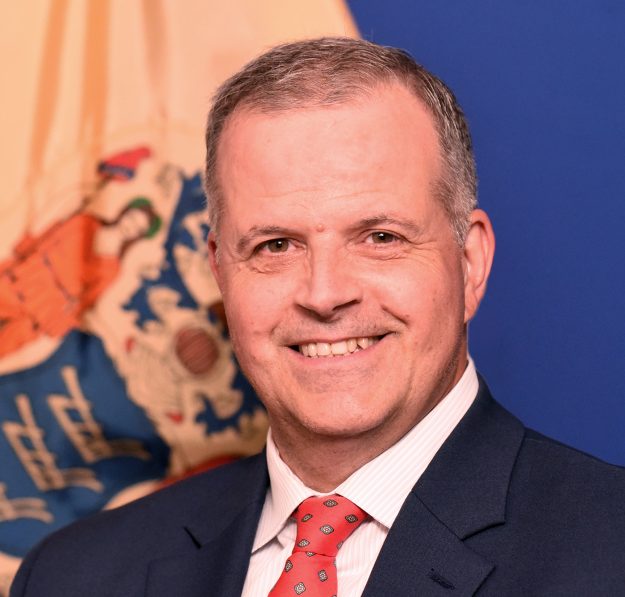 After a six-month vacancy atop the New Jersey Office of Information Technology, Gov. Phil Murphy last week announced a replacement to lead the state's continued efforts to consolidate and modernize its " severely outdated " infrastructure.
The Democratic governor announced Friday that New Jersey's new chief technology officer is Christopher Rein, an IT veteran with more than 35 years' experience who most recently served as the state's deputy chief information security officer. Rein, who was also the deputy director of the state homeland security office's Cybersecurity and Communications Integration Cell, succeeds Dave Weinstein, who resigned in January at the end of former Gov. Chris Christie's term.
One of the biggest question marks left hanging when Weinstein resigned was how the state's IT consolidation effort, ordered by Christie last summer, would continue, if at all. A gubernatorial transition report published in January recognized the value of an IT restructuring that could potentially "streamline departmental contracts, bolster the state's overall purchasing power, and improve overall system efficiency," but recommended reviewing the effort.
Rein told StateScoop when he started with the state IT office, Murphy asked him to take a look at the consolidation plan, identify challenges and barriers and consider a more measured approach. Weinstein centralized procurement and licensing agreements early on, and while the transition report does not explicitly identify any conflicts or challenges associated with that step, it does call on Murphy's administration to "assess [the consolidation effort's] biggest choke points."
"It was probably not optimal the way it was rolled out and communicated," Rein said the Christie administration's consolidation plan. "In hopes of trying to gain traction and get the consolidation going, I think some things may have moved a little too fast, and so it's my goal to sit down with our customers, our agencies we provide service to, and maybe set things on a better course."
Rein paints himself as a "broad-spectrum IT person" with a working knowledge of OIT that likely played a role in his hire as the state's new technology chief. Rein's experience in technology is extensive — he's held IT roles with New Jersey-based software firm CSI Technology Group, the New Jersey State Police, and Telecordia Technologies, a U.S. subsidiary of Swedish telecommunications giant Ericsson.
"Some of that married with my recent focus on cybersecurity techniques, technologies and standards maybe made it a good fit," Rein said.
The need to consolidate and modernize the state's IT systems has been exposed in recent weeks by brief datacenter outages that interrupted government services across the state. Those outages, Rein said, are a good example of the kind of incidents he wants to avoid as he pursues infrastructure "stabilization" going forward.
"Some of this technology is kept running with a lot of effort and lot of tender loving care and that's fine, but by the same token, you've got to serve your agencies with modern technology that can perform like you'd expect it to," Rein said.
Indeed, all questions for Rein eventually lead back to his customers. Among his office's other projects are a next-generation 911 upgrade that may require consolidating the diverse technologies behind hundreds of public-safety answering points across New Jersey, a faster transition to cloud services for more modern services for agencies, a move toward user-centric design in public-facing services and an overall shift in how the state approaches technology.
"At the same time, we're trying to infuse some innovation and do some cool stuff for the citizens," Rein said.
But if there's one thing he wants to look back and be remembered for during his time as New Jersey's CTO, he said, whether that's next year or in eight years, it's embodied in the service provided to his office's customers.
"I hope people remember me as focused on rebuilding really excellent relationships with our customers," Rein said. "As OIT, we're here to serve them. We're here to serve the Department of Labor, the Department of Agriculture, State Police, we're here for them. They're not here for us."