Utah CIO Mike Hussey is stepping down
After more than two decades in the Utah governor's office, statewide CIO Mike Hussey has announced he's moving on in the new year.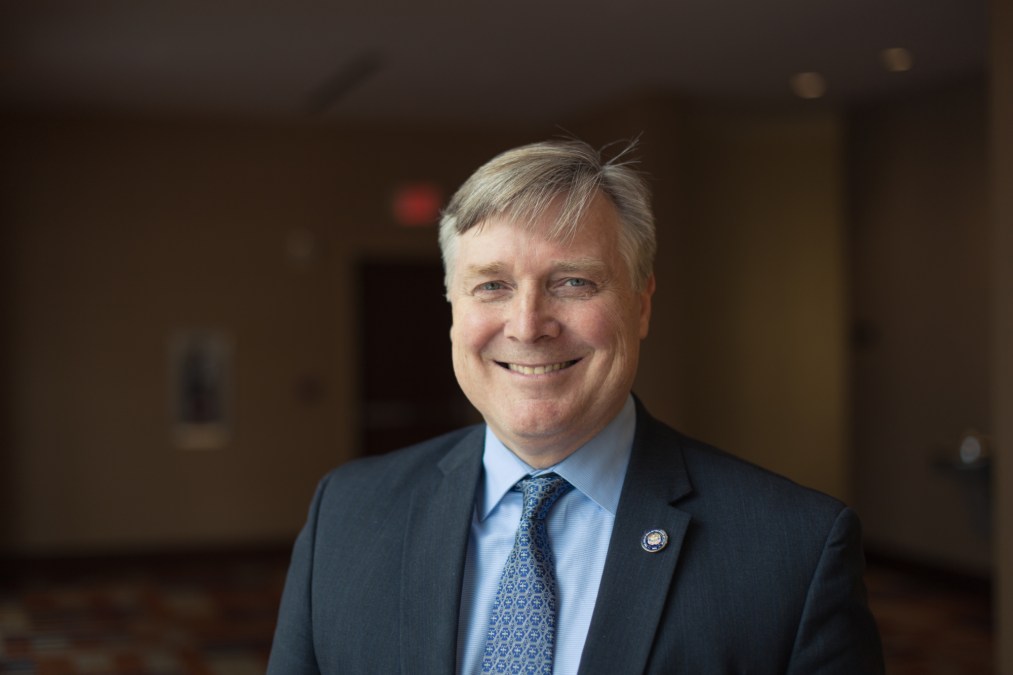 Utah Chief Information Officer Mike Hussey, who's spent the last two decades serving under four governors, announced this week he plans to step down next month.
Hussey's retirement becomes official on Jan. 4 when Governor-elect and current Lt. Gov. Spencer Cox assumes office, succeeding the outgoing Gary Herbert, who appointed Hussey as CIO in November 2015.
Hussey's departure was first reported by Government Technology.
During his five years leading the Utah Department of Technology Services, Hussey managed an enterprise IT organization that prioritized cybersecurity, assisting in the creation and administration of a statewide information and analysis center. He oversaw the transfer of a growing number of the state's applications and data to cloud environments, and continually pushed for innovations in government processes.
In an interview with StateScoop, Hussey recalled interviewing for his first role in the governor's office, then occupied by Gov. Mike Leavitt. After six years as a library network manager at the University of Utah, where he attended school, it was in part Leavitt's message, Hussey said, that attracted him to the open position of LAN administrator in his office.
"He was out in the media a ton," Hussey said of Leavitt. "I could see where he was going. He had a technology hammer and he wanted to go around and fix things. So I really was excited to be part of that team."
Moving to the endpoints
The interview process was surprisingly technical, Hussey recalled, but after being the only candidate to correctly answer an obscure question about how to recover a Novell server — the type that Leavitt's office used — he was hired.
Over the years, Hussey said his job was made exciting by the continual change brought not only by the evolution of technology, but the shifting priorities of each leader whose offices he supported. He recalled helping to move the state's election systems online under Leavitt and serving as a "jack of all trades" in his roles as each of Leavitt's successors brought new demands.
When the state began consolidating its individual IT shops with the creation of the Department of Technology Services in 2006, Hussey recalled he began specializing more "on the endpoints" of the state's technology. He continued in that role for about a decade until Herbert named him as CIO.
A cyber legacy
Most recently, Hussey said the state's achievements center on several key initiatives, including its statewide cybersecurity center, which bundles the expertise of the state, the Department of Homeland Security and the FBI, and provides a single point of contact for any organization within the state seeking help with cyber incidents.
"That has been tremendous. You can imagine the climate we're in right now with SolarWinds," Hussey said, referencing a suspected Russian hacking operation that compromised network monitoring software widely used by the federal government, states and other large enterprises. "I think had we not [created the cyber center], we'd be in a different position right now."
Business email compromise and ransomware attacks, too, have persisted in recent years, and Hussey said the cyber center has allowed the state to support cities and local governments through incidents in which they had few other reliable guides.
"They didn't know what to do," Hussey said of one Utah city that was recently hit with ransomware. "They started calling around, and they called our auditor's office and they said, 'We don't know how to buy bitcoin.'"
After being directed to Hussey and the cyber center, the state provided aid to that city through its federal partners, which advise victims never to pay the demands of ransomware actors.
Innovating onward
Hussey led an IT organization known for innovation, with initiatives to test emerging technologies like blockchain and robotic process automation. The department created the Artificial Intelligence Center of Excellence, creating governance around a promising technology for state government. The department recently applied object recognition technology to replace a verbose, text-based catalog of thousands of cattle brands with an AI-backed system to ensure that when a rancher registers a new brand, it won't fringe and that it's not too similar to an existing brand.
"This is a space that we can apply some very modern technology to probably one of the oldest professions around: ranching," Hussey said. "It could potentially be used if there's a stray cow somewhere that's branded, you could just use your phone and use the app and say who does this belong to and it would automatically let you know."
Hussey said Utah's proclivity for technological innovation stems from a desire to pay off its technical debt. Largely freed from a web of legacy systems, the technology department can experiment and seek new opportunities opened up by modern technologies. A rapid transition to cloud-based systems, for instance, positions the state well for such experimentation, Hussey said, adding that if the state continues at its current clip, 70 percent of its systems will be in the cloud by the end of next year.
Hussey hasn't announced where he plans to work next, only that he's considering "a couple options." Because he may have a full career behind him, but he's still sharp enough to remember how to recover that Novell server.
"You press Shift+Alt on one side of the screen and Shift+Esc on the other side of the screen," he recited, "and it will drop you into the debugger and then you type EIP=CSleep until interrupt."