UC Berkeley group to study future of mobile voting
Former Homeland Security Secretary Janet Napolitano will head up a panel of election and cybersecurity experts to create some standards for the oft-criticized practice.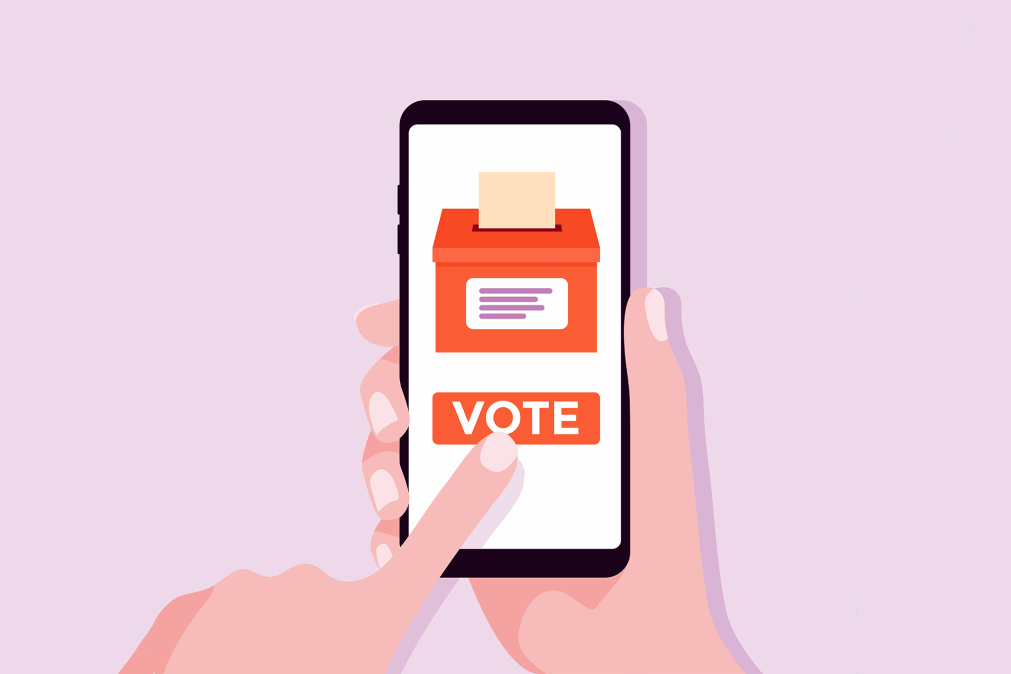 With the acknowledgment that mobile voting is gradually becoming more common across U.S. elections, a think tank at the University of California, Berkeley announced Wednesday it's assembling a group of cybersecurity experts and former election officials to study the controversial practice and develop guidelines for its future use.
The working group will be based out of Berkeley's Center for Security in Policy, which will spend the next 12 to 18 months analyzing historical uses of internet-connected voting — including in several recent election cycles — and the feasibility of new technical standards that could offer greater layers of trust and security.
While ballot submission by email and fax is offered in 31 states to military and expat voters, thanks to a federal program for U.S. citizens living abroad, a handful of states and counties have in the last few years started experimenting with mobile apps and websites for broader use. Those pilot programs, many of which have been funded by private donations, have drawn numerous criticisms from members of the election-security community, who've argued an electronic ballot is fundamentally insecure. Third-party audits have also found software developed by mobile-voting vendors, like Voatz, to be riddled with bugs.
Mobile voting has also continued to expand as an option for military, overseas and physically disabled voters, with more than 330 jurisdictions across eight states offering it last November, according to the Center for Security in Politics.
"I think it's worthy of consideration," said former Homeland Security Secretary Janet Napolitano, the center's founder and head of the working group. "Given where technology is today, this is something that if it's going to be used and used more widely, we need to make sure it's used in the right way."
The Berkeley group includes several high-profile cybersecurity and election-administration veterans, including Matt Masterson, a former senior adviser at the Cybersecurity and Infrastructure Security Agency; Amber McReynolds, a former election director for the City of Denver who was recently named to the U.S. Postal Service Board of Governors; and Josh Benaloh, a senior cryptographer at Microsoft.
Napolitano, who was also governor of Arizona from 2003 until 2009, when she became former President Barack Obama's first homeland security chief, said the panel will analyze U.S. applications of mobile voting — such as West Virginia, which has made it an option for military and overseas voters since 2018 — as well as its use in foreign countries. (A handful of European nations, including Denmark, Italy and Portugal, allow their citizens to cast ballots from a mobile device if they are bedridden or homebound due to health conditions.)
"We want to be able to look at where it's been conducted to see how it's gone, and if more jurisdictions want to add mobile voting to their menu," Napolitano told StateScoop. "It's to provide a set of standards that can be used to ensure the integrity of the vote."
Proponents of domestic mobile voting projects — including in West Virginia and Denver, which offered it in a 2019 race after McReynolds had departed as elections chief — have defended those efforts by noting that the small handfuls of ballots collected over the internet have held up to the scrutiny of post-election audits and increased participation from hard-to-reach groups of voters.
Yet, a May 2020 Department of Homeland Security memo found that internet-connected voting poses "significant" security risks, including that ballots submitted online "could be manipulated at scale."