Georgia secretary of state replaces county's voting equipment after breach
Georgia Secretary of State Brad Raffensperger is sending new voting equipment to Coffee County after video surfaced of a physical breach.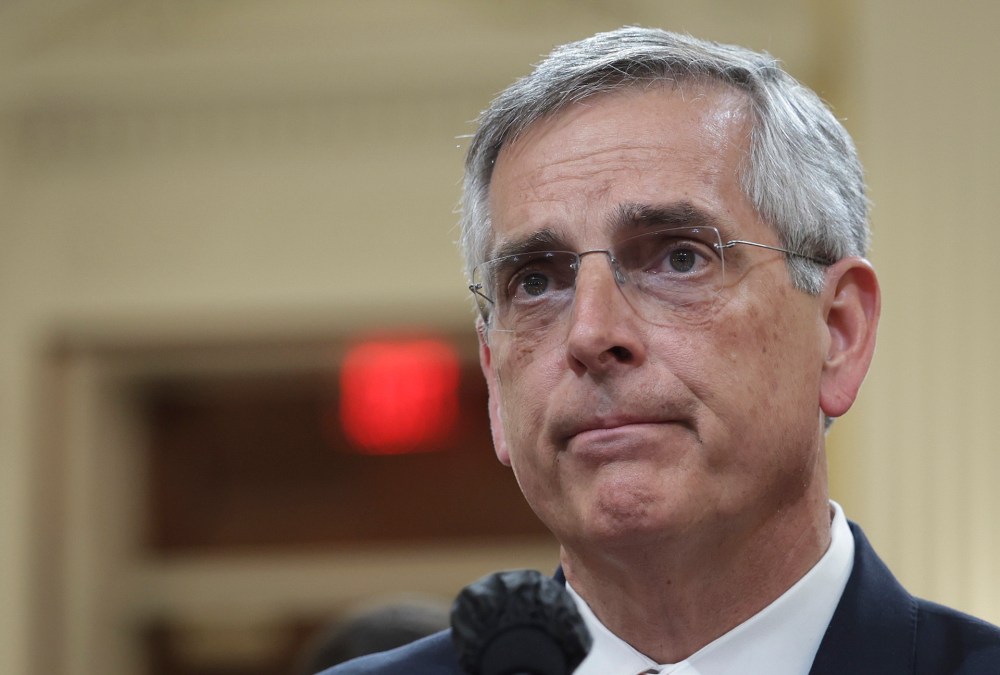 Coffee County, Georgia, will get new voting technology after footage surfaced earlier this week of activists aligned with former President Donald Trump gaining unauthorized access to the county's equipment months after the 2020 election, Secretary of State Brad Raffensperger announced Friday.
The secretary's move came in the wake of video — revealed Tuesday through an years-old lawsuit about the state's voting equipment — showing Cathy Latham, the head of the Coffee County Republican Party, and employees of a forensics firm that had been hired by conspiracy-theorist lawyer Sidney Powell, handling the county's poll pads, tablet computers that contain sensitive voter information.
The lawsuit, filed against Raffensperger in 2019 by the Coalition for Good Governance, claims the touchscreen ballot-marking devices used in Georgia are insecure and unconstitutional. The video of Latham and others was made public as part of Coffee County's response to the suit.
Latham's visit to the Coffee County elections board occurred Jan. 7, 2021, a day after a pro-Trump mob assaulted the U.S. Capitol in hopes of overturning the then-president's election defeat. Her group included employees of SullivanStrickland, an Atlanta forensics firm recruited by Powell, as well as a bail bondsman named Scott Hall, who was later recorded as saying "we scanned every freaking ballot."
SullivanStrickland's involvement in gaining access to election equipment in Georgia and other states was first reported last month by the Washington Post. It's part of broader trend of conspiracy theorists — some of whom have held active positions in election administration — gaining or granting unauthorized, illegal access to voting equipment in hopes of finding evidence proving baseless claims that the 2020 election was "rigged" or "stolen."
'Have to move forward'
Coffee County, population 43,000, sits about 200 miles southeast of Atlanta, and voters there in 2020 backed Trump by a nearly two-to-one margin. State authorities are now also investigating Coffee County's former election officials over their roles in allowing Latham's group entry.
"To allay the fears being stoked by perennial election deniers and conspiracy theorists, we're replacing Coffee County's election machines," Raffensperger, a Republican who's faced nearly two years of rebukes from his own party for certifying Joe Biden's narrow win in Georgia, said in a press release Friday. "The investigation into the former Coffee County election officials who allowed the unauthorized access continues, and anyone who broke the law should be punished to its full extent."
Raffensperger also noted the timing of his decision — absentee ballots for the Nov. 8 election will start being mailed out Oct. 10, and early voting begins a week later.
"[The] current election officials in Coffee County have to move forward with the 2022 election, and they should be able to do so without this distraction and the misinformation surrounding it," he said. "Replacing the equipment puts an end to any argument that the results in Coffee County, and anywhere else in Georgia for that matter, will not accurately reflect the will of Georgia voters."
Part of a new trend
In total, Coffee County will be receiving 100 ballot-marking devices, 100 printers, 10 precinct-level ballot tabulators and 21 poll pads, as well as stockpiles of memory cards and thumb drives, which are to be tested before voting starts. Raffensperger's office said it previously upgraded the county's election management server and central ballot scanner.
All 159 counties in Georgia use equipment manufactured by Dominion Voting Systems under a contract Raffensperger awarded in 2019. That contract is the target of the Coalition for Good Governance's lawsuit, which seeks to discard the touchscreen interfaces for hand-marked paper ballots.
Countywide replacements of voting technology have become a bit of a trend in the wake of partisan attempts to find widespread fraud in the 2020 election. In June 2021, Maricopa County, Arizona, decided to replace $6.5 million worth of equipment following a widely mocked ballot review. Mesa County, Colorado, was ordered in August 2021 to replace its entire inventory after a breach allegedly led by County Clerk Tina Peters, who's now facing trial on multiple felony counts.