Lampposts that charge electric vehicles take winning spot in NYC climate challenge
Ubitricity, a German firm, proposed outfitting city lampposts with electrical outlets turning them into public charging stations.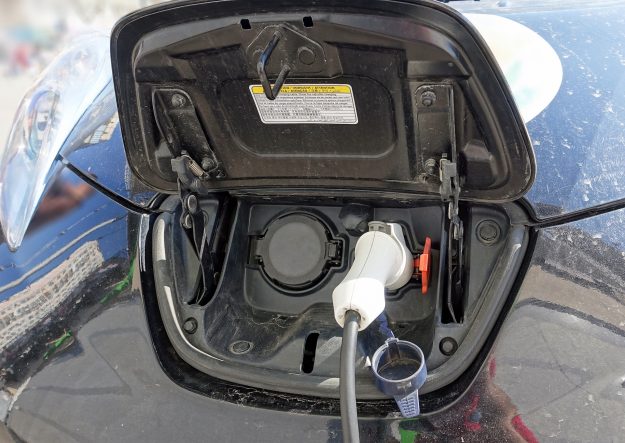 New York City announced Monday that Ubitricity, a German manufacturer of electric-vehicle charging equipment, has won a competition to develop a plan to scale up the number of vehicle charging stations throughout the city.
Ubitricity prevailed in the NYCx Climate Action Challenge, a contest announced in late 2017 that solicited the technology industry for ideas on how to make New York more accommodating toward electric vehicles. The competition was a complement to Mayor Bill De Blasio's plan, announced last September, to spend $10 million to install 50 vehicle-charging hubs around the city by 2020.
De Blasio's administration also aims to have electric vehicles make up at least 20 percent of the citywide fleet by 2025. City officials estimate transportation accounts one-third of greenhouse-gas emissions across the five boroughs, with 90 percent of that coming from privately owned vehicles.
Ubitricity won the challenge by proposing technology that allows city lampposts to be retrofitted with electric outlets which can be used as vehicle charging ports. Users then connect their vehicles to the outlets with their own cables.
More than 30 companies submitted bids, with six finalists being selected in June. The city gave each finalist $13,000 to build pilot versions of their technologies.
"To make the EV revolution happen, charging infrastructure needs to become comfortably accessible for city dwellers," Ubitricity founder Knut Hechtfischer said in a press release. "Being able to retrofit existing streetlights to serve as EV charge points can contribute a lot to building a dense EV charging infrastructure."
The company's technology is already in use in Germany, France and the United Kingdom.
"Ubitricity's innovative solution could be instrumental in helping the city achieve its climate action goal while simplifying the needs of electric vehicle users and future adopters," said Jeremy Goldberg, New York's deputy chief technology officer.
This is not the first time that New York City has crowdsourced solutions to its technical challenges. In May, the city called on the private sector to submit ideas for adding smart chip technology to municipal ID cards. In June, city officials invited vendors to pitch concepts for installing 5G mobile internet technology .