Uber fires its self-driving car operators in Pittsburgh
It's the second time in three months Uber has purged its autonomous vehicle staff, but the company says it's still committed to the technology.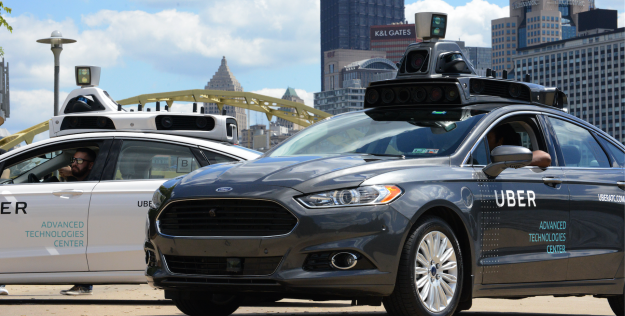 Uber on Wednesday laid off more than 100 employees who work on its autonomous vehicle testing program, the latest sign that the company is reconsidering its development of self-driving vehicles.
The cuts come nearly four months after a self-driving Uber vehicle fatally struck a pedestrian in Tempe, Arizona, which led the company to halt its autonomous vehicle tests on roads across the country, including closing shop in Arizona , which resulted in the firing of more than 200 workers there.
Wednesday's decision fueled speculation that Uber is continuing to scale down its self-driving project, though a spokesperson denied this.
At the all-hands meeting in Pittsburgh, Uber informed about 100 autonomous vehicle operators that they were being terminated, a move first reported by Quartz and later confirmed by StateScoop.
Most of the operators worked in Pittsburgh, where Uber's Advanced Technologies Group is based. Drivers in San Francisco were also let go.
The drivers, tasked with sitting in the driver's seat of self-driving Ubers, monitoring roadside tests and grabbing control of steering wheels if necessary, had been on paid leave since the Tempe collision on March 18.
At the meeting, Uber announced it was nixing the job of autonomous vehicle operator and replacing the positions with "mission specialists," meaning that future drivers will have more training and technical expertise.
The specialist roles will be more advanced, requiring technically trained operators comfortable with both on-road and test-track driving, Uber told StateScoop. Uber is still operating autonomous vehicles at a test track in Pittsburgh.
The laid-off vehicle operators were told they were welcome to apply for the specialist positions or other jobs at the company.
"Our team remains committed to building safe self-driving technology, and we look forward to returning to public roads in the coming months," the Uber spokesperson said.
At the end of March, the company opted not to renew its autonomous vehicle testing permit in California, though a spokesperson said that the company is in talks with the state's Department of Motor Vehicles about re-applying for permits at a later date.
Uber has said that it wants to get back on the road in Pittsburgh later this summer. In May, Uber CEO Dara Khosrowshahi said that the company would resume self-driving tests in "a few months."