Top 31 Smart Communities to Watch
Top 31 Smart Communities to Watch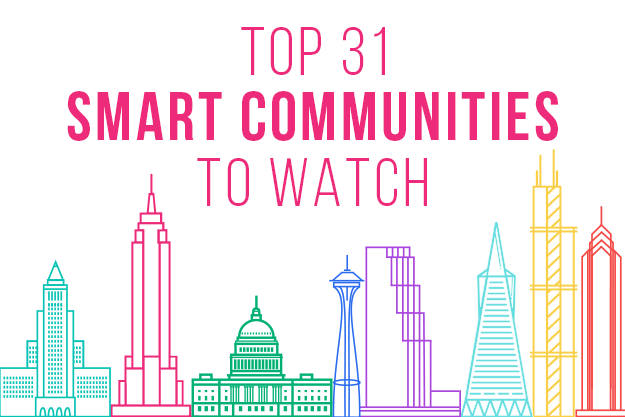 ---
Chicago
Chicago's place in the smart city universe is anchored by research conducted through its Array of Things, a growing city-scale sensor network designed to spot where smart city efforts can drive the greatest benefit.
Cities need today's current stage of investment in "well-curated" pilots, former Chicago Chief Information Officer Brenna Berman told StateScoop. After the value of smart cities has been well articulated to the public, she said, the concept stands its best chance of success. Berman continues her development of the city's Internet of Things projects from a directorial position at Chicago-based urban innovation nonprofit UI Labs, where she says a wide collaborative approach will be the key to unlocking smart city potential.
"Cities are much bigger than city government," Berman said. "You've got nonprofits, you've got the private sector. Looking for partnerships to bring these types of solutions to the rest of Chicago will make that transformation much more robust."
Among the city's latest smart city projects includes a five-kiosk pilot announced in January with AT&T and CIVIQ Smartscapes, the company behind the massive public Wi-Fi launch in New York City. Chicago Mayor Rahm Emmanuel announced in March a $160 million plan to replace 270,000 street lights with remote-controlled and automated LEDs in the next four years, for an estimated 50 to 75 percent energy savings. The city also plans soon to seek vendors for a next-generation 911 system that would bringits emergency services into the digital age.
Despite progress in Chicago, Berman noted that public-education, privacy and security efforts are lagging behind. In city government, overall cybersecurity efforts could be at least partially remediated through the expansion of a Cyber Threat Intelligence Grid, a growing coalition of cities in Cook County, whereChicago is seated, that will eventually include 134 jurisdictions.
Chicago's smart city efforts are capped by a long-held interest in open data and big data. A team of just two data scientists now works to automate the launch of predictive capabilities so that agencies can gain new insights without straining the limited resources of the city's technology office.
---
Cincinnati
Cincinnati's diverse smart city projects are the product not of massive investment, but a creative arrangement that aims to maximize the city's existing resources.
From drones and Wi-Fi, to smart sewers and vehicle trackers, City Manager Harry Black told StateScoop in an email that these projects come from people working together.
"Dreamers need to be able to work with doers," Black said. "Creating a smart city requires collaboration between multiple parties. You must be able to find developers and partners interested in collaboration. The support of your policymakers is key and we are fortunate to have a highly supportive mayor and city council."
Following a request for proposal issued in March, the city is now planning 5G, Wi-Fi and wireline broadband systems across the city. The mission, said Black, is to "bridge the digital divide and open doors to future innovations benefiting residents and businesses."
Cincinnati's data dashboard portal, CincyInsights, showcases the role of open data in the emergent smart cities ecosystem. In addition to streamlining public access to reliable government data affecting neighborhoods, the portal also provides a single location for city departments to find interactive data visualizations that provide real-time updates to metrics that inform decision making.
A Smart Sewers initiative, announced in December, aims to reduce overflows to nearby creeks and rivers. The creative use of sensors, gatesand a computer-controlledmonitoring system in the Metropolitan Sewer District of Greater Cincinnati is expected to eventually save tens of millions of dollars.
Following an administrative regulation issued in August 2016, the city also began purchasing drones to aid in water infrastructure maintenance. The city is now developing standards and regulations for citywide deployment of the aerial technology.
New tracking systems are cutting down on service times. Smart water meters used by Greater Cincinnati Water Works can be read via radio, cutting down on maintenance times. And automatic vehicle location (AVL) systems installed onall fire, EMS vehicles, snow plows and street sweepers gives managers increased operational oversight.
It's all made possible through internal executive and staff support, Black said, and also with help fromthe public.
"You need to have the support of the larger community," Black said."You cant accomplish anything without legitimate buy-in from your various community stakeholders. We have been proactive in communicating broadly about these efforts and thus far the feedback has been positive and supportive."
---
Columbus, Ohio
Though still in the earliest stages of smart city development, Columbusis also one of the most promising cities to watch.
Following the award of $40 million from the U.S. Department of Transportation for winning the Smart City Challenge last year, a $10 million award from the Paul G. Allen Family Foundation, and promises of $90 million from local businesses, the Ohio city is now laying the foundation for upcoming projects, but has not yet encountered adoption challenges, Brandi Braun assistant director for the Columbus Department of Public Service, told StateScoop in an email.
The federal funds were awarded for the city's plan to build a next-generation transit system that includes self-driving shuttles and connected buses. The funding will allow the city to create "ladders of opportunity" for residents and neighborhoods, Braun said, pointing out that Columbus Mayor Andrew Ginther commonly refers to mobility as "the great equalizer of the 21st century."
The city is planning to target neighborhoods experiencing high rates of unemployment, incarceration, and infant mortality, with the goal of expanding access to employment, healthcare and other services.
Transportation has a prominent position in the smart cities movement, globally and in Columbus. The city's portfolioreflects that, with projects that involveconnected vehicles, multimodal trip planning, smart mobility hubs, collision avoidance systems, enhanced permit parking, delivery zone availability, electric self-driving vehicles, oversize vehicle routing, and interstate truck parking.
The investments in Columbus are hoped to serve as a model for what smart cities can do everywhere. The city'sfirst demonstration projects are slated for2018 and 2019.
---
Denver
The mile-high city is invested in an array of smart city endeavors. It enjoys its own innovation district in partnership with Panasonic where it tests renewable energy systems and technologies like a solar powered microgrid. The district acts as a testing ground for high-density Wi-Fi, air quality monitoring and a self-driving shuttle for nearby residents.
And in October 2016, Denver claimed a $6 million grant from the U.S. Department of Transportation to propel three projects that improve urban mobility in the city. An automated pedestrian detection (APD) system uses sensors to detect when pedestrians areat crosswalks,alertingdrivers with flashing signs. A freight truck detection system helps truckers find the best routes to navigate the city and avoid residential streets. And a partnership with Waze allows the Denver Traffic Management Center to alert commuters with roadway updates, while also investigating how autonomous and connected infrastructure technology can be used to update the city's fleet of vehicles.
Denvers transportation system must evolve as our city continues to grow, Mayor Michael Hancock said in a release. These funds will play a critical role in addressing transportation and mobility challenges, like traffic congestion, while also delivering measurable and innovative outcomes for our residents.
In pursuit of a future that is not only smart, but green, Denver is also part of a statewide initiative orchestrated by Colorado Gov. John Hickenlooper to create an interstate network of charging stations for electric vehicles. Denver is along the route that links Colorado to Utah and Nevada.
---
State of Illinois
The journey to become the first smart state in the United States is on, and Illinois took the lead early.
Under the leadership of state CIO Hardik Bhatt a former Cisco executive and Chicago chief information officer the states Department of Innovation and Technology announced in April 2016 that it was charting a path forward bytaking cities and municipal governments under its wing and establishing a template for other states along the way.
Later in 2016, Bhatt and his team held a two-day Smart State Roadmap Workshop to develop the plan to move the state forward. In that meeting, the planning focused on sensors and Internet of Things, enhancing mobile citizen engagement, revitalizing procurement, generating more benefits from current state assets, launching a new digital portal, reviewing policy regulations to remove barriers to implementation and establishing the idea of the Smart Illinois brand.
Earlier this year, the state released its first smart state RFP for automated and remote-controlled street lighting an effort designed to give cities, counties, and municipalities in the state access to affordable contracts for smart street lighting.
---
Indianapolis
The strategic plan outlined byIndianapolis information technology departmentdoes not contain the phrase smart city, but the smart technology initiatives are there to be found for those who read between the lines.
The centralIndiana citywas among five winning recipients of a readiness workshop coordinated by the Smart Cities Council. Designed to break down departmental silos, each workshopfocuses on a topic chosen by the city. In the case of Indianapolis, the focus was on smart utilities.
The city is home to 16 Tech, a planned innovation community and public-private partnership designed to fuel innovation, attract talent to the city and build community around technology. Through a partnership with Code For America, Indianapolis is also home to the Open Indy Brigade, a group of technologists pursuing innovation around data and user experience design.
In February, AT&T announced Indianapolis would be a 5G evolution market, alocation where the telecom provider will test and pilot a new generation of wireless network technology the company says is capable of transmitting data at 400 Mbps per second.
---
Kansas City, Missouri
Kansas City gained notoriety in the tech world when it became the first city to getGoogle Fiber, and since then, the city hasaccelerated its smart city growth. When Google began connecting the Missouri city's homes and business with gigabit internet, it laid a foundation for tech startups to move in, for the foray into new research projects in higher education, and for the city to explore how the Internet of Things might rearrange its services.
Mayor Sly James and City Council approved a $15.8 million deal with technology firm Cisco in 2014 to help design Kansas Citys first smart city district. The district runs about two miles through the downtown and coincides with a $100 million street car project that began in 2013. As its first set of IoT projects, the city launched its first real-timeparking and traffic mapfor residents calledKCMO Smart City Open Access. Traffic flow, minute-by-minute parking updates, streetcar locations and traffic patterns areall available to commuters.
"We included the transparency because 21st century citizens expect the world to fit in the palm of their hand, and this is a way for us to make our government fit into that space,"said city Chief Innovation Officer Bob Bennett in February. "Obviously, this is just a start, but were looking to expand that to make ourselves even more relevant to connected citizens."
Further, Kansas City now has 50 downtown blocks with free Wi-Fi and 125 smart LED streetlights that help the city save energy. To enhance its connectivity options even further, Rick Usher, Kansas City's assistantmanager for small business and entrepreneurship, said that the city is partnering with Google again to test new wireless technologies like the Federal Communication Commission's 3.5 GHz spectrum band.