Study: Americans increasingly accept biometric tech for security
A new survey by the Consumer Technology Association reveals people are comfortable with governments using technologies like vocal or facial recognition software.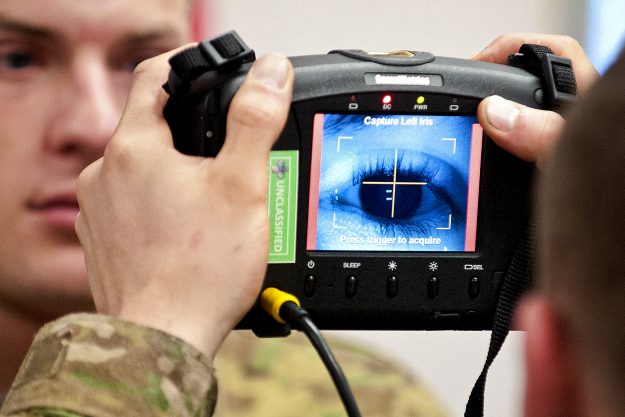 As biometric technologies become increasingly prevalent in the consumer market, Americans are growing more comfortable with governments using the technology as well, according to a new study.
A survey by the Consumer Technology Association — a trade association of tech companies around the country — released last week polled more than a thousand U.S. adults for their attitudes on the tech, which includes things like voice or face recognition software or digital fingerprinting tools. Researchers found that 90 percent of respondents are familiar with some form of biometric technology, and 43 percent said they've used it before.
While the CTA found that only 42 percent of those surveyed said they trusted governments to handle their personal biometric data, they nonetheless support government use of the technology in a wide range of areas. In all, 60 percent of people said they approved of biometrics being used in airports, 59 percent support the use of the technology in prisons and 58 percent support it in both government offices and separately along national borders.
Additionally, 53 percent said they approve of biometric identity technologies in high crime areas and 52 percent are comfortable with it in public schools.
Alex Reynolds, director of regulatory affairs for the CTA and one of the report's authors, told StateScoop that some of those results were a bit "surprising," but that they seem to indicate that people are increasingly accepting governments using biometrics to improve security.
"These are places where consumers felt really comfortable having the technology deployed, because those are places where they perceive there to be a need for higher security," Reynolds said. "The places where people are most comfortable are places where they perceive there to be lots of security already, a surveillance infrastructure for security purposes."
Along those lines, Reynolds noted that, when they asked people how the technology should be used, 60 percent said they were comfortable with it being used for surveillance purposes and 51 percent approved of its use for security screenings.
[Read more: Behavioral biometrics: The future of authentication?]
Though many people are still wary of any government agency possessing this sensitive data, perhaps owing to the string of high-profile data breaches at federal and state agencies in recent years, Reynolds believes that people are more receptive to the technology when they think it's being used for altruistic purposes, like keeping people safe.
"I think it kind of shows that there are these nuanced notions about who you can trust and a lot of that is based on what consumers perceive to be the intent of the organization," Reynolds said.
Indeed, when researchers asked about specific surveillance uses, they found that 65 percent of people supported the use of biometrics "to identify terrorists and potential terrorists" and 53 percent are comfortable with the technology being used by "law enforcement to keep open public spaces such as roads, parks and public transportation safe."
By contrast, Reynolds points out that people are much more uncomfortable with companies using biometric measurements for commercial purposes. Only 24 percent of respondents think it's appropriate for businesses to offer "service personalization" like tailoring advertisements based on biometric information, while just 34 percent are comfortable with companies using the technology to make television or video games more interactive.
The researchers also found that just 15 percent of people are comfortable with commercial organizations using the technology and only 26 percent think it's acceptable for smartphone manufacturers to make use of it.
However, Reynolds expects that people will become more accepting of the technology in all its forms as they start to get hands-on experience with it. Specifically, he pointed to the study's finding that, of the 43 percent of respondents who said they've used the technology before, 62 percent said they were comfortable with it.
"There's this pattern that as you use it more and as you become more familiar with what it can do for you, you become more comfortable using the technology," Reynolds said. "As it's demonstrated and people go out to the market, people buy it, first the early adopters talk to their families, stuff like that. You get stronger integrations of the technology into the consumer market and eventually it becomes a staple, like smart phones."
Reynolds feels the consumer market is still in its "nascent" stages right now, but he expects that biometric technologies will soon be so widespread that the public and private sectors alike will have to grapple with how to use them responsibly.
"Companies and governments need to be good stewards of consumer data, and we have to communicate very clearly what the value of the technology is and where the data's going," Reynolds said.
Contact the reporter at alex.koma@statescoop.com, and follow him on Twitter @AlexKomaSNG.