Senator floats emergency vote-by-mail in wake of coronavirus
Oregon Sen. Ron Wyden is proposing that every state offer all voters mail-in ballots if the COVID-19 crisis continues to worsen.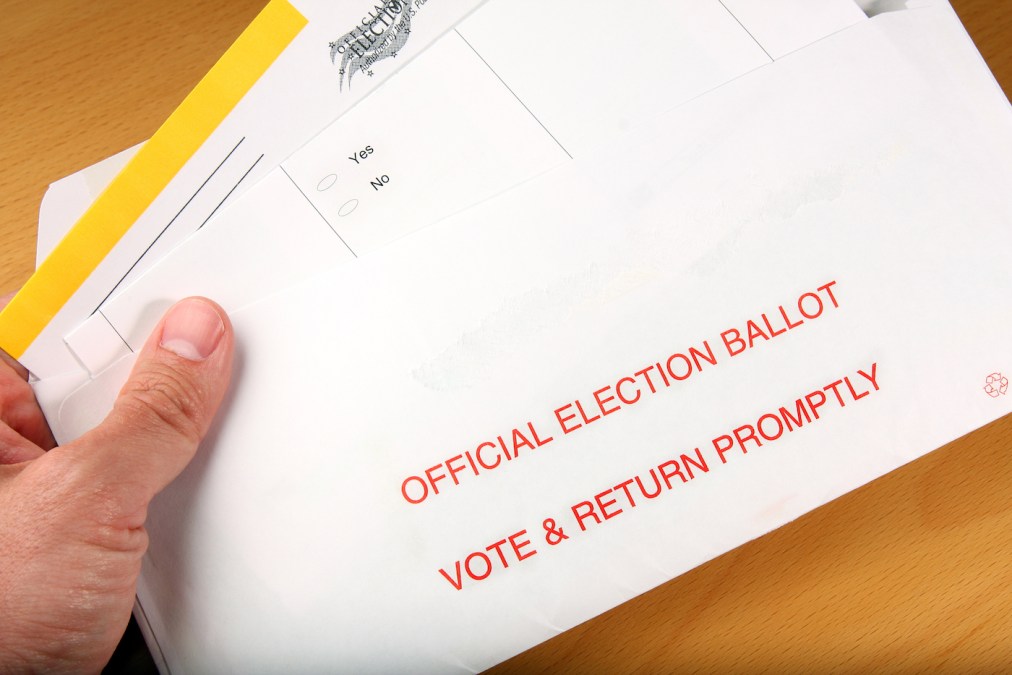 The novel coronavirus spreading across the United States has already made its mark disrupting public activities like conferences and political rallies. But the outbreak, which on Wednesday was declared a global pandemic by the World Health Organization, is also occurring in the middle of a nationwide election when millions of people are going to polling places to cast their ballots.
And on Wednesday, Sen. Ron Wyden, D-Ore., proposed a decidedly low-tech solution to keep up voter participation at a time when people are self-quarantining and being told to stay away from public gatherings: requiring states to offer voting by mail.
The Resilient Elections During Quarantines and Natural Disasters Act of 2020, as Wyden's bill is called, would require all states to offer vote-by-mail to all registered voters if at least 25 percent of governors declare emergencies over COVID-19, another infectious disease or any other natural disaster. In the case of the new coronavirus, that threshold has already been reached, with at least 20 states and the District of Columbia having declared public health emergencies as they attempt to contain the disease.
"No voter should have to choose between exercising their constitutional right and putting their health at risk," Wyden said in a press release.
Creating nationwide vote-by-mail isn't as simple as passing one bill, though. While 27 states and the District of Columbia allow all voters to cast absentee or mail-in ballots without a specific excuse, just five — Colorado, Hawaii, Oregon, Utah and Washington — conduct all elections by mail. But according to Tammy Patrick, a former elections official in Maricopa County, Arizona, where nearly 80 percent of voters now request ballots by mail, every jurisdiction already has mechanisms to work with the U.S. Postal Service.
"Every jurisdiction has to mail ballots to military or overseas 45 days out," she said. "Every jurisdiction has disabled voters who can't go to polling places. Everyone has some process in place using the mail stream. The U.S. Postal Service is helping us deliver democracy already."
But even with the existing relationships between election officials and the Postal Service, fast-tracking vote-by-mail would be a huge logistical lift that would test the ability of jurisdictions to print and package enough ballots in time for both primary and general elections, Patrick said.
"What it is is a question of scale and whether or not smaller jurisdictions have the ability to increase their volume quickly and have the ability to produce the materials," she said, noting that mail-in ballots consist of outgoing and return envelopes, security sheaths for completed ballots and instructions on how to fill them out.
Wyden's bill would offer states $500 million to implement vote-by-mail systems, but Patrick said vote-by-mail adoption usually takes a few years.
Originally, Patrick said, states required voters to have valid excuses — such as physical disability, college attendance or travel — to get an absentee ballot. But many have relaxed those restrictions either through legislation, as Virginia did last month, or through voter referenda, which Michigan did in 2018. But once people have the ability to receive and consider their ballots at home rather than get rushed through a crowded polling place, Patrick said they quickly embrace it.
"More and more voters, when given the opportunity to vote at home, like it," she said. (In Michigan's primary elections Tuesday, nearly 1 million people requested mail-in ballots.)
While there are many other logistical and statutory hurdles that would need to be considered if Wyden's bill were to pass — laws about ballot authentication and deadlines vary from state to state — Patrick said there are many admirable aims, especially during an ongoing public-health crisis.
"If we think about this health situation, if it does affect the ability to hire poll workers who tend to be older [and more vulnerable]," she said. "It's going to affect everyone. We need to make sure the rules of engagement of are elections are fluid enough to make sure everyone can participate effectively."