Seattle suburb tests app to 'X-ray' city streets
An official in Auburn, Washington, says he's experimenting with an augmented reality app that he hopes soon will support city workers.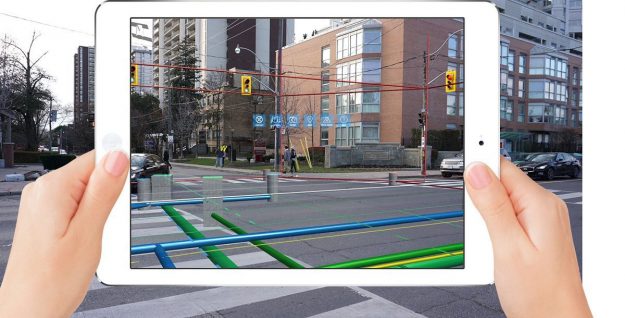 The city of Auburn, Washington, is testing technology that could soon give its public works employees virtual X-ray vision.
"One of the things we found in terms of asset management is we did a pretty good job of accessing things above ground, but found some glaring needs underground," said Ashley Riggs, the assistant information technology director in the city of about 70,000 people just south of Seattle.
Through the use of an augmented reality mobile application, employees in the city's geographic information systems division are now testing the use of software for iPads and iPhones that when held up to the street, shows the locations of pipes and other assets for the city's water, sewer, storm water, traffic and communications infrastructure. Riggs said associated information, such as who owns the utility or the most recent maintenance, can also be easily accessed.
The city is using a combination of an app called vGIS, developed by a company called Meemim, that provides an augmented reality interface with asset management software from Cartegraph. The vGIS app pulls data from the city's disparate databases to give users a single system that shows how the city's infrastructure is positioned relative to each other, Riggs explained.
If there's heavy snow on the ground, for example, this technology would eliminate the work of finding a manhole cover or markings that show where the infrastructure is supposed to be. It's also a low-cost project, Riggs said, as it mostly relies on subscription-based software the city was already using.
"All of our field guys and gals already are equipped with some kind of mobile device, some kind of Apple device usually," Riggs said.
Riggs said he first discovered this technology when attending a GIS conference last year. The city soon began experimenting with the Microsoft HoloLens, a mixed-reality headset. Riggs said his team soon discovered that the HoloLens had a learning curve: they weren't sure if workers would be able to integrate it into their daily routines, and buying headsets would be more expensive than using their existing mobile devices.
"From an end-user perspective, I've eliminated the need to carry around some bulky device and log in to these applications to see the data," Riggs said.
As an IT official in the city's innovation and technology agency, Riggs told StateScoop that projects like these support his philosophy that "innovation is a mindset," a continuous process of finding substantive improvements, and not a one-time undertaking.
The augmented reality project is still in the proof-of-concept phase, he said, but once the GIS team works out all the bugs, the next step is to put the technology into the hands of teams that can use it to drive improvements in the city's operations.
"What we have found," Riggs said, "is just the ability to be able to see things underground is in of itself pretty darn cool and pretty effective."