Meet the StateScoop 50 GoldenGov Nominees: Georgia CIO Calvin Rhodes
In this Q&A, StateScoop introduces StateScoop 50 GoldenGov nominee Calvin Rhodes, the chief information officer for Georgia.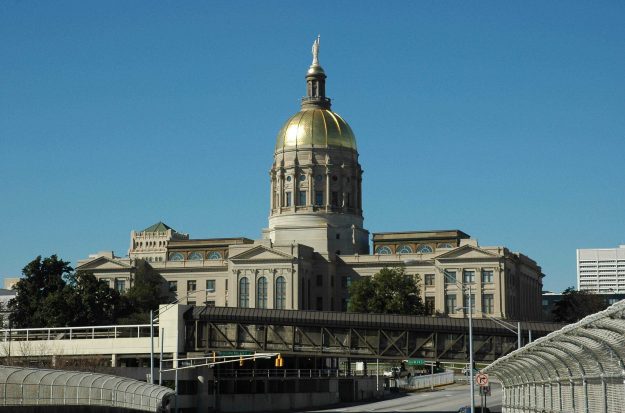 As Georgia's chief information officer, Calvin Rhodes has spent the past five years looking for ways his staff can make systems more secure and efficient.
He recently concluded an effort to outsource the state's IT as a way to upgrade the state's out-of-date systems and hardware. Now, he said, agencies can gain access to new services at a more rapid pace.
In addition, under the direction of Gov. Nathan Deal, the state launched its cybersecurity board, which Rhodes now chairs. Rhodes said he's also advanced the state's online Web services and worked to move forward accessibility initiatives.
Altogether, Rhodes' work in Georgia led him to receive a nomination for the StateScoop 50 Awards' "Golden Gov" category, which honors visionaries leading state government into a new technology landscape.
StateScoop talked with Rhodes about his work in Georgia, his achievements over the last year and the challenges the state faces going forward.
Editor's note: This interview was edited for clarity and conciseness.
StateScoop: Tell us about some of your main achievements over the past year that may have resulted in your nomination for a GoldenGov award?
Calvin Rhodes: Among our biggest achievements over the past year were the completion of a yearslong public-private partnership to transform the state's IT enterprise; a service integration initiative to make it easier for state agencies to access new technology services more quickly and operate more efficiently; creation of a statewide cybersecurity board to give greater focus to strengthening IT security; an accessible platform initiative that placed 75 Georgia state agency websites and the state's Web portal, www.georgia.gov, among the first in the nation to meet the WCAG [Web Content Accessibility Guidelines] 2.0 accessibility standards; and the implementation of a governance model that allows for more meaningful agency participation in our programs.
SS: What are you most proud of accomplishing during your time in your role? What's still left to be done?
CR: When I consider what I'm most proud of, my mind goes immediately to the team we've assembled. We have incredibly talented professionals who are committed to using technology to better serve Georgians, and we have worked to establish an environment that encourages collaboration, both within the Georgia Technology Authority and with state agency leadership.
What's still ahead of us? We are working to improve the state's cybersecurity posture, and find faster and easier ways to bring innovation to the state enterprise.
SS: What's been the biggest challenge you guys have faced in the past year? How'd you overcome it?
CR: We have devoted considerable time and energy to evolving our service delivery model, enabling it to accommodate additional service providers to better meet the needs of the agencies we serve. During the past year, with state agency involvement, we added a multisourcing service integrator. The new approach includes standardized processes and systems to seamlessly integrate services from multiple technology providers. New technology offerings can be quickly added into the state's service portfolio, and obsolete services can be just as easily removed.
SS: Why public service? What lessons would you like to share with the next generation of state and local IT leaders?
CR: I knew I wanted to give back — to do my part to help our government uphold its obligation to meet the needs of citizens. What I didn't anticipate was how meaningful it would be for me. The role that our team plays in supporting state agencies with the technology they need to carry out their missions puts Georgians directly in our line of sight. We have the opportunity to contribute to improvements that make it easier for people to interact with their government. When you can participate in change that can make a real difference in people's lives, that's as fulfilling a job as you can hope for. I would encourage the next generation to make the most of that opportunity.
SS: What advice do you have for next year's eventual class of GoldenGov nominees?
CR: Stay focused on areas where you can have an impact and make a difference for citizens; tune out the distractions and detractors. Collaborate with others to meet common goals — you'll get more done that way. I find that joint efforts are typically more successful and always more fulfilling.
This Q&A is part of a StateScoop series highlighting the nominees for the StateScoop 50 GoldenGov award. To vote for this nominee, and to vote in the other categories up for awards, go to the StateScoop 50 awards page. Winners of the StateScoop 50 awards will be announced on May 4.