Maryland Gov. Hogan rallies governors to repair national infrastructure
The Republican will use his year leading the National Governors Association to advocate for repair of the country's aging roads, bridges and digital networks.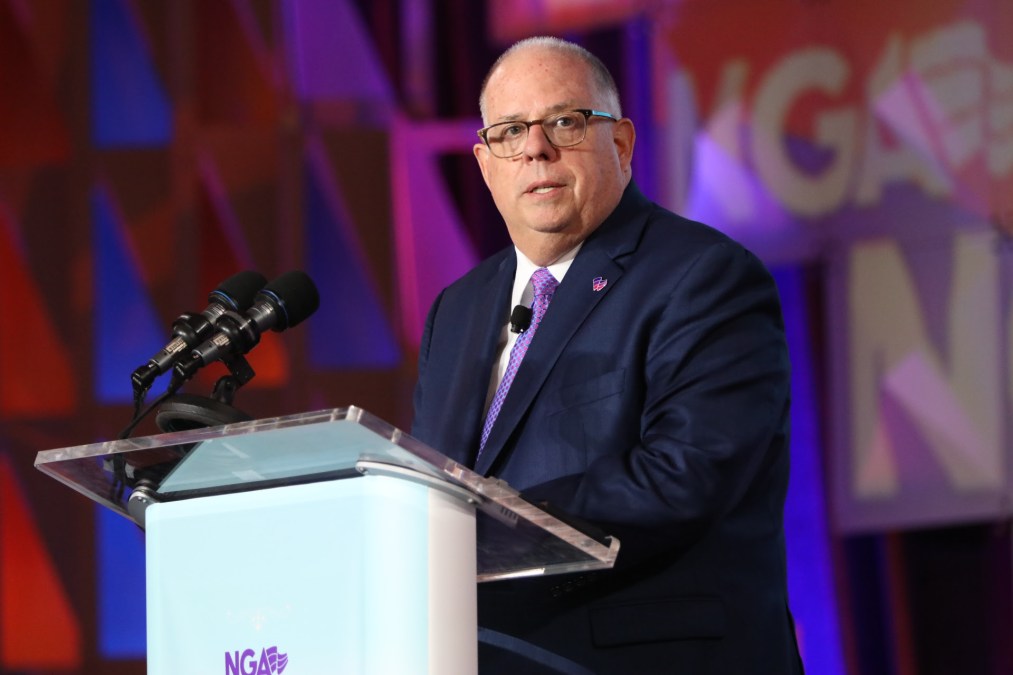 As the newly appointed chairman of the National Governors Association, Maryland Gov. Larry Hogan on Friday announced an initiative calling for repair of the nation's infrastructure, from aging highways and bridges to computer networks requiring improved cyberdefenses.
The second-term Republican unveiled the initiative as his flagship project as part of his role as the NGA's new leader during the organization's annual conference in Salt Lake City. Hogan's NGA predecessor, Democratic Montana Gov. Steve Bullock, had used his time as chairman to focus on job growth.
Infrastructure development is particularly urgent thanks to a lack of comprehensive action by the federal government, NGA said in a press release. Congress agreed with President Donald Trump earlier this year on a $2 trillion top-line price tag for his long-teased infrastructure plan to upgrade the nation's highways, railroads, bridges and broadband internet networks, but no funding mechanism has been established.
According to NGA, states have outpaced federal spending on critical infrastructure as a percentage of GDP, spending 1.6 percent compared to the federal government's 0.1 percent.
In its 2017 Infrastructure Report Card, the American Society of Civil Engineers gave United States infrastructure a "D" grade overall, noting that the average age of the country's 90,580 dams is 56 years, with more than 2,000 of those considered to have "high-hazard potential." Repair of these dams alone is estimated to cost $45 billion.
Schools, transit systems and roads rated no better. Nearly one-quarter of all schools are described as being in "fair or poor" condition. Public transit, such as trains and buses, has racked up a $90 billion repair backlog nationally. American roads, meanwhile, are both dangerous and costly, with some 35,000 roadway deaths annually and an estimated $160 billion in wasted time and fuel caused by inefficient design.
"Modern and well-functioning infrastructure is vital to a prosperous economy, public safety and quality of life for all Americans," Hogan said in an NGA press release. "Through my NGA Chair's Initiative, Infrastructure: Foundation for Success, America's governors will build on their record of leadership to explore solutions that ensure that America's infrastructure is responsive, efficient and safeguarded against cyber threats. Governors are dedicated to finding better ways to move people and goods and provide energy, water and communications services."
Hogan's initiative centers around four priorities: reducing roadway congestion through "innovative policies and new technologies"; expediting vital projects by streamlining permitting and review processes; protecting critical infrastructure — such as the electric grid, gas transmission lines and elections systems — from cyberattacks through collaboration with the private sector and other levels of government; and increasing investment in infrastructure by "expanding a range of revenue options and helping support private-sector financing programs."
To advance his initiative, Hogan will will convene four summits with other governors in four states over the next year. Each summit will focus on one of his four focus areas. Governors also plan to travel to Australia, Canada and Japan to glean ideas from governments abroad.