Ballot review could force Maricopa County, Ariz., to spend millions on new voting equipment
An election law expert said the "audit" of more than 2.1 million ballots by an unqualified firm could force the county to buy entirely new voting technology.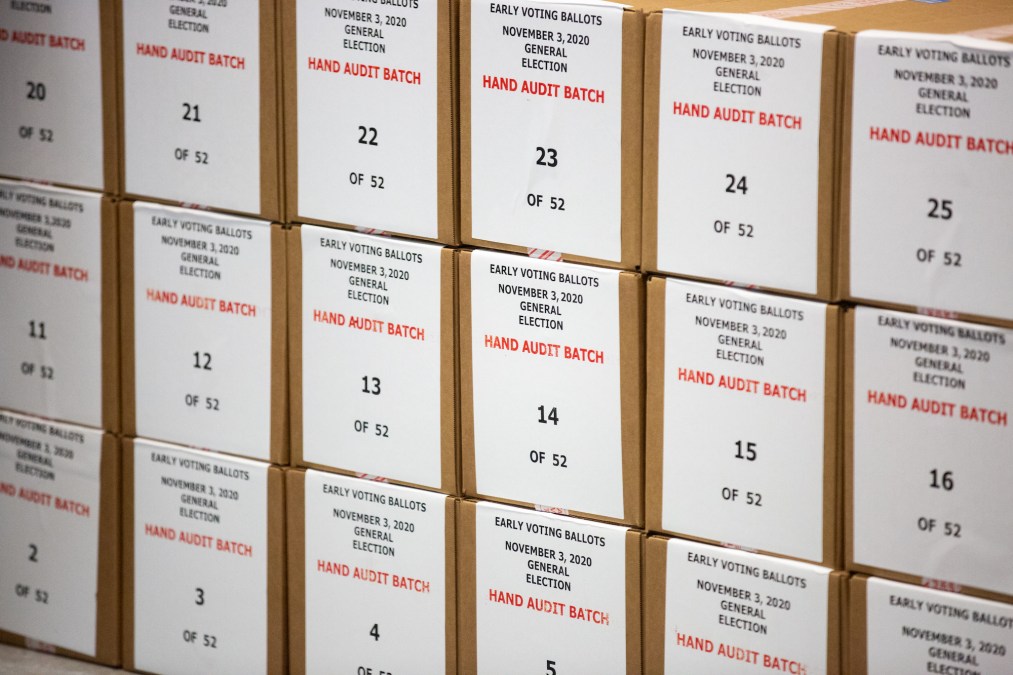 The third-party review of millions of ballots cast last year in Maricopa County, Arizona, could force the county to spend millions of dollars on new voting technology if equipment exposed to the process can't be re-certified for use in future elections, an election law expert said Thursday.
During a briefing for reporters, David Becker, a former Justice Department official who now heads the Center for Election Innovation and Research, a nonpartisan group that works with election officials around the country, said Maricopa County taxpayers could be on the hook if an ongoing audit commissioned by Arizona Senate Republicans "contaminates" the county's ballot-processing equipment.
Arizona Secretary of State Katie Hobbs wrote in a letter to Maricopa officials last week that they should retire election technology assets that have been turned over to Cyber Ninjas, a once-obscure firm led by a supporter of former President Donald Trump's efforts to overturn his 2020 election loss. The group was hired by the Arizona Senate to inspect 2.1 million ballots from Maricopa County, where President Joe Biden won en route to carrying Arizona's 11 electoral votes.
Hobbs' office decertifying the equipment would prevent it from being used in future elections, forcing the county to buy or lease an entirely new inventory.
So far, the Maricopa process has included a search for non-existent watermarks, a hunt for bamboo shards — that would allegedly insinuate that ballots were shipped in from China — and the ballots being moved from building to building on the state fairgrounds.
"Indeed, such loss of custody constitutes a cyber incident to critical infrastructure—an event that could jeopardize the confidentiality, integrity, or availability of digital information or information systems," Hobbs wrote in her letter to the Maricopa County Board of Supervisors, the Republican members of which have also condemned the audit.
On Thursday, Becker said there were "really good reasons" for Hobbs' decision.
"You can only imagine if some unexperienced third-party had access to voting hardware, how that could contaminate the equipment, create malfunctions," he said. "If a third party had done that to equipment in September 2020 and Trump had lost Arizona, he would've used that as evidence."
Becker also said that in addition to Maricopa's ballots being reviewed as part of Arizona's standard post-election auditing process — which affirmed Biden's narrow win in the state — the county's election equipment was reviewed in February by two federally certified labs.
The county spent $6.5 million in 2019 to lease its current inventory of voting technology, and Becker said it would cost officials at least that much to replace the equipment if necessary. And putting technology assets into the hands of inexperienced groups like Cyber Ninjas could imperil the county's relationship with its vendors, he added.
"It's not clear if the vendors who allow their equipment to be used under licenses will allow it to be used again," he said.
The desire by supporters of the former president to continue litigating the results of the 2020 election is not limited to Arizona, however. There are calls for similar processes in two counties in Michigan, where Secretary of State Jocelyn Benson's office issued a similar warning that equipment turned over to an unqualified third party could not be used again. Dominion Voting Systems, whose technology is also used in Arizona, also said that turning equipment over to unaccredited auditors could violate its licensing agreements, the Washington Post reported.
"Hobbs and Benson are both right," Becker said Thursday. "If the technology has been potentially contaminated, it would be imprudent to use it again."