Kentucky's new governor to 'rein in' CIO's salary
Andy Beshear, who was elected Nov. 5, plans to reduce the controversial $375,000 salary Gov. Matt Bevin gave to his CIO, Chuck Grindle.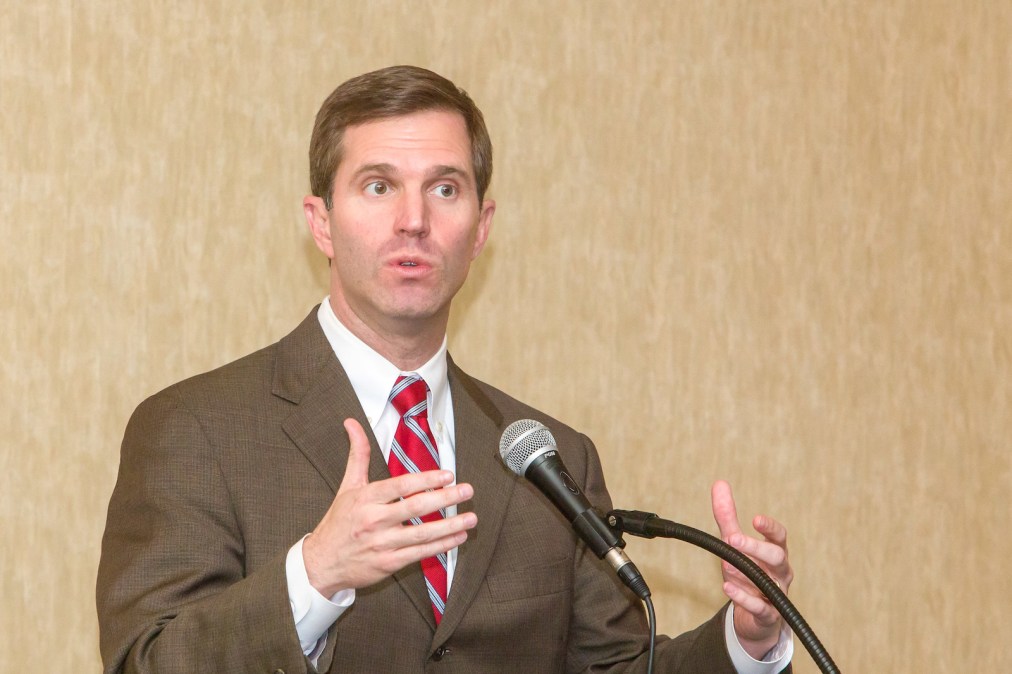 The days of Kentucky's chief information officer earning two-and-a-half times as much as the median salary for that position in other states are numbered. The office of Gov.-elect Andy Beshear, who defeated incumbent Gov. Matt Bevin earlier this month, told StateScoop that the commonwealth's new administration plans to cut down the $375,000 salary paid to the current CIO, Chuck Grindle.
"We are certainly going to rein in that salary," a person in Beshear's office said.
Bevin, a Republican, hired Grindle in late 2017 at an annual salary of $165,000, close to the national median of $153,326 for state CIO salaries. But during the spring 2018 legislative session, Bevin successfully pushed for a law that allowed him to raise his CIO's salary above Kentucky's statutory limit for state-government employees. That August, Bevin used the law to give Grindle a $215,000 raise, making Grindle the highest-paid public-sector employee in Kentucky outside the state university system.
Bevin responded to questions about the raise by saying $375,000 was "a steal" compared to what Grindle, a retired Army colonel with a doctorate in information science, might earn in the private sector. Yet Grindle's salary only became a bigger political issue when it was revealed that Grindle and Bevin had served in the military together and that Bevin's various political campaigns over the years made multiple payments to a website-design firm owned by Grindle.
It was also not the first time Bevin had given one of his appointees an exorbitant salary that busted through the caps imposed by state law. Earlier in his term, Bevin handed out salaries of $250,000 to the chief of staff of Kentucky's economic development agency, and $240,000 to an "adoption czar."
The Republican-dominated Kentucky legislature considered a bill earlier this year that would've reduced the CIO's salary to no more than the what the highest-paid CIO in the states bordering Kentucky earn, but the measure was rejected by the state Senate, leaving Grindle's annual compensation of $375,000 intact.
Beshear, a Democrat who is currently Kentucky's attorney general, repeatedly referenced Grindle's salary during his gubernatorial run, which centered around plans to increase pay the state's public-school teachers, who earn an average of about $54,000 per year, according to the commonwealth's Department of Education.
"I can tell you one easy thing we are going to undo to start providing the money — is we are going to undo the $215,000 raise this governor gave to one of his best friends," Beshear said in September.
Beshear, who will be sworn in as governor Dec. 10, has not yet made any announcements regarding appointments. He will submit his first budget proposal, which is expected to include a $2,000 annual raise for teachers, to the Kentucky General Assembly in early 2020.
Grindle did not respond to emailed questions about what his plans are following Bevin's defeat in the Nov. 5 election, but most state CIOs do not outlast the governors who hired them.
"When there is a change in governor, even of the same party, there's usually a change in CIO," Doug Robinson, the executive director of the National Association of State Chief Information Officers, told StateScoop last year.
Of the 20 states that elected new governors in 2018, 13 have seen changes in IT leadership, including six of the seven states where Democrats wrested control from Republicans, though none of those races featured the CIO's pay as a campaign issue.