How managed services empower state and local agencies amid digital transformation
A new report sheds light on agencies' challenges in managing complex network infrastructures amid the digital age and explains why investing in managed services has become a compelling solution.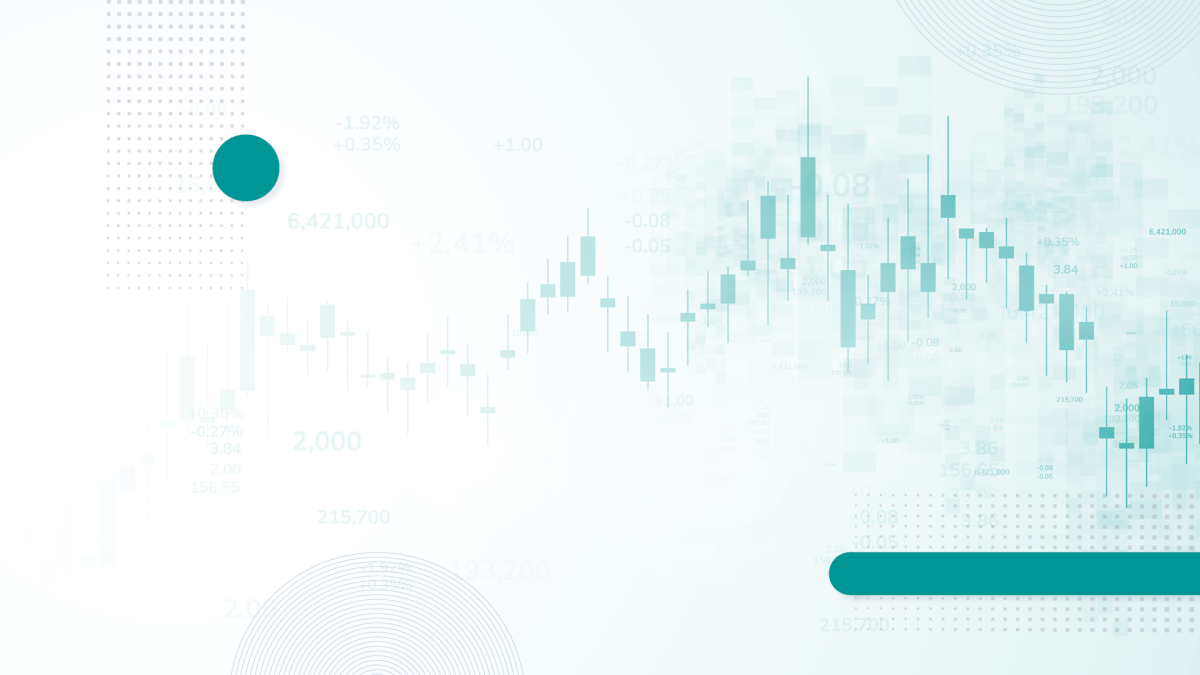 In the age of digital connectivity, state and local agencies heavily rely on reliable networks to deliver essential services to their employees and citizens. However, managing complex network infrastructures has become increasingly challenging as agencies depend more on shared and third-party networks. Additionally, finding the technical expertise required to upgrade, secure and optimize networks has become a growing concern.
A new report, "Unlocking cost-effective efficiency: How managed services propel the CAPEX to OPEX transformation," produced by Scoop News Group, for StateScoop, and sponsored by Spectrum Enterprise, explains why investing in managed services has emerged as a compelling solution for agencies, providing enhanced network performance and access to skilled network and security specialists.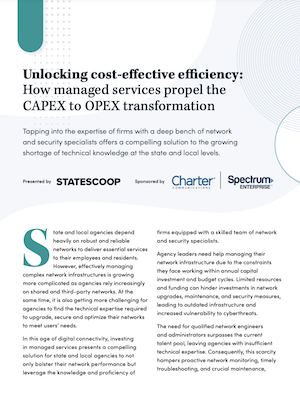 One of the primary challenges agency leaders face is managing network infrastructure within the constraints of annual capital investment and budget cycles. Limited resources and funding often hinder investments in network upgrades, maintenance and security measures, resulting in outdated infrastructure and increased vulnerability to cyber threats.
Furthermore, the shortage of qualified network engineers and administrators has led to insufficient technical expertise. Miles Tew, a key account lead for state and local government and education (SLED) at Spectrum Enterprise, says in the report that one east coast state with a high-tech corridor has made competition for talent fierce. Despite the presence of renowned universities and community college programs that produce talented individuals, the private sector's attractive opportunities have led to an intense talent war, leaving state IT departments struggling to attract skilled professionals.
Spectrum Enterprise's comprehensive cloud-based solution, Managed Network Edge, simplifies network management and security, addressing challenges related to network security, complexity and future scalability. By outsourcing network management to experienced providers, agencies can overcome budget constraints, lack of skilled IT resources, and the complexities of managing network security and infrastructure.
"The flexibility of our managed solutions allows us to tailor a solution to meet any agency's needs, as we recently did for an agency with over 100 locations looking to modernize. Because of our Managed Network Edge service, we can tailor a solution specific to an agency's requirements," says Bobby Suggs, key account manager for SLED at Spectrum Enterprise.
The report also highlights that working with a single trusted partner provides access to improved application performance through SD-WAN technology, simplified deployment and management with a modular, all-in-one solution and comprehensive security and connectivity solutions. Additionally, it enhances protection against malicious attacks with world-class distributed denial-of-service threat identification and mitigation and enables better employee communication and collaboration.
By partnering with trusted providers, agencies can benefit from improved network performance, robust security measures and enhanced collaboration, enabling them to meet the demands of digital connectivity while delivering uninterrupted services to their communities.
Read the report to learn more about unlocking cost-effective efficiency with managed services.
This article was produced by Scoop News Group, for StateScoop, and sponsored by Spectrum Enterprise.