How DHS shutdown would hurt state and local governments
If the Department of Homeland Security were to shut down, states and municipal agencies that receive federal grants would also face struggles to pay employees, protect borders and recover from disasters.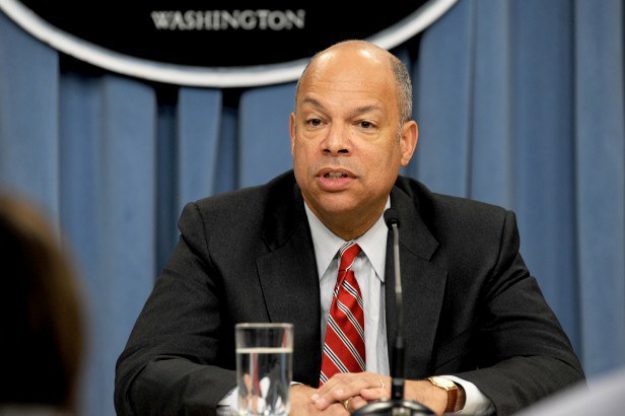 If Congress fails to resolve the current stalemate over Department of Homeland Security funding by Friday, the effects would ripple quickly through state and municipal governments, warns DHS Secretary Jeh Johnson.
At a press conference Monday, Johnson said the department's inability to disperse money to state and local governments under a shutdown for a variety of purposes could severely impact the way law enforcement, border security and disaster relief operate.
Currently, the department is operating under a continuing resolution that passed when Congress funded the federal government through its most recent omnibus bill at the end of 2014. If Congress does not act, DHS would enter "shutdown mode" after Feb. 27.
"It's like trying to drive across the country with no more than 5 gallons of gas in your tank and you don't know when the next gas station will appear," Johnson said. "Our ability to grant money to state and local law enforcement, which they rely upon for their own homeland security missions, grinds to a halt, either because there is no money, or the ability to process the payment has been furloughed."
The ability to process money is also a key issue when it comes to the operation of the Federal Emergency Management Agency. Administrator William "Craig" Fugate said the agency would not be able to make payments relating to disaster recovery from any open disaster, or for a locality that has yet to fully recover from a disaster. The inability to make the payments is not because the money isn't there — in the case of an open disaster, the money itself would be unaffected — but the people who actually authorize the payments would be furloughed.
"Without that staff, we cannot continue to make payments on outstanding disaster recoveries from any open disaster," Fugate said.
In addition, FEMA would not be able to respond to a governor's request for disaster assistance unless it involves protecting lives or property. And, even so, the agency would only be permitted to respond under an emergency declaration.
If an emergency declaration were to occur in a state, FEMA would be forced to recall employees, much like it did during the 2013 government shutdown when Tropical Storm Karen approached the Gulf Coast.
Disaster funding is not the only FEMA funding affected by a potential DHS shutdown, though. Recurring nondisaster grants for states would also be affected, which could cause state and local emergency managers to not receive their full salaries.
Under a shutdown, "we're not able to initiate the grant programs," Fugate said. "One in particular is a 50/50 match program that's used to fund your local government emergency managers, and, in the state capital, state emergency managers, salaries."
According to Fugate, under a shutdown, state and local governments would struggle to pay those salaries alone, if they could pay them at all.
"Without the grants, there will be impacts at the community level and the state level for personnel," Fugate said. This is not about "equipment, not stuff, not training, but people who are currently serving at the local level."
On border security, Customs and Border Protection Commissioner R. Gil Kerlikowske said his agency would be asking border patrol and customs agents to work without a paycheck, and would send home officers who just finished training. According to Kerlikowske, when the government shut down in 2013, some trainees did not return to the department, resulting in a loss of money spent on training officers who never actually worked in an official capacity for the department.