Georgia's new CIO to focus on customer service and citizen engagement
Broadband, said Georgia CIO Shawnzia Thomas, is also a priority as the state continues to weather the COVID-19 pandemic.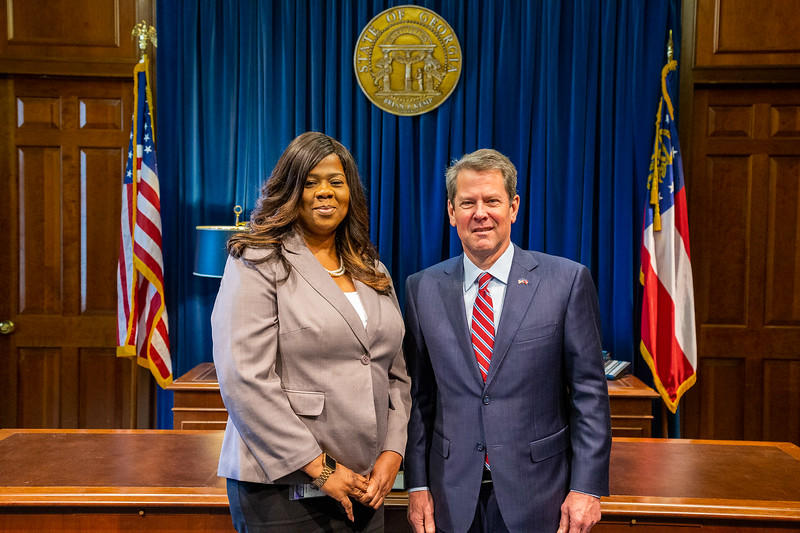 Six weeks into the job, Georgia Chief Information Officer Shawnzia Thomas told StateScoop she's developing a vision for state IT that revolves around improving customer service and citizen engagement, along with an emphasis on eliminating the digital divide in a state with a large rural population.
Gov. Brian Kemp appointed Thomas last month following the resignation of longtime CIO Calvin Rhodes, who'd served in the role for more than a decade. As the new head of the Georgia Technology Authority, Thomas said her main focus is to improve business processes across the state government.
It's a return, she said, to why the department was created.
"I want to get GTA back to doing what it was founded to do, which is to be a great resource for the agencies," Thomas said, "To prioritize customer service and citizen engagement to leverage the latest technology and to improve operational efficiency throughout all the agencies."
Thomas, who's spent the last 13 years working in several state agencies — including the Human Services Department and the secretary of state's office, which Kemp led before being elected governor — said this work could involve the creation of a "strike team" to examine how agencies are working and then how technology might improve things. So far, she said, she's held meetings with department secretaries, not their CIOs, because she wants to put processes first.
"We're always asking agencies to fill out a survey and we ask them to tell us what you need," she said. "Well, from my experience, most agencies don't know what they need. So unless you have someone to go into the agency and look at their processes, that will tell you what technology resources they're going to need to help them to deliver services. We've got to do a deeper dive into the agencies to see exactly what's going on."
At the Department of Human Services, Thomas said she was tasked with improving the integrated eligibility system, which handles benefits like Medicaid and SNAP. She said she also helped to launch an online application process — "in the nick of time," she added — as the COVID-19 pandemic put throngs of people out of work.
Adding bots to the system was also part of her work, as was convincing officials that the role of automation technologies is assistive, not a replacement for humans, she said.
"These bots, they're really extra case workers to help process these services that customers need," Thomas said. "We saw where a case worker was taking at least 30 to 45 minutes to process a renewal, the process took about seven minutes."
New technology will also help to improve the state's cybersecurity posture, she said, as statewide Chief Information Security Officer David Allen deploys scanning tools that can grant officials greater visibility of the state's digital environment.
"You can't protect what you can't see, so once we get these scanning tools in all the agencies, we'll be able to detect these vulnerabilities quicker so we can keep ahead of the bad actors," she said.
Inside state offices, Thomas said she's been exploring the expanded use of virtual desktops and a bring-your-own-device program, while pushing others to embrace a mindset of "continuous improvement." More broadly, expanding access to high-speed internet has occupied much of Thomas' time in her early days as CIO, she said, as the state prepares to begin distributing $300 million in American Rescue Plan funding to broadband providers.
While applications for that funding will open Sunday, Thomas said one detail has yet to be settled: The current rule is that internet service providers must apply in conjunction with a county government, cooperative or another local organization, but she said the governor's office has received complaints about that requirement and so it's now being reviewed. She said the rules will be finalized on Friday for an application period set to run from Aug. 1 to Sept. 22.
Procedure aside, broadband will continue to be a critical function for Georgia, Thomas said, as the pandemic has demonstrated so far.
"Kids were home from school and if you lived in rural areas where the area was underserved or unserved, these kids had to drive to McDonalds or a coffee shop just to do homework," she said. "With the second variant out there, we don't know what's about to happen, so let's get broadband in all these areas so people can work from home, so these kids can study and do homework at home instead of driving to a different location just to do that."