Former Ohio CIO Stu Davis lands at data analytics firm Sense Corp
Davis, who resigned last month after nearly eight years as the state's top IT official, will be a managing director in the company's public-sector division.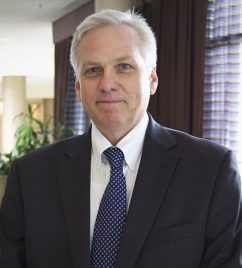 Stu Davis, who resigned last month as Ohio's chief information officer, is joining data analytics firm Sense Corp as a managing director for its public-sector division, the Austin-based firm announced Tuesday. In the new role, Davis will work with government clients on processes including digitizing records, moving services online and migrating systems to cloud platforms.
"Data analytics is the most disruptive thing that we're going to see in my career," Davis said in a press release from Sense Corp.
Davis left the Ohio state government Sept. 7, nearly eight years after he was appointed to the CIO role by outgoing Republican Gov. John Kasich. In resigning, Davis joined a growing list of state information technology chiefs to depart ahead of the term-limited governors who appointed them. New Mexico's Darryl Ackley resigned Aug. 27, while Maine's Jim Smith stepped down at the end of September. In total, 17 states have gubernatorial elections next month to replace a retiring or term-limited incumbent, which could lead to much more turnover in the ranks of state CIOs.
Prior to his appointment in the Kasich administration, Davis spent two years as the Ohio IT office's chief operating officer, overseeing a $58 million budget for governmentwide tech purchases. Before that, he served seven years as an enterprise shared service administrator for the state. In total, Davis worked for Ohio for 21 years.
In announcing Davis's hiring, Sense Corp described him as a "thought-leader" in data-driven government solutions. During his time in Ohio, Davis was responsible for consolidating much of the state's existing IT infrastructure, including merging more than 30 discrete data centers into a single, statewide hub . He was also credited by state officials with saving Ohio more than $162 million in overall IT costs, including a 98 percent reduction in hardware expenditures.
"In addition to providing broad digital government transformation expertise, Stu will help drive our continued focus on innovative analytics solutions and their application to government organization," Jimmy Schatte, the senior vice president for Sense Corp's public-service division, said in the company press release.