For public health and economy, states are turning to data
Results for America and the National Governors Association named seven states that are doing the most with data as they manage the health crisis and their dwindling budgets.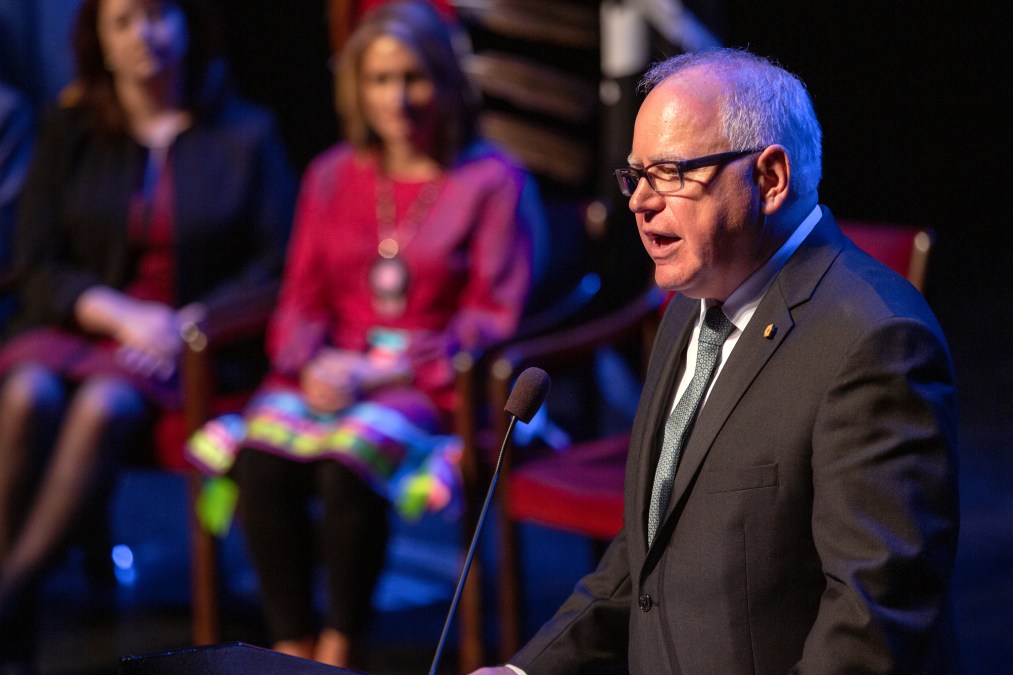 As data plays a growing role in how state governments manage the health crisis, Results for America and the National Governors Association on Wednesday named seven states they say are leading the nation in evidence-based policymaking.
In a webinar featuring state officials who explained how data is informing their work on current health measures and emerging economic concerns, the groups named Colorado, Connecticut, Minnesota, Oregon, Tennessee, Utah and Washington as the states running data initiatives to the greatest effect. They also gave honorable mention to Massachusetts, North Carolina, Ohio and Rhode Island.
Minnesota Gov. Tim Walz, whose public COVID-19 data dashboard was recognized by Results for America for tracking a wide range of metrics that include hospital capacity, critical care supplies, child care, funding and racial and ethnic breakdowns of the virus' reach, said the state releasing more pandemic data has prompted the public to request similar real-time statistics for other policy areas, a request he said he hopes to satisfy.
"Data lets you ask the right questions and make decisions to improve lives," Walz said.
Interest in data has risen inside many state governments in recent years, but some researchers say that greater governance is needed to make data-driven initiatives effective and that chief data officers should be playing a greater role to coordinate discussions that frequently span departments. Results for America's Jed Herrmann, who introduced the leading states, explained that since the group began tracking state-led data initiatives in 2018, his organization has witnessed a 50 percent increase in the average number of data projects per state, with this year's leading states running a dozen examples of high-quality data initiatives.
In Connecticut, state epidemiologist Dr. Matthew Cartter, who called himself "one of those people who work in that world behind the dashboard," said it's not only government's growing interest but the public's expectations around data that have spiked in recent years. But finding high-quality data and presenting it meaningfully has been a challenge, he said.
"I'm trying to figure out what are the questions we need to get answers to and what stories do we need to tell? Because we're not doing our jobs if we just show the data," Cartter said. "We need to be able to say what it means, because it doesn't become information until we actually try to explain why these data are important. And clearly for most epidemics, we start out with how many people are sick, how many people have been hospitalized, how many people have died. Very simple questions, but really complex to answer in practice."
Cartter said his attempts to tell an accurate story have been confounded by a shortage of reliable data, particularly around how the virus affects demographic groups differently. Black and Latino people in the U.S. are three times as likely to contract the virus than their white neighbors, according to the New York Times. But in Connecticut, demographic data, such as that on race and ethnicity, is collected by less than half of the labs running COVID-19 tests, Cartter said.
In 2009, during the H1N1 influenza virus outbreak, pandemic updates from states and the Centers for Disease Control and Prevention came weekly, Cartter remembered, but now data is collected daily as governors strive to act on data in as close to real time as possible.
"Epidemiologists in my program worked with others and other state agencies put out updates at 4 o'clock every afternoon, seven days a week, from the end of March all the way until July 1," he said. "That's when the governor said we could take the weekends off."
But in California, a faulty reporting system provided Gov. Gavin Newsom with inaccurate statewide COVID-19 lab data, which he last week presented to the public. And a new federal database with new requirements created by the Trump administration, too, could disturb data integrity, health experts warned this week, as some facilities question the wisdom of changing systems during a pandemic.
And as health officials and governors seek data to aid their grapples with the pandemic, which has brought 5.1 million COVID-19 cases to the United States and 165,500 deaths, state leaders are also turning to data to get a handle on what their economies might look like in a few months without additional federal aid.
Allison Jones, deputy secretary of policy and planning for Pennsylvania Gov. Tom Wolf, said the commonwealth started a program last fall to make workforce data easier for the public to access. Part of that program, she said, included a critical step of creating new "evidence standards" to evaluate the efficacy of the states' workforce-development investments in the coming months and years.
Benchmarking the efficacy of data-driven economic programs will be key in the coming months, said Lauren Larson, Colorado's budget director.
"I'm thrilled with how we've been able to change the culture in budget development to bring data and evidence to the point of decision making," Larson said. "This matters. When you're expanding a budget, you want to invest in the highest ROI. But right now, we're contracting our budget and we want to be careful we're not making decisions that are penny wise, pound foolish, and data and evidence really is supporting us there."