Dockless bike share is coming to New York City
Five companies will place their fleets around the city's outer boroughs during a pilot period.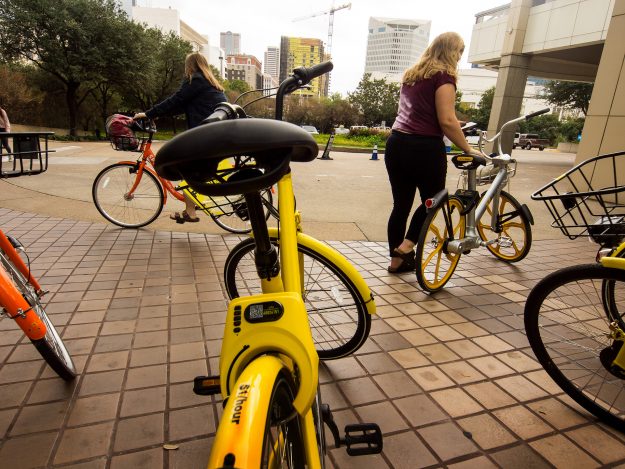 Dockless bike sharing is coming to New York City.
The city's Department of Transportation announced Tuesday that five companies — one of which specializes in electric bikes — will start placing their fleets programs around Brooklyn, Queens, Staten Island and the Bronx later this month. Each community will start with at least 200 bikes.
The vendors include Lime, Motivate, ofo, Pace, and Jump, which was recently acquired by the car-hailing company Uber. Motivate, ofo, and Pace offer traditional bikes. Jump's fleet is made up entirely of "pedal-assist" bikes, on which an electric motor kicks in after a rider starts pedaling. Lime offers both traditional and electric bikes.
"We at DOT are excited to name the companies that will bring dockless bike share to four different communities in New York City for the first time," the city's transportation commissioner, Polly Trottenberg, said in a press release.
Not all New Yorkers will get to enjoy the dockless revolution, though. Citi Bike, the traditional docked bike-sharing system launched in 2013, has exclusive rights to its territory, which includes all of Manhattan and parts of Brooklyn and Queens, through 2029.
The contracts the five dockless companies signed with New York still await final approval from city regulators, but are expected to go into effect as soon as mid-July. When they do, the outer boroughs will join a growing list of U.S. cities where fleets of dockless bikes are trying to change the way people move around — sometimes to the consternation of residents and motorists concerned that bikes that can be parked anywhere and clutter streetscapes. In the past year, dockless bike sharing has also been introduced in Seattle , Dallas , Los Angeles, San Diego, San Francisco and Washington, D.C.
During the pilot period, the length of which was not specified, New York transportation officials will evaluate the companies' compliance with the city's requirements on the accessibility of the bikes, data sharing and user privacy. Following the evaluation period, the city will determine future steps for the bike-share programs, and will consider implementing similar projects in other neighborhoods.