De Blasio orders NYPD to release more body camera footage
Footage from all incidents in which an officer uses deadly or serious force will be made available to the public, the mayor's office said.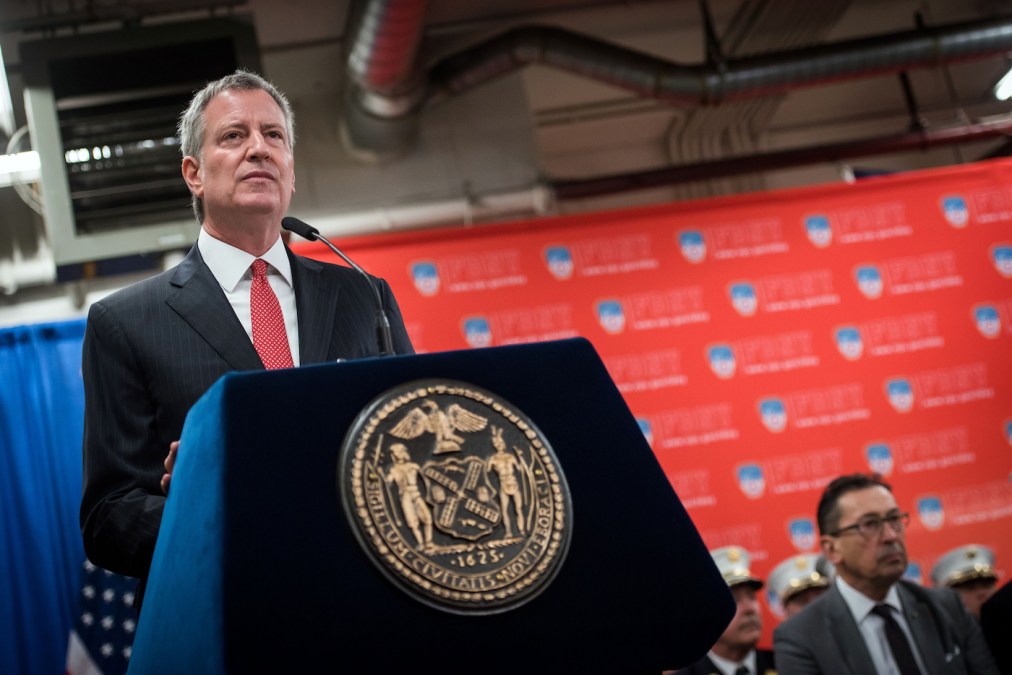 New York Mayor Bill de Blasio on Tuesday ordered the New York Police Department to make available to the public all video and audio footage from officers' body-worn cameras from incidents in which an officer shoots, kills or seriously injures an individual.
De Blasio made the order as he and the NYPD continue to face widespread criticism about the department's treatment of black New Yorkers and the city's response to ongoing protests over the killing of George Floyd, including multiple violent encounters between officers and demonstrators.
The order applies to three categories of police encounters: when an officer discharges a firearm, hits or nearly hitting an individual; causes death or serious injury using a taser; or kills or seriously injures a person through the use of physical force. Footage will be made available to the public within 30 days of being recorded, after first being reviewed by civilians involved in incidents, or their families, the mayor's office said.
"Body-worn cameras are only as powerful as the transparency that comes with them," de Blasio said at a news conference Tuesday. "When people see this kind of transparency, it will build trust."
Previously, the NYPD only released body-camera footage at the discretion of the police commissioner. In a press release, NYPD Commissioner Dermot Shea said de Blasio's new policy is "in line with the vigorous reform agenda the NYPD has been propelling for more than six years."
There are about 24,000 body-worn cameras in circulation citywide since New York issued them to all patrol officers and detectives in 2017.
But the department has come under intense criticism over the past few weeks as protesters have gathered daily to express their outrage over the killing of Floyd, a Minneapolis man who died after a police officer in that city knelt on his neck for several minutes in a May 25 encounter. That officer, Derek Chauvin, has been charged with second-degree murder, and three other officers have been charged with accessory crimes.
In New York, the first week of demonstrations against police frequently escalated into clashes between protestors and officers, who used tear gas, stun grenades, and physical force against demonstrators, resulting in numerous encounters that were filmed and posted to social media by witnesses.
4️⃣0️⃣6️⃣ New York City, NY: police chase after protestors as they're backing away, to beat them for sport

(I don't *think* we have this one yet, but if this ties in with any of the other NYC vids in the thread please reply here)

— T. Greg Doucette (@greg_doucette) June 8, 2020
Cops charged from the back with batons out. Multiple people hit. Someone bleeding from the head. I jumped over a car and am out because of a press base. This wasn't even a confrontation it was a trap pic.twitter.com/CgBkHfSwlR

— Jake Offenhartz (@jangelooff) June 5, 2020
De Blasio's office did not respond to emailed questions about the new policy, including whether body-camera footage from recent violent interactions with protesters would be released under the mayor's order.