NYPD introduces two robot policing technologies, GPS dart system
"Digidog is out of the pound," Mayor Eric Adams said at a press conference showing off three new NYPD technologies, including a robotic dog.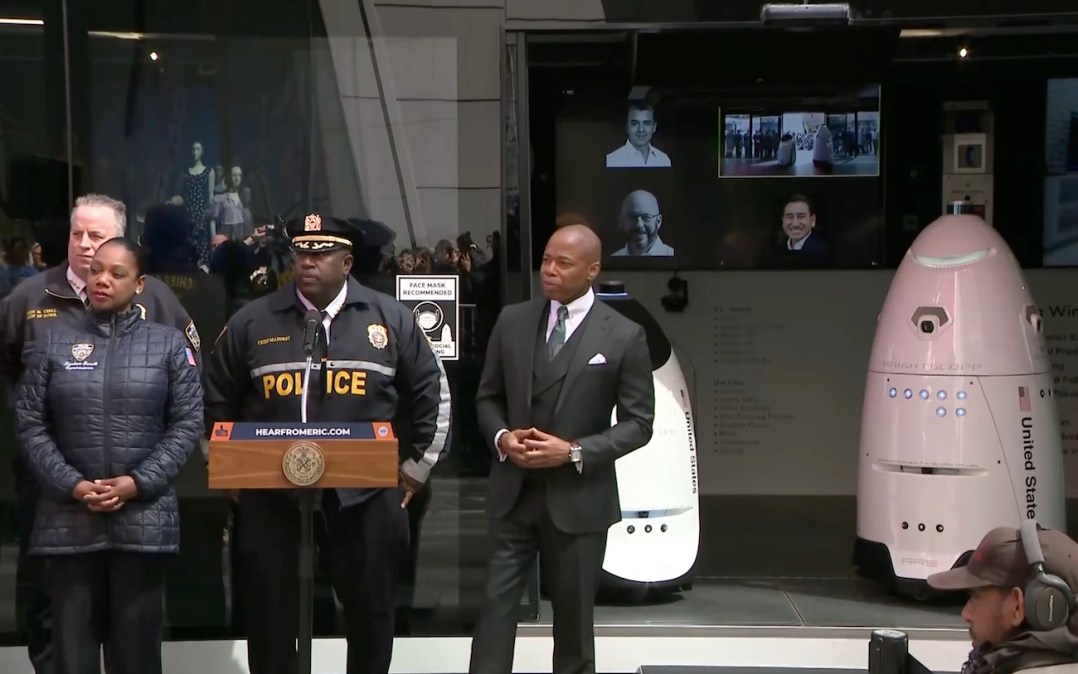 New York Mayor Eric Adams and Police Commissioner Keechant Sewell announced Tuesday the deployment of two robot policing technologies and a GPS-based system for tracking stolen vehicles.
One of the robotic technologies Adams and Swewell introduced during their press conference in Times Square was the Digidog — a four-legged robotic dog made by Boston Dynamics. The city had previously introduced it under former Mayor Bill de Blasio. But Adams said Tuesday "a few loud people were opposed to it," which resulted in the Digidog being decommissioned after less than a year.
"Digidog is out of the pound," Adams said the press conference.
The city has acquired two of the Digidogs, which city officials said cost $750,000 and were paid for with asset forfeiture funds.
Jeffrey Maddrey, NYPD's chief of department, said the New York City Fire Department has been using the Digidog for the last year and has had success with the technology. The police will use its two robotic dogs in high-risk situations such as bomb threats or hostage negotiations, Maddrey said.
'Influx of ghost cars'
The department also announced it's leasing a K5 autonomous security robot, made by Knightscope, a California security camera and robotics maker. The firm claims the robot uses artificial intelligence to provide real-time incident notifications to emergency personnel. It's also equipped with a 360-degree, eye-level video feed, 16 microphones and a license plate reader.
The department said the K5 robot will be deployed around Times Square, including in the subway station, on a six-month pilot program kicking off this summer. Sewell said neither the Digidogs nor the K5 robot will use facial recognition.
The NYPD also announced plans to test a location tracking system known as StarChase GPS, a high-tech dart gun used to tag fleeing vehicles, allowing officers to track suspects' movements, said Chief of Patrol John Chell.
"In the last couple years, you've seen an influx of ghost cars, or cars with paper plates and an increase in car theft, and they're being used to commit other crimes," Chell said. "And why we're doing this, is it allows our officers to stay safe, limit pursuits and let the GPS do its job."
Budget cuts
The announcement of the new technologies comes as the mayor has requested that almost all New York City agencies cut their budgets by 4% for the upcoming fiscal year. The city's Department of Education and the City University of New York were requested to cut their budgets by only 3%.
A spokesperson for Adams confirmed to StateScoop that the city's Office of Technology and Innovation will also have to cut its budget by 4% percent and has until Friday to submit a proposed savings plans back to the mayor's office.
"In every era, we have maximized public and officer safety through emerging technology, and that approach continues today," Sewell said. "We want the public to know that the use of these technologies will be transparent, consistent and always done in collaboration with the people that we serve. And as with every NYPD initiative, we will continually evaluate their use and impact on our city."
Adams said that the three technologies are "only the beginning" and that he's looking at new forms of public safety. He said he's tasked Chief Technology Officer Matt Fraser and others with finding new technologies the city can use, citing the furtherance of artificial intelligence technologies to prevent crime and apprehend offenders.