Georgia buys new voting machines with paper trails
The state will spend $107 million to acquire new touchscreen voting machines that print out paper ballots in time for the 2020 presidential election.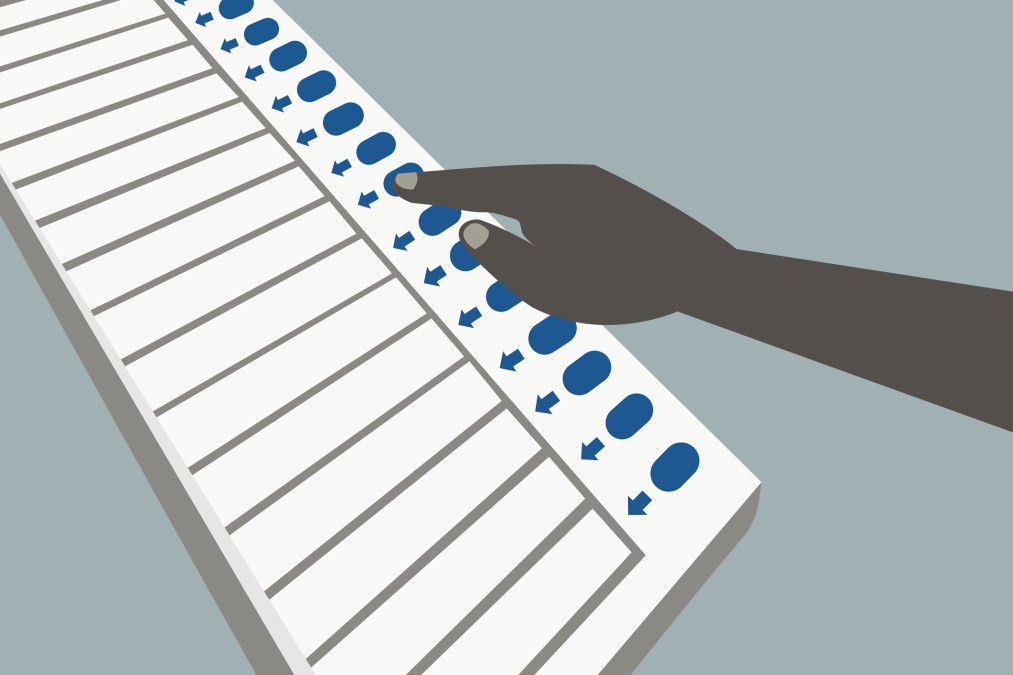 Georgia Secretary of State Brad Raffensperger announced Monday that his office is awarding a $107 million contract to election-technology vendor Dominion Voting Systems to replace the state's voting machines ahead of the 2020 presidential election with new equipment that produces paper records of ballots.
Under the new contract, Georgia will phase out the touchscreen devices it has used for the past 17 years. Those direct-recording electronic machines, also known as DREs, do not produce paper trails, raising concerns about the state's election security and the ability to audit vote totals. The new Dominion devices feature a touchscreen on which voters make their selections, and print out paper ballots to be tabulated.
In total, the state plans to buy more than 30,000 ballot-marking devices and more than 3,500 optical scanners to count completed ballots. The contract calls for the new equipment to be distributed across Georgia's 159 counties in time for the state's presidential primaries next March 24. A handful of counties may have the new machines in place for municipal elections this fall.
Raffensperger's selection of a system that combines a touchscreen interface with marked paper ballots follows the recommendation made in January by a 16-member board that reviewed Georgia's voting systems. Currently, Georgia is one of the only states where all in-person ballots are cast using DREs that do not produce paper records. Wenke Lee, a Georgia Tech professor and the panel's lone cybersecurity expert, who voted against the recommendation, warned his colleagues at the time that even the newest electronic voting machines are vulnerable to software malfunctions that cause votes to be lost or recorded incorrectly.
The Dominion contract still faces potential legal hurdles. A federal judge is expected to rule soon in a lawsuit brought by election-security advocates who want Georgia to switch to paper ballots marked by pen or pencil. Meanwhile, the Georgia Supreme Court is deliberating a separate case alleging that faulty programming in the 17-year-old DREs led to the disappearance of tens of thousands of votes in last year's race for lieutenant governor.
"Elections security is my top priority," Raffensperger said in a press release. "We look forward to working with national and local elections security experts to institute best practices and continue to safeguard all aspects of physical and cyber-security in an ever-changing threat environment."
The Georgia secretary of state's office has had a checkered history on cybersecurity. Raffensperger's predecessor, Brian Kemp, who is now Georgia's governor, was faulted for rejecting the federal government's offer to conduct vulnerability assessments of the office's computer systems as a safeguard against foreign hacking attempts. Kemp's time as secretary of state was also marked by multiple instances of him mistaking legitimate network activity for a cyberattack.
Raffensperger's office said in its statement today that it gets network monitoring and cyber-hygiene assessments from DHS and cybersecurity vendors, as have many county election offices.
Still, worries persist about Georgia's new voting technology. Lee, the Georgia Tech professor, wrote in January that machine-marked ballots are not reliable because of the potential for machine errors and that most individual voters will not take the time to manually verify that the printed ballot matches their choices.
"In short, we cannot use [ballot-marking devices] with paper receipts because the printouts are not guaranteed to be valid and therefore are insufficient for a post-election audit," he wrote.