Cities and towns do not like the 5G bill slipping through Pennsylvania's legislature
The bill would put strict caps on what municipal utilities could charge phone companies to install small-cell antennas.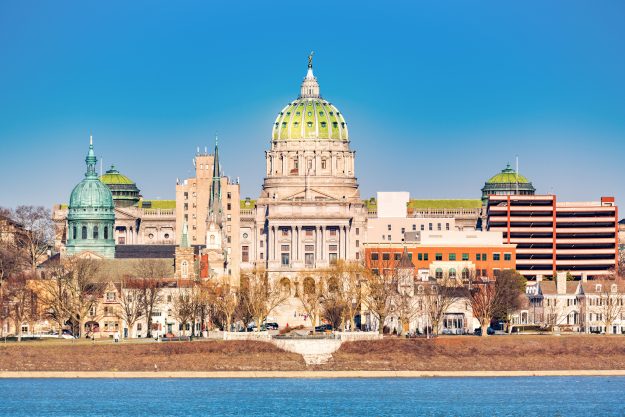 A bill that would limit what local governments can charge telecommunications companies to install small-cell antennas in anticipation of the next generation of wireless technology is barreling through the Pennsylvania state legislature.
The bill, as currently written, sets the rates at which cities, towns and counties throughout the commonwealth can charge telecom companies at $100 for installing a new antennas on municipal utility poles and $25 for annual fees. The legislation, which is backed by a bipartisan group of 35 members of the Pennsylvania House, is unpopular with local governments, which say it will limit their abilities to regulate access to public property and control their own zoning.
The upshot is another brewing showdown between a state and its localities over the implementation of equipment that the telecom industry says is necessary for the forthcoming 5G wireless standard. Richard J. Schuettler, the executive director of the Pennsylvania Municipal League — a coalition of 96 municipalities ranging from Philadelphia to small towns with fewer than 1,000 residents — told the Philadelphia Inquirer the 5G bill winding through the state capital is "one-sided for the industry."
Pennsylvania is far from the first state to catch the 5G fever. With promises that it'll transfer data 100 times faster than current 4G benchmarks and power a universe of internet-connected devices, 5G has been dangled as being everything from a cybersecurity solution to an economic engine that'll revitalize communities.
But because the 5G bandwidth requires cells to be located much more closely together — as much as one every 500 feet in dense areas — it will need an explosion in the number of cell locations. Small-cell antennas are small enough that they can be mounted onto existing utility poles. Municipal utilities have usually set the rates charged for pole access, but there's an increasing list of states stripping local governments of that authority.
Cities pit against states
"These are facilities that were constructed for other purposes and we shouldn't be giving a subsidy to a private for-profit entity," says Sean Stokes, a Washington lawyer who specializes in municipal telecommunications cases.
Stokes tells StateScoop the wireless industry is making a "three-pronged attack." One prong is to push the Federal Communications Commission to limit local governments' ability to review telecom firms' applications to deploy equipment; Chairman Ajit Pai proposed such a rule earlier this year. Another prong is federal legislation that would establish national rates for small-cell installations.
The most active prong is the wave of state-level legislation aimed at speeding up the small-cell rollout. Twenty states have adopted legislation designed to streamline regulations of small-cell deployments in recent years. Not all the new laws impose caps on what local governments can charge, but that's been the thorniest issue — and one that often results in lawsuits that pit cities against their states.
Texas was sued by 22 cities, including Austin and Dallas, last year, after the state legislature capped annual small-cell leases at $250. Ohio scrapped a similar bill earlier this year after losing court cases brought by dozens of cities, and replaced it with compromise legislation that raised the cap municipalities can charge per antenna and allowed local governments to require telecom firms to take neighborhood aesthetics into account when installing new equipment.
Meanwhile, many local governments in Illinois are still smarting after Gov. Bruce Rauner signed legislation restricting every municipality in the state but Chicago from charging telecom firms more than $200 to install a small-cell antenna on existing utility poles. No legal action has been brought over that law, but it has been sharply criticized by some midsize cities like Naperville and Aurora, where the mayor said it "allows private companies to have a monopoly over public infrastructure."
A 'mass hysteria'
Despite some subtle differences from state to state, Stokes says many of these 5G rollout bills have similar language favoring the telecom industry.
"There's a little bit of a mass hysteria that we have to get this done," he says. "A lot of the bills seem to be written more by the carriers than any particular [legislators]."
He also says states might be getting hyped up about 5G years before consumer devices that run on it hit the market.
"5G was initially being discussed was a millimeter wave technology that is very slowly starting to be deployed in tests for a fixed application," he says. "When people are talking about it for mobile, that's talking about the next generation of mobile. The things people are pushing for is to install more 4G and LTE cells and it's a bit of a land grab to say we want to have this in position."
CTIA, the lobbying group for the wireless industry, says 5G technology could spur 3 million new jobs and a $275 billion jolt to the national economy by 2026, in the form of things like autonomous vehicles and mobile phones capable of downloading data at speeds rivaling wired broadband connections. The 5G push also has the support of national-security professionals like retired Marine Gen. James L. Jones, a former NATO supreme allied commander and national security adviser to President Barack Obama.
"I think we're involved in a very serious race that'll affect who we are as a nation for the rest of the century," Jones said about 5G adoption at a conference in Washington last month.
Phone companies have started building out 5G networks in a handful of major U.S. cities. T-Mobile Chief Executive John Legere said during a recent earnings call that his company aims to activate its first 5G network some time in 2019 with national coverage coming in 2020.
The bill being considered in Pennsylvania, which has the backing of the state's wireless industry , is scheduled for a committee hearing next week.
But states helping to speed the installation process can have the effect of leaving the municipalities that own the poles where the antennas will be deployed holding an empty bag, Stokes says.
"This whole rush to 5G blasts past how we're going to do this the right way," he says.
Instead of statewide rules, Stokes says some of the deals phone companies have struck with individual cities offer better models for small-cell deployments. He points to San Jose, California, which in April allowed AT&T to install up to 200 small-cell antennas in a contract that could generate the city $5 million over 15 years.
That arrangement, Stokes says, was "very detailed, [and the] industry was happy.
"But who's going to negotiate a deal like that there's a bill that says you can get access for $25?"