Cincinnati-area governments sign opioid data-sharing pact with feds
At a "smart regions" conference in Ohio, representatives from several jurisdictions pledged to use technology to reduce drug overdoses.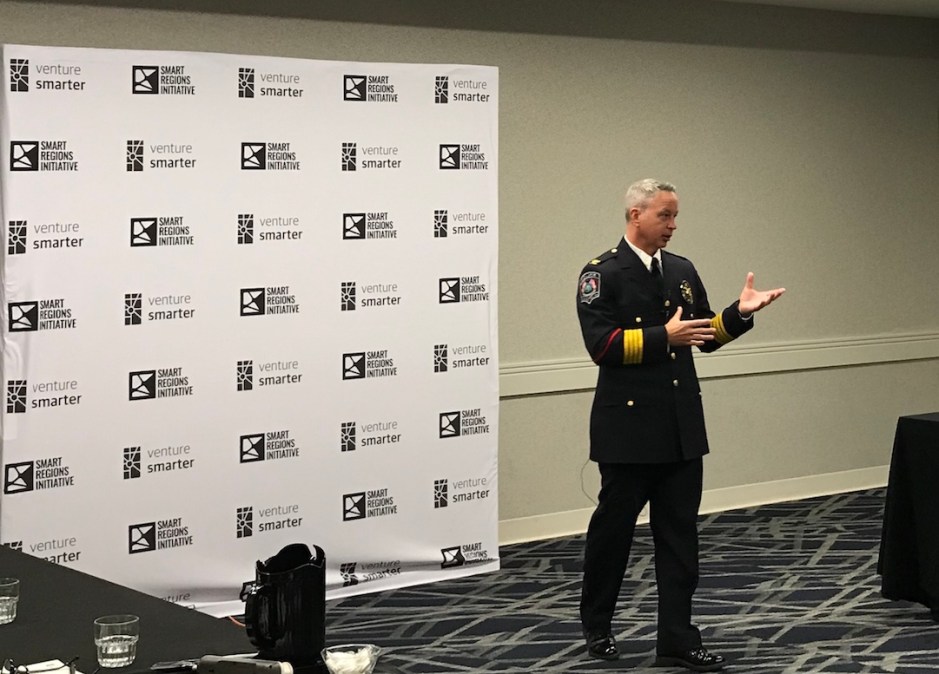 Deaths related to opioid abuse soared in Ohio last year, with 4,854 fatalities recorded, a nearly-20 percent increase over the 2016 rate. But at a "smart regions" conference in Ohio on Thursday, officials from Cincinnati and surrounding towns came together to sign agreements to share data with the federal government in hopes of developing high-tech solutions to the drug epidemic.
Ohio's recent jump in opioid fatalities was particularly acute in Hamilton County, anchored by Cincinnati and the state's third-largest county, where opioid-related deaths spiked 41 percent over a one-year period. The government officials responsible for responding to overdoses and drug-related deaths say they've been frustrated by the relatively slow progress in tools available to fight the wave of opioid abuse.
"What we hope is that we can now work as one collaboration to bring solutions to combat the epidemic, not only locally, but across the country," said Tom Synan, the police chief of Newtown, Ohio, population 2,700.
Under the partnership formed Thursday, members of the coalition will share information with the Department of Homeland Security's Science & Technology Directorate, thanks to a new federal anti-drug law enacted in January. That law, known as the INTERDICT Act , empowers DHS' Customs and Border Patrol and Homeland Security Investigations arms to inspect shipments entering the United States for opioid content.
Synan, a founding member the Hamilton County Heroin Coalition , which was formed earlier this year, said he was moved to look for unorthodox responses to his town's opioid scourge after several members of a single family died from drug overdoses in 2014.
One of the tools the coalition already has at its disposal is an open-data website that tracks overdose reports in Cincinnati, which the city government created in 2016. But stifling the free flow of heroin, and synthetic — and deadlier — alternatives like fentanyl, remains elusive for local authorities.
The new data-sharing arrangement is the first of its kind between DHS and a regional collection of governments dedicated to reducing opioid abuse, said André Hentz, the acting deputy secretary of the S&T directorate.
The fruits of the partnership are still unspecified, though one possible outcome is better text-message responses to overdose reports, which could help serve younger victims. Executives of Cincinnati Bell, which is a party to the agreement, said texting, rather than voice calling, is by far the preferred method of communication for the phone utility's customers under 50.
Cincinnati Bell and the Hamilton County coalition are now developing a text-based service to connect people with drug-treatment resources.
"We can have safe places that when people say they want to stop using drugs, they can go to," said Amy Murray, a member of the Cincinnati City Council.
Homeland Security data could improve a text-messaging service by allowing it to notify users of reports about bad batches of heroin, for instance. If successful, the partnership between Hamilton County and S&T could be replicated in other parts of the country struggling with opioid addiction.
"Its affecting our workforce, it's affecting our families," Murray said. "We want to go forward together."