Chicago street work map adds custom alerts feature
Residents no longer need to manually check the map for closures and construction and officials say it could also improve contractor accountability.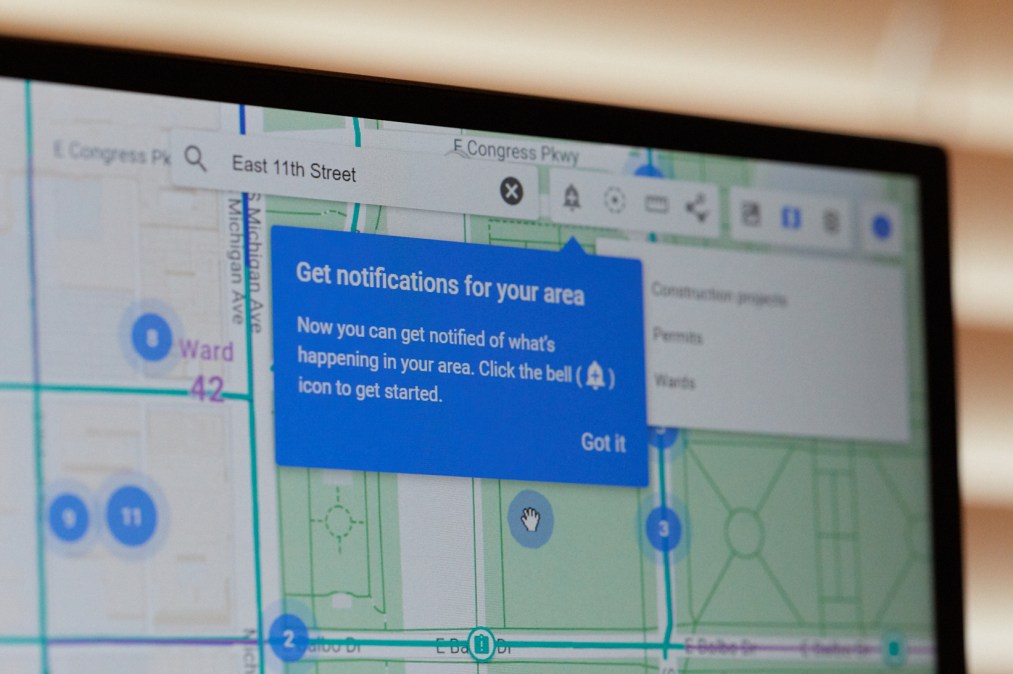 The Chicago Department of Transportation announced this week a new feature in its online infrastructure map that allows users to subscribe to alerts signaling road closures, restoration projects and events around the city.
The ChiStreetWork website, which launched in April 2019 through a partnership with Google and the software and consulting firm SADA Systems, allows users to draw digital boundaries around parts of Chicago they'd like to receive notifications about. The website already allows users to search by ward, neighborhood, intersection or street address to learn about restoration projects or any permit-required event happening in the city. But the subscription service will reduce frustration save the city money, said Todd Schroeder, Google's director of public sector digital strategy.
"The solution is bringing together, in a more integrated fashion, how agencies are aware of when things get open, what happens and then, more importantly, communicating to the citizen in a more integrated fashion," Schroeder told StateScoop.
Previously, he said, the water department might have closed and re-opened a street for maintenance, only for that street to be scheduled for paving just a week later, resulting in unnecessary maintenance costs and delays for residents. Infrastructure agencies, vendors and residents will now be able to track projects without the burden of running into a road closure or paving project because they forgot to check the portal.
Mike Simon, CDOT's deputy commissioner said that because the map displays project start and end dates, as well as the companies contracted to do the work, complaints to the city will likely be reduced and companies could feel more pressure to work expeditiously.
"We reduce the calls, people understand it and the stakeholders are more involved because everybody's watching them," Simon said. "If you're cruising on out there for a week, people are going to call your company and say 'What are you doing out here?'"
The City of Chicago has used dotMaps, the mapping software developed by Google and SADA Systems, internally since 2014 and Simon says it's saved $170 million in construction costs in the process. But citizens couldn't see road closures on an interactive map until the launch of the ChiStreetWork portal last April. (Seattle is also using the platform to build its own interactive maps for the public, Schroeder said, adding that the new service could be used to incorporate additional information, such as dynamic congestion pricing, smart tolling and real-time road closures.)
"People want to know what's going on in their street. It has to be transparent," Simon said. "Now, through ChiStreetWork, you can see all of it, like: 'Oh, there's a block party on my street in two weeks.'"