First innovative firefighting technology contracts come to California
A predictive modeling platform and an ignition detection system come under a new rapid procurement process Gov. Gavin Newsom designed to attract creative ideas.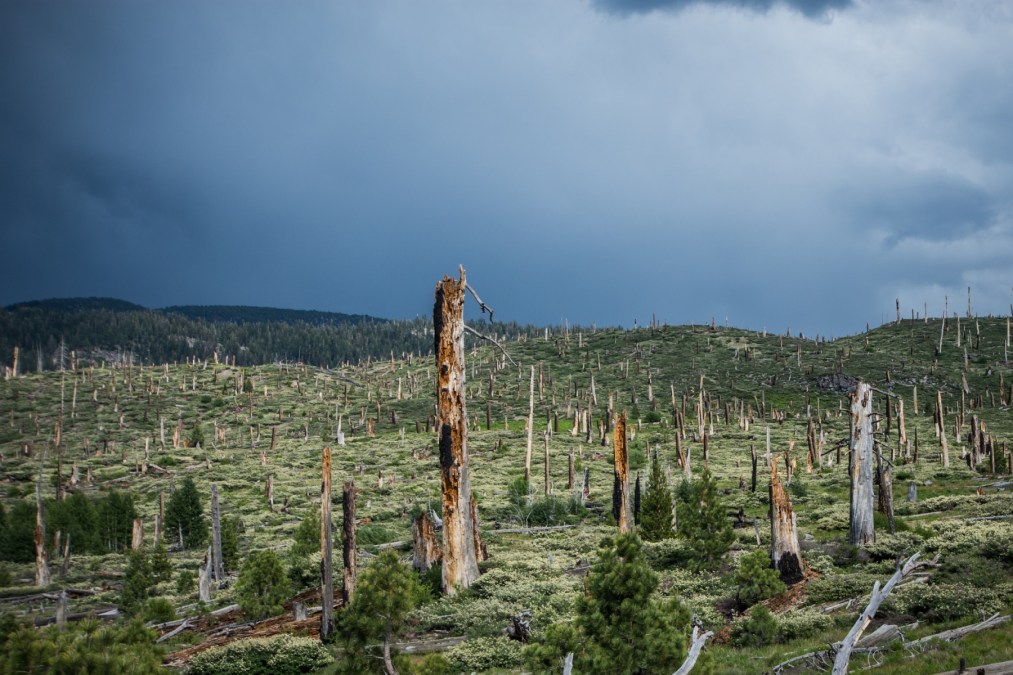 California Gov. Gavin Newsom announced Wednesday the award of two contracts for cutting-edge technologies designed to help combat the deadly wildfires. Under the contracts, the California Department of Forestry and Fire Protection, or Cal Fire, will test out a modeling platform that predicts where active blazes will spread, and an ignition detection system that relies on aerial sensors.
The contracts, worth a combined $2 million, were issued under a new procurement process Newsom implemented on his first full day in office in January. Under the governor's order, Cal Fire issued a solicitation known a request for innovative ideas, or RFI2. Rather than a traditional request for proposals, in which the soliciting government agency lays out narrow parameters for a project it wants a vendor to complete, an RFI2 defines the the problem it seeks to address, but gives bidders wide latitude to design a solution.
""[I]nstead of asking for a particular technology product, as with traditional procurement, we can ask for solutions to a problem we face, convene state experts, vendors, entrepreneurs and scientists from a range of industries, and challenge them to propose innovative, technological solutions to yield more comprehensive and effective results," Newsom's Jan. 8 order read.
The order also made Cal Fire and the Department of General Services, California's procurement agency, the subjects of his administration's first "Innovation Procurement Sprint," in the wake of a devastating 2018 wildfire season that ranks as the deadliest and most destructive on record, with more than 1.9 million acres scorched and 104 killed, including 85 residents in the small northern town of Paradise. With the winners of that sprint announced Wednesday, California officials hope to get those selected technologies in the hands of firefighters by next year's fire season.
The larger contract, worth $1.6 million, went to Northrop Grumman for a wildfire ignition detection system. According to Newsom's office, Northrop is proposing the deployment of remote, aerial sensors that can send signals to local computer-aided dispatch systems on the ground when a fire breaks out. The goal, officials said is to create an alert system that responds "as quickly, if not quicker, than a 9-1-1 caller" notifying authorities that a wildfire is underway.
The smaller $383,000 contract went to Technosylva, a small firm with offices in San Diego and Leon, Spain, that specializes in wildfire-analysis platforms that use mapping technologies like satellite imagery and geospatial information systems. Technosylva will use its award to develop a prototype platform capable of predicting a wildfire's path using modeling that accounts for factors like topography, current and forecasted weather and vegetation. If successful, it could help officials make decisions about which populated areas to evacuate or where to deploy firefighting resources, Newsom's office said.
"The use of innovative and groundbreaking technology to bolster response to wildfires will help our firefighters and first responders tremendously, and if we can predict the patterns of a fire, we will be able to save lives and property," Newsom said in a press release.
Northrop and Technosylva's proposals were chosen out of 131 applicants. Both companies' projects will be tested in Monterey, Napa, San Luis Obispo and Butte counties, the last of which is home to Paradise, nearly 90 percent of which was destroyed in what's known as the Camp Fire.
California's 2019 fire season has been fairly mild compared to the last few years, though it has kicked up in the last week with a 2,000 acre blaze in Riverside County and a Northern California fire that torched more than 54,000 acres before being brought under containment. A recent advisory from the U.S. Forest Service warned that a dry, hotter-than-usual summer that's been tempered only by moisture left over from a wet winter may soon give way to more fiery conditions.
"[W]e have high confidence of an above normal large fire potential this fall into early winter," the advisory says.