'You have to help people understand' smart city benefits, mayors say
Tech-driven improvements work best when officials explain them in terms the public can digest, said speakers at a forum on women and smart cities.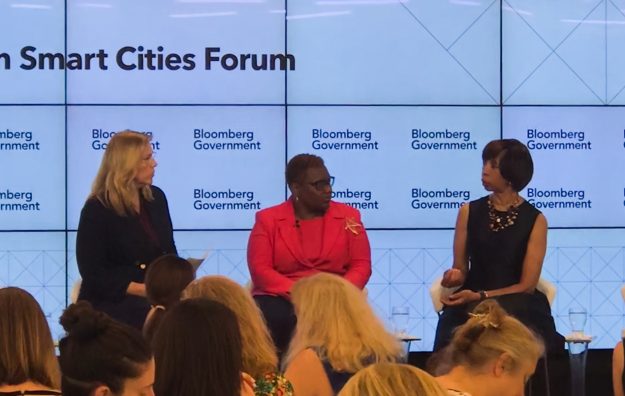 Talk of "smart streetlights," "complete streets" and open-data portals can fly by most people pretty quickly. Instead, the smart-cities movement succeeds best when officials explain to their constituents how these new technologies will affect their lives in terms they can digest, speakers at a Thursday-morning forum on women in smart cities said.
"You have to help people understand how it benefits them," Gary, Indiana Mayor Karen Freeman-Wilson said at the event hosted by Bloomberg Government in Washington D.C.
Freeman-Wilson, who took office in 2011, mentioned being told not long after she took office that her city, just southeast of Chicago, had 20,000 vacant buildings. Another source quoted a figure closer to 10,000. Freeman-Wilson set about getting an exact figure, ordering a multi-year survey to catalog every parcel in Gary. The result was a dataset that showed that 6,902 lots — about 21 percent of the whole city — were vacant, while 12,394 buildings were blighted as of early 2015. Freeman-Wilson's administration then made a map publicly available on a new data portal to help begin the process of determining which lots could be refurbished and which needed to be torn down.
"Now we can target for demolition," she said. "You can't just collect the data. You have to explain what the process is. When you do that, people understand."
Freeman-Wilson was joined on stage by Baltimore Mayor Catherine Pugh, who promoted her administration's work making the city's community college tuition-free . Pugh said the decision was simply a result of looking at the number of students actually able to pay.
"If you understand economics of our city, a majority of people going to Baltimore City Community College could go free anyway if they filled out their FAFSA form," Pugh said, referring to the federal application college-bound students are required to fill out to determine if they qualify for tuition assistance. "We set aside $1 million for people who don't get through that process."
The "smart" part of making the community college free, Pugh said, is that it helps keep Baltimore attractive to young people who might eventually help the city grow economically. She said students who complete two-year degrees at BCCC can continue tuition-free at nearby Morgan State University, a historically black institution, and that top students might go on to the elite Johns Hopkins University. With an estimated 10 million tech jobs expected nationally by 2020, Pugh asked, "How are we preparing our communities to access these jobs?"
Following the mayors, the event turned to a panel featuring Adrienne Schmoeker, a director in New York City's data analytics office; Jeanethe Falvey, Boston's chief digital officer; and Debra Lam, a former chief innovation officer in Pittsburgh who now runs a smart-city research group at the Georgia Institute of Technology. All three agreed that one of the biggest challenges to making real improvements in cities is getting the right people in the right jobs, but Lam said there are some encouraging trends.
"The number of women in elected office is still low, but that's changing," she said, referring to the election of London Breed as San Francisco's first African-American female mayor. "But there are a greater number of women in senior positions in city government."
Schmoeker said she looks for people who can develop programs that last after the initial buzz fades. "Are they going to be able to create data projects that will last into the future or a one-and-done press release?" she said. "I've seen a trend that If you launch something, you're considered successful. That's not what success is. We need to talk about results, quality."
Schmoeker pointed to her office's compilation of more than 2,000 datasets that it makes available to the public and to other city agencies, including the New York Police and Fire departments. "You can't manage what you can't measure," she said.
But story Falvey told suggests that as with other smart-city innovations, data portals and other public-facing websites work best when they connect with residents on the most basic levels — even if that level is something as infuriating as a paying a parking ticket.
"We're in the business of making the work of the city more approachable for folks," Falvey said. "We get a lot of compliments from new residents. I even got a nice letter from someone who got their car towed."