Top 31 Smart Communities to Watch
Top 31 Smart Communities to Watch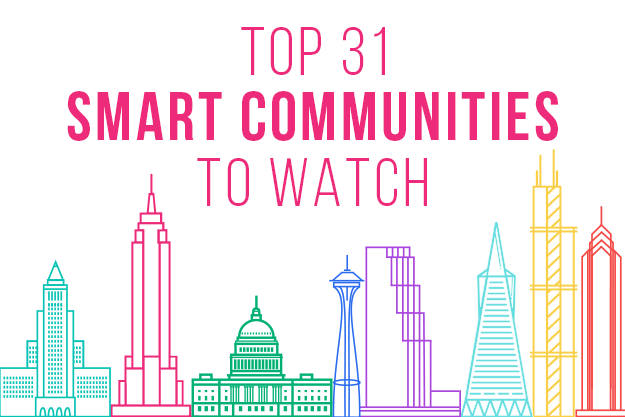 ---
New York City
If there is a signature smart city in the United States, its New York. At the 2016 Smart City Expo World Congress in Spain, it was named the 2016 Best Smart City, which led tothefirst Smart Cities NYC conference earlier this year.
To maintain itsfocus on thesmart cities space, New York is deploying a Smart & Equitable City strategy aimed at expanding connectivity, piloting and scaling connectedtechnologies, growing the innovation economy and ensuring responsible deployment of projects. Among the most notable and recognizable of the citys smart efforts is LinkNYC a series of high-speed Wi-Fi kiosks being deployed across the boroughs. Since its launch, LinkNYC-style kiosks have expanded to half a dozen other cities across the U.S. and internationally to London.
Earlier this month, the city announced the creation of a Planning Labs unit within its Department of Planning. The unit is targeted at civic techand modeled after the federal governments 18F digital services team. The city also launched an Internet of Things public-private partnership in Brooklyn in March, dubbed the Neighborhood Innovation Lab. The city is using technology to address major social and environmental issues like climate goals, public health and environmental sustainability.
Smart city technologies play a critical role in advancing the goals of the plan for One New York, a city spokesperson StateScoop.
---
Palo Alto, California
Palo Altois an example of what happens when you mix the ingenuity of Silicon Valley with a will to experiment in the public sector. The community has explored many smart city advancements, but Palo Alto Chief Information Officer Jonathan Reichental said the latest play is in transportation and mobility. To accommodate residents and the thousands of tech workers who commute ineach day, there is a pull for less traffic and more efficient transit.
Its not a single project but a collection of interrelated initiatives, Reichental said. They span from supporting our safe routes, to school initiative for cyclists, our Vision Zero effort to reduce traffic accidents, developing a regional transportation app, connected traffic signals, incentives to get more people to use public transportation, promoting electric vehicles, and support for testing self-driving vehicles.
Reichental said that Palo Altos other smart city push is found in themore than 60 digital services that the community uses to interact with the city, whether this be in permitting, licenses or 311 service requests. Capitalizing on its legendary startup culture, the city also reaches out to tech entrepreneurs for pitches oftheir latest inventions. This year, these include public kiosks for wayfinding, a chatbot to answer resident questions on Facebook, a new parking and traffic sensor system, air quality sensors in the citys retail district, anda smart lighting project in the downtown area. Another development is a new smart energy grid that will help Palo Alto conserve electricity. On that project, Reichental said, the return on investment has enabled to city to increase capacity while saving resources.
Its made our services more accessible, lower cost, more efficient and more user-friendly, Reichental said.
---
Philadelphia
Philadelphia is clamoring to take advantage of smart city technology, but the disparate approach across city agencies to these initiatives is making true progress difficult. Enter SmartCityPHL the citys attempt to integrate those efforts.
SmartCityPHL aims to solve that by developing a comprehensive vision and action plan for how these disparate projects can be integrated and better supported in a large ecosystem, Ellen Hwang, the program manager for innovation management in Philadelphia, told StateScoop in an email. The city is developing a roadmap to prioritize Philadelphias diverse needs and identify specific and tangible smart city solutions to those needs.
In March, the city launched GovLabPHL to improve agency performance with data and behavioral science. The work between GovLabPHL and SmartCityPHL build on the work in 2015 to upgrade its 311 mobile app and establish an innovation blueprint. Last year, the city debuted a beta website to gather feedback from citizens before its fullofficial launch.
---
Pittsburgh
It was big news in Pittsburgh when the city was selected as a finalist in the U.S. Department of Transportation's Smart City Challenge, but when Columbus, Ohio, eventually won, bringing tens of millions in research funding to that city, Pittsburgh didn't give up on its vision.
Mayor Bill Peduto blamed the city's loss in the competition in part to Uber's lack of support for Pittsburgh in a relationship officials colorfully dubbed a "one-way limited-access highway." Despite the drama, a robust suite of smart city efforts, many of them oriented around transportation, remain on the city's agenda, in part thanks to a $11 million commitment from Pennsylvania Gov. Tom Wolf.
A partnership with Carnegie Mellon University enables research around self-driving vehicles and the city's connected infrastructure, like embedded roadway sensors. CMU is also assisting on a project called Surtrac, integration of smart signal technology designed for urban areas that has already been deployed in the city's East Liberty neighborhood.
The SmartPGH Consortium a group of technologists and leaders from government, academia and the private sector leads projects around connected streetlights, an autonomous shuttle network, and "smart spines," major corridors equipped with sensors to gather valuable data about how the city is functioning. Intelligent freightmanagement allows for tracking of freight vehicles and dedicated delivery zones. MovePGH, a multimodal planning and accident reporting app intends to connect citizens to the city's services and metrics, while a fleet of sensored electric vehicles and dynamic parking management are also in the works.
The vision, according to an official city document, is to create "systems of systems" that comprise "the next generation of public infrastructure: an adaptive, living communication and data platform that allows the city of Pittsburgh to respond to the transportation and energy needs of residents efficiently and equitably."
---
Portland, Oregon
For Portland Mayor Ted Wheeler, inaugurated this year, thesmart city movementis all about equity. The Oregon city is infusing equity in its utilities, transportation, law enforcement and a wide range of public services.
Evidence of this mindset can be found in Portland'sSmart Autonomous Vehicle Initiative(SAVI). With the advance of self-driving vehicles, the city is investigating how the initiative can help its elderly, low-income and more vulnerable residents have accessible transportation options through pilot projects that research the best uses of self-driving or autonomous vehicles (AV) in the city. As part of SAVI, Portland Bureau of Transportation solicited vendors for suggestions June 9.
A key component to the city moving forward with AV policy is that it incorporates equity to achieve the goal of setting policy that increases safety and mobility forusers, a cityspokesperson told StateScoop.
Equity also figures into the city's plan for law enforcement. In April, the Portland Police Bureau launched an open datadashboardthatrelays which neighborhoods are experiencing the highest levels of crime. Drug deals, burglaries, murders, prostitution the dashboard maps it all out for public consumption. The dashboard is intended for transparency, but also to alert neighborhood watch groups and help law enforcement collaborate with the community on crime prevention strategies.Open data is connected to the citys other departments, as well, with the Portland City Council adopting anOpen Data Ordinanceto establish an open data policy and program just last month.
The city is also making inroads toward lower emission policies. In April, Wheeler made apledgefor Portland to have 100 percent clean energy by 2050. The pledge codifies renewable energy as part of the cities polices, and favors solar and wind energy over fossil fuels.
Getting our community to 100 percent renewable energy is a big goal, Wheeler said instatement. And while it is absolutely ambitious, it is a goal that we share with [our partners]. We have a responsibility to lead this effort in Oregon.
---
Portsmouth, New Hampshire
The seaside town of Portsmouth, New Hampshire, proves you dont need to be a metropolitan tech mecca to benefit from smart city advances.
The city, home to roughly21,000 residents, leaned on the talents of New Hampshire University engineers in the smart reconstruction of its Memorial Bridge, a link between the city and Kittery, Maine. With $1.2 million in funding from the National Science Foundation, the city and NHU built the bridge with 40 sensors to measure traffic flows, weather patterns, structural integrity, and even the marine ecology just beneath. As an added feature, the bridge boasts a turbine system that can convert tidal energy into electricity to power its sensor network.
Bridges like this can do far more than get you from A to B,UNH engineer Erin Bellsaidin a video published by the National Science Foundation. Were putting accelerometers, which measure the vibration, all along the top allowing decisions to be objective rather than subjective so that we can increase the life of our infrastructure.
Reconstruction of the bridge began in 2013, and the project is seen as potential model for engineers to detect when critical transit infrastructure is becoming susceptible to failure. Adding an educational use case to the project,the city is also using the sensor network to be a learning to tool for children studying the environment.