Top 11 Public Safety Tech Leaders to Watch
Top 11 Public Safety Tech Leaders to Watch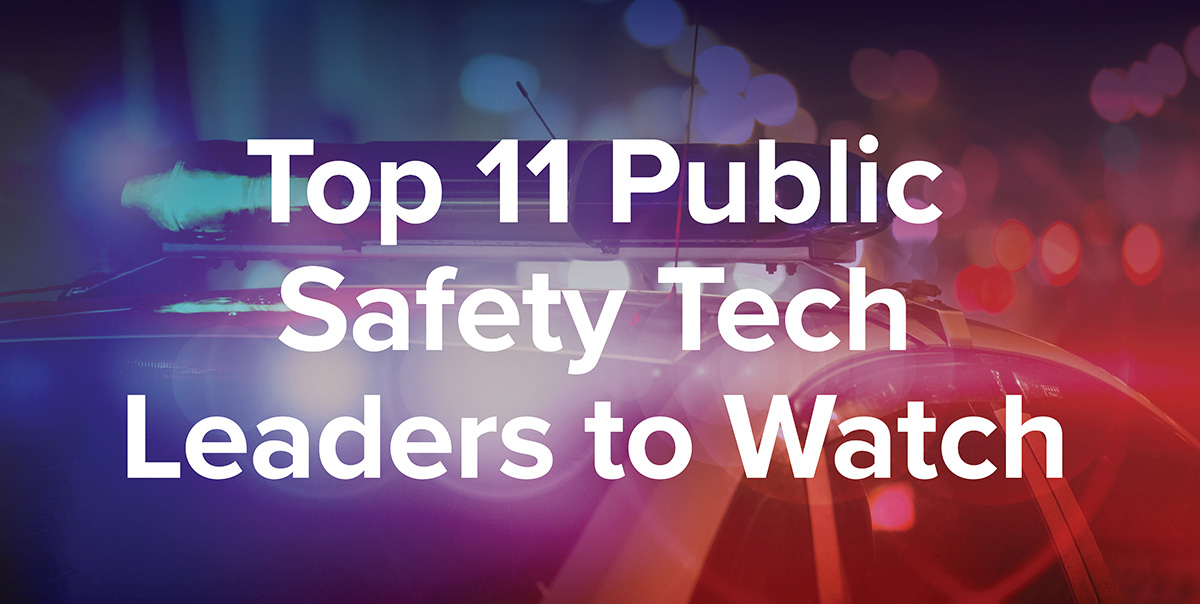 Public safety is an often overlooked segment of the government ITlandscape, but its diminutive stature grows like the Hulk when there's trouble.
The technologistswho prepare for the worst of times the terrorist attacks, natural disasters, and everyday crimes that threaten the safety and well-beingof the public are among government's heroes, building the information technology systems behind fire trucks and brass badges.
This technology saves lives.
But along with the rest of the technology world, public safety tech is evolving.From a new computer-aided dispatch system in Orlando, Florida, to a nationwide communications network being built by the federal government, systems are becoming more tightly integrated as media-rich content and data coalesceto help decision makers understand their organizations and their environments in a more comprehensive way. New wirelesstechnologies are helping workers in the field stay connected to their compatriots and the data they need to make quick decisions, while the increased availability of tools and devices is widening access to information and resources to a wider segment of the population.
The public safety tech leaders showcased here tell pieces of this largely untold story, unfolding in counties, cities and states across the nation. The men and women in this listwere chosen for their dedication to their work and their willingness to share it with the community at large for the betterment of their country.
Here are StateScoop's 11 Public Safety Tech Leaders to Watch:
---
Rosa Akhtarkhavari
Chief Information Officer
Orlando, Florida
In support of the Orlando Police Department's "intelligence led policing" initiative, city Chief Information Officer Rosa Akhtarkhavari is overseeing the launch of a new joint police and fire computer aided dispatch (CAD) system.
A single solution will replace two old systems used by fire and police, enabling access to shared data.
"Having a single CAD system for both agencies will improve joint response logistics and enable dispatching across organizations," Akhtarkhavari said. "In addition, police and fire leaders will have real-time oversight and public safety operations monitoring capabilities."
The implementation will include a traditional dispatch, along with mobile computer dispatch, automatic vehicle locator (AVL) functionality, and several other new features for public safety.
The main objective of the project is to optimize public safety response, Akhtarkhavari said, but it also serves to assist with planning and prevention, as the city begins using CAD data in the realm of predictive crime fighting and fire safety analysis.
Why is this project important?
It has long been considered that an optimized CAD and Mobile system could improve performance in the citys police and fire principle missions to protect and serve. The new CAD will utilize historical incident and call information, as well as intelligence information derived from other systems such as body-worn cameras, IP camera surveillance, and other city-owned IP cameras, enabling the dispatchers, police officers and firefighters to respond using recommendations based on accurate, immediate information and live video feeds.
Due to the importance of this project, the city is moving away from utilizing the traditional request for proposal (RFP) method to a more robust invitation to negotiate (ITN) procurement process. The new process will enable the city CAD project negotiation team to recommend a negotiated solution that would provide best function and value to the city.
How do you imagine this project developing in the next couple ofyears?
We are targeting a complete implementation of the new police and fire CAD system within the next 24 months. During that time, the body-worn camera deployment and the redesign and implementation of the citys surveillance camera system will also be completed. When fully executed, the systems will operate as designed to employ the use of edge analytics and predictive analyses in public safety operations to optimize incident responses, and contribute data-driven intelligent planning and crime prevention. The implementation of agile technologies and processes is intended to address todays need and take us beyond the next generation of 911. As such, we believe the experience, commitmentand focus of the Orlando public safety leadership will serve as a model of efficiency in protecting and serving the citizens and the visitors of Orlando.
---
Emily Allen
Digital Engagement Coordinator
Maryland Emergency Management Agency
For Emily Allen, thedigital engagement manager ofMarylands Emergency Management Agency, social media is the key to getting all citizens engaged and connectedduring events where confusion and chaos overwhelm.
Through two main initiatives, Allen and her team actively work to engage Maryland citizens in times of crisis whether its a natural disaster or an emergency declaration like the opioid epidemic.
Allens first project is with the private social network company Nextdoor,which the state is using to sendinformation and alerts to targeted geographic areas in the state. MEMA is the first state emergency management agency in the nation to tap into Nextdoor.
Just over the last few months, Allen said the state has pushed Nextdoor into action to prepare residents for severe weather.
We got some feedback from people who said, I had no idea that there was even severe weather on the horizon, so we knew right then and there that this is definitely the direction that we want to take the agency, Allen said.
In addition to the work with Nextdoor, Allen is tackling a bigger task across state government and even social media in general. Last month, Allen and her colleagues at the Maryland Department of Disabilities presented at the Government Social Media conference in Dallas about their work on making social media more accessible for individuals with vision, hearing, motor function, language, cognitive and other disabilities.
Moving forward, Allen and her team are partnering with Hootsuite to help integrate disability options into the companys social media platform to make it easier for governments and others to focus on making content accessible to those with disabilities.
Why are theseprojects important?
We are the first state emergency management agency in the nation to partner with Nextdoor and we are excited for the different ways we will be able to engage and work with our fellow Marylanders on this platform. Most importantly, it is a free tool our citizens can use. This platform also allows all levels of government to become more transparent with their citizens. It's that idea of putting a face in place of a badge and letting the public know who you are and why you care. I am always looking for new ways for MEMA to reach, engage, and communicate with our fellow Marylanders and this is another great tool for us to add to our social media and public information tool box. We plan to use it for preparedness messaging before, during, and after emergencies, weather alerts, and actions that public should take to prepare their family, friends, and neighbors for disasters.
On the accessibility issue, a social media audience includes people with disabilities. We are focused on how people can"fill the gaps"on the different types of social media platforms that might not have accessibility features built in. For example, Twitter has an image descriptionfeature that is built into its platform that allows users to explain a photo. A screen reader can see this information and read it back to someone who is blind, but to someone who has sight, they do not see that image description. Other social media platforms do not have this type of feature.
How do you imagine theseprojects developing in the next couple of years?
With the Nextdoor partnership, it is my goal in the next few years to get all of our local emergency management agencies on the platform and engaged with their local citizens.They are the true leaders in their area and know what matters most to their citizens. For example, if a particular street or area is known for flooding, they have that knowledge and can proactively send out preparedness tips to residents in that specific area. Many people who come to our social media platforms do not know they have a local emergency management agency that can answer their location specific questions. We work together 24/7/365 to make sure that the people we serve and work for the great citizens of Maryland are safe and prepared for tomorrow's emergencies and disasters.I firmly believe this partnership with Nextdoor will help us achieve that bigger goal ofpreparedness together.
When it comes to social media accessibility, I am hoping to have all state and local governments embrace this idea and process so all content shared via social media is accessible to everyone.It is so important to ensure everyone can read and understand your messaging. I have my leadership's support and blessing on this initiative and that has made this undertaking a joy to work with and be a part of. The feedback from our social media followers has been overwhelmingly positive. You just have to start, keep it going, and it will become second nature.
---
Murat Altun
Co-Founder
NEIF
In New York, the creators of an app called NEIF are showing that public safety is a two-sided effort.
Murat Altun, aformer cultural anthropology adjunct faculty member at New York University (NYU),and hisfriendAlfredo Aldereteare building what they call a "question engine" for New Yorkers who may be among those least likely to want an encounter with police.
"We believe that NEIF will contribute to the public safety, first in NYC then other participating sanctuary cities because it aims to restore the relationship of trust between local law enforcement and the undocumented immigrant communities," Altun said.
By giving immigrants a tool to ask questions and receive quick, factual answers, Altun said he hopes to build a comfortable environment for city residents through an appthat may someday spread to other sanctuary cities throughout the nation.
The project's name, Altun explained, is a phonetic spelling of Naomh, an Irish Gaelic word meaning saint.
"A Catholic priest who assists undocumented immigrant members of his church is the source of inspiration," he said. "When we were looking for a name for our product, he told us the story of St. Patrick, [who] was sold to slavery and then became the patron saints of immigrants."
Why is this project important?
Immediately following the inauguration of Trump, we observed signs of concern among immigrant New Yorkers. Their solution to their immense feeling of fear has been to confine themselves in the safer networks of their neighborhoods and social media. We have thought that this should change because the immigrant New Yorkers detachment from their city could damage both their personal grow and the citys cosmopolitan and diverse character.
How do you imagine this project developing in the next couple ofyears?
Tough question. With NEIF, we aim to build a community. As with any community, our foundation is based on mutual trust. How can we build it? We believe that our users will get more confident with their lives in NYC by simply honing their already existing skill: asking questions. When we started NEIF in early 2017, our initial plan was to help immigrant New Yorkers with alleviating their feeling of fear and stress. Now, we are looking forward to seeing how it could contribute to lives of many in their hard yet rewarding journey to become New Yorkers and Americans.