StateScoop names top state IT, cybersecurity leaders with annual StateScoop 50 Awards
StateScoop names top state IT, cybersecurity leaders with annual StateScoop 50 Awards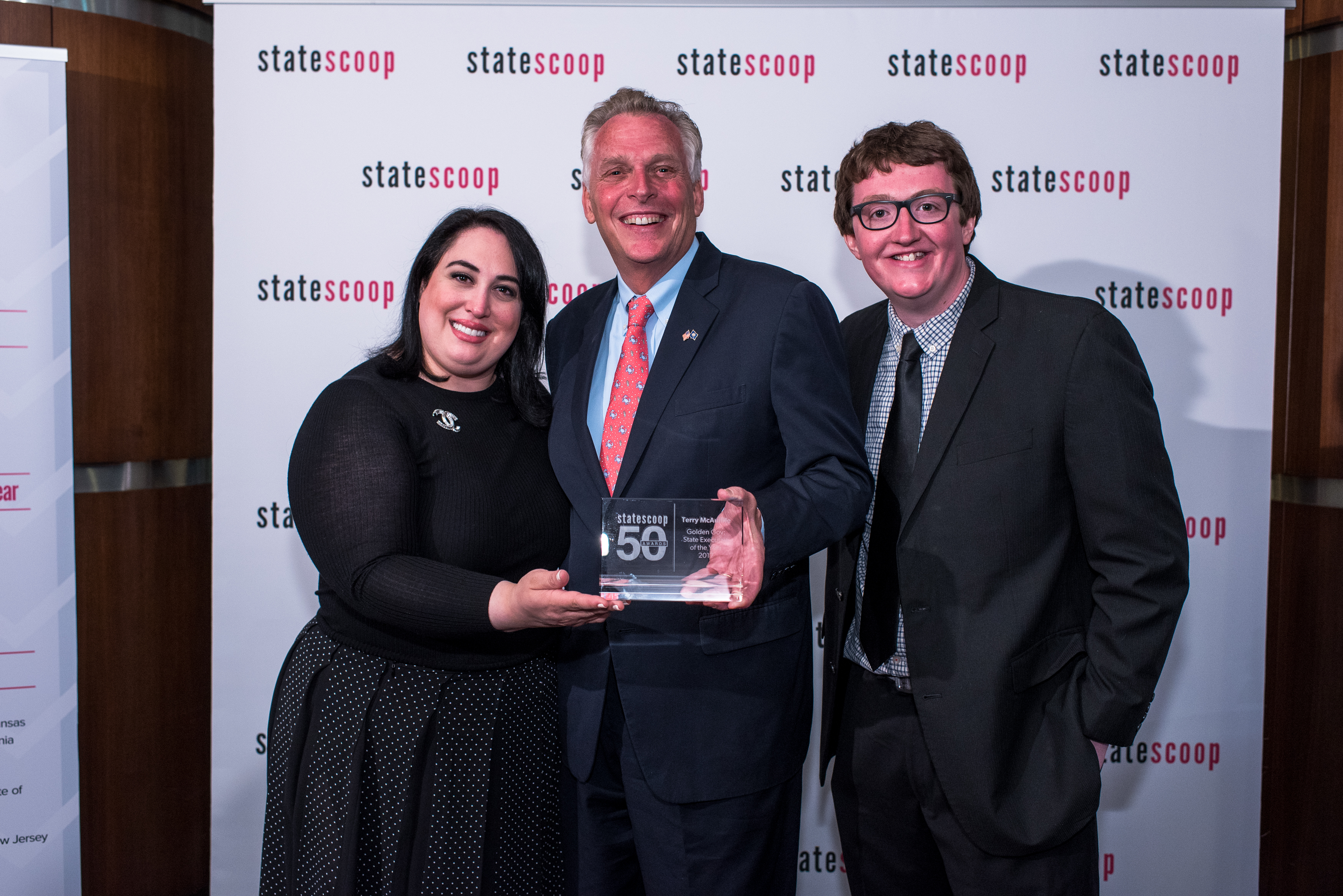 The 2017 winners of the StateScoop 50 Awards, which highlight the best and brightest in the state ITcommunity, were announced Sunday at a reception inCrystal City, Virginia, to help kick off the National Association of State Chief Information Officers' midyear conference.
For the fourth year, the StateScoop 50 awards honored state government information technology executives, leaders, industry influencers,up-and-comers and innovative projects. Andfor the first time, the awards honored cybersecurity leaders across state government.
Members of the state and localIT community nominated thousands of government leadersin March, 2017. StateScoop narrowed the list to the top 150 with the most nominations and StateScoop readers cast more than 100,000 votes nationally in April to select the final 50 2017 winners.
As a team, we are so committed to this community and have built many deep relationships across the country with top leaders in government IT,"said Goldy Kamali, founder and CEOof Scoop NewsGroup, StateScoop's parent company."We are honored to recognize the distinguished leaders across the state IT community who have made important contributions to their governments, their citizens and the country as a whole in the past year."
"Every year, as we compile the nominations for the StateScoop 50 Awards and open up for voting, I'm amazed at how incredible this community is," said Jake Williams, StateScoop's manager of strategic initiatives. "The winners of these awards are among my biggest inspirations, and are made up of folks who are working every day to make government better. We're honored to know them, to recognize them, and to highlight their dedication to public service."
The 2017 StateScoop 50 winners are:
GoldenGov:State Executive of theYear
Darryl Ackley, Chief Information Officer, NewMexico
Barbara Brohl, Executive Director, Department of Revenue, Colorado
JamesCollins,Chief Information Officer, Delaware
Yessica Jones, Director, Department of Information Systems, Arkansas
Gov. Terry McAuliffe, Virginia
Ed Toner, Chief Information Officer, Nebraska
Amy Tong, Chief Information Officer, California
Archana Vemulapalli, Chief Technology Officer, Washington, D.C.
Dave Weinstein, Chief Technology Officer,New Jersey
State Leadership of the Year
Michael Allison, Chief Technology Officer, Louisiana
Dannette Matthis, Deputy Chief Customer Officer, Colorado
Liz Rowe, Chief Data Officer, New Jersey
Thomas Schaeffer, Deputy Commissioner, Minnesota
AnilSharma, Chief Network Officer, Washington, D.C.
Pat Snow, Chief Technology Officer, South Dakota
Maj. Michael White, Assistant Chief of Staff, Information &Communications,Indiana State Police
Spencer Wood, Chief Operations Officer &Deputy Chief Information Officer, Ohio
State ITInnovation of the Year
Appellate eFiling System, Supreme Court of Nebraska
Arkansas Public SchoolComputerNetwork, Arkansas Department of Information Systems
CCHCSElectronic Health Record System, California Correctional Health Care Services
Enterprise Resource Planning, Illinois
Iowa Department of Transportation,Iowa
Maryland Uniform Commercial Code Online System, Maryland Department of Assessments &Taxation
Michigan Cyber Civilian Corps, Michigan Department of Technology, Management &Budget
NewJersey Criminal History Record Request, New Jersey State Police
Utah.gov, Utah
Virginia Alcohol Safety Action Program Payment Portal, Virginia
WorkSourceWA.com, Washington Department of Employment Security
WVDEElectronic Application Processing, West Virginia Department of Education
State Up &Comer
Miranda Gladden, Data Processing Manager III, California
Suzanne Pauley, Director, eMichigan, Michigan
Billy Rials, State Enterprise Architect, Mississippi
Andy Shirtliff, Small Business Advocate, Office of Economic Development, Montana
Brandon Williams, Chief Digital Transformation Officer, Colorado
Mike Wons, Chief Technology Officer, Illinois
State Cybersecurity Leader
Danielle Alvarez, Chief Information Security Officer, Florida
Frank Andrews, Chief Security Officer, Arkansas
Deborah Blyth, Chief Information Security Officer, Colorado
JohnGriffin, Manager, Enterprise InformationSecurity Operations Center, NewYork
David Kelly, Captain, Michigan Cyber Command Center,Michigan State Police
Peter Liebert, Chief Information Security Officer,California
Kirk Lonbom, Chief Information Security Officer, Illinois
Industry Leadership of the Year
Claire Bailey, Director of Federal, State &Local Solutions, Compuware
Brenda Decker, Director of Global Government, IBM
Jim Falvey,Senior DirectorSLED, VMWare
Bill Kurtz, VP, Public Sector, RSA
Jennifer Nowell, National Director for State, Local Government &Education, Symantec
David Smith, National Director, State &Local Government, Citrix
Richard Spires,CEO, Learning Tree International
Allan Wong, Director, SLED, Dell EMC