Scientific collective calls for paper-based voting machines, no more internet voting
Researchers from NASEM highlight the need for secure and verifiable voting systems and urge Congress for new mandates and funding.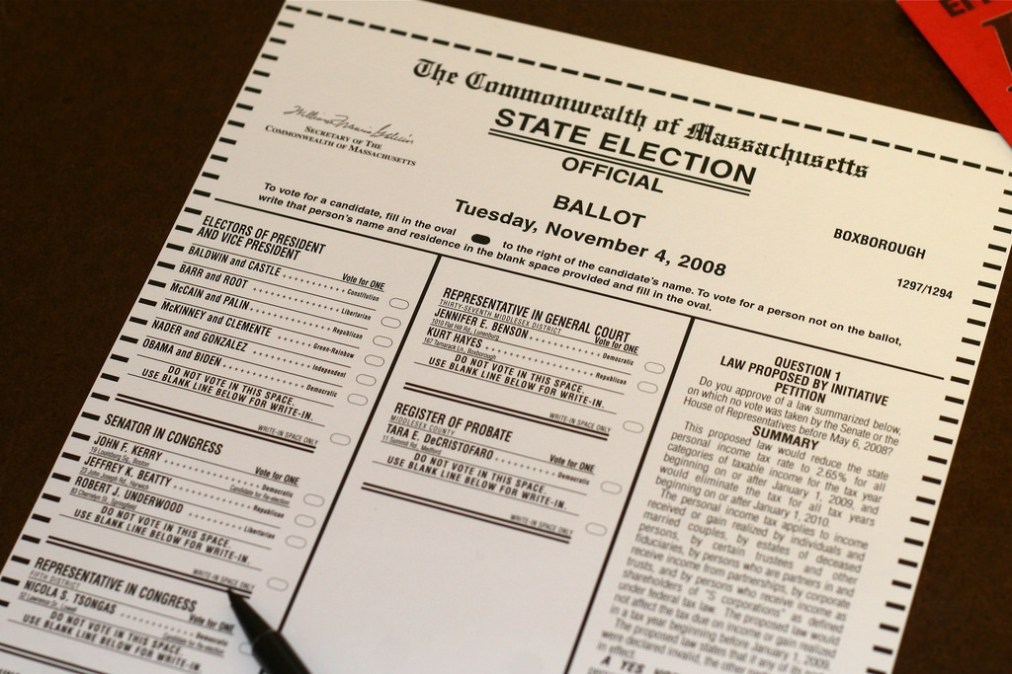 The United States should stop holding elections conducted without human-readable paper ballots as soon as possible, urges a report published Thursday by the National Academies of Sciences, Engineering, and Medicine.
In a press release announcing the NASEM report , Lee Bollinger, president of Columbia University and co-chair of the committee that produced the report said "this is a critical time for our country" and called on all levels of government to prioritize the use of paper ballots.
NASEM's recommendations are all oriented around ensuring that election infrastructure is not vulnerable to tampering and that results can be verified. Chief among the recommendations is that all voting machines that do not create a paper trail allowing for independent auditing be "removed from service as soon as possible."
The report follows two years of federal and state activity centered on protecting election systems from foreign meddling, specifically groups linked to Russian intelligence agencies. State chief information officers first got a warning from the Department of Homeland Security in August 2016 about potential outside attacks, and federal agencies have increased their attention on the issue throughout 2018.
Many states are now working to introduce paper trails into their elections infrastructure ahead of the 2020 election, thanks to $380 million in funding from the federal Election Assistance Commission. Secretaries of state have acknowledged the importance of a paper trail, with Minnesota's Steve Simon recently quipping that "it's very hard to hack paper."
Keith Ingram, president elect of the National Association of State Election Directors and Texas' director for elections, said on Thursday that making such a transition to paper-based machines is possible, but, "like everything else, it just takes money. Here in Texas, it would take quite a bit of money."
Ingram estimated that in addition to approximately $180 million already spent by the state to update its elections infrastructure, an additional $180 million would probably be needed for the transition.
The report also calls for state mandates on "risk limiting" audits prior to the certification of election results. Such an audit, researchers say, requires a hand examination of as few as several hundred ballots in an election containing tens of millions of votes.
Internet-based voting systems, the report says, should not be used in any form until they can someday be verified as trusted and secure. Internet-based voting is rare in the United States, but West Virginia is currently experimenting with allowing overseas voters to vote online via a blockchain-based technology, and intends to permit use of the technology for overseas voters this November.
Researchers also make several firm recommendations to Congress in the report, including one to appropriate new funds for distribution by the U.S. Election Assistance Commission to continue election systems upgrades and fulfill all of the recommendations made in its report.
It also recommends Congress "authorize and fund immediately" an initiative that supports research of how the country conducts its elections, including "academic centers to foster collaboration both across disciplines and with state and local election officials and industry."
Rough beginnings
Collaboration across levels of government and sectors is both a key overarching recommendation of the report and a reality of the work that's been done the past two years to improve the nation's election systems.
In a webinar hosted by the National Association of State Chief Information Officers on Thursday, Geoff Hale, director of the Election Task Force for the Department of Homeland Security, said that while DHS may have "stumbled into this space working with election officials," the country is now "miles from where we were in 2016."
He noted that 38 states have "confirmed and validated" that their elections infrastructure is equipped with an Albert monitor, a network intrusion detection system that allows for fast response in the event of a security incident. Among those, however he said, about half have been a repurposing of the state's existing network architecture, while the other half have been the deployment of new sensors.
Lately, Hale said, DHS has been working more closely with county officials and to date DHS has held thousands of meetings with localities just on the topic of information sharing, which has proven a key component of advancing security for elections systems.
Ingram agreed that the relationship between state and local government and the DHS had "a rocky beginning" after breaches were first suspected in Arizona and Illinois and then-DHS Secretary Jeh Johnson reached out to state CIOs to explain the situation.
"That call did not go particularly well," Ingram recalled.
The trouble came, Ingram said, because state CIOs aren't necessarily the right point of contact for elections systems. But since then, he said, federal agencies and state and local government have worked to establish direct lines of communication to election officials and things are going "much smoother" now. To date, more than 1,000 of the country's 9,000 local election offices have joined the Center for Internet Security's Elections Infrastructure ISAC . Hale agreed that establishing communications protocols has been "transformative" for the elections security effort.
In Texas, Ingram said he's working with Todd Kimbiel, the state's CIO, and knows that similar relationships exist in some other states.
Cross-state collaboration is happening, too. In August, 44 states joined for a three-day election security exercise administered by DHS and other federal agencies. It's proof that unprecedented and collaborative work is being done in election security, Ingram said.
"I've been in this job for six years, eight months and one day," Ingram said, "and I never in my wildest dreams thought about having a nationwide tabletop exercise on election threats with all kinds of agencies from the federal government."
The National Academies of Sciences Engineering and Medicine's report — entitled 'Securing the Vote: Protecting American Democracy' — can be downloaded freely from its website .