Written by
Ryan Johnston
Louis Stewart, Sacramento, California's first chief innovation officer, confirmed Friday that he plans to step down Sept. 9.
Stewart, who was appointed as interim chief innovation officer in 2017 and given the permanent role in 2018, will continue to work on technology and innovation in a new private sector job, he told StateScoop. According to the Sacramento Business Journal, Stewart has accepted a position with the Santa Clara, California-based video graphics company Nvidia.
During his tenure, Stewart — a native of the California capital — oversaw the city's Innovation and Growth Fund, a $10 million plan designed to promote regional technology growth and improve civic engagement in making the city "a leader in global innovation," Mayor Darrell Steinberg said at the time of Stewart's hire. To realize the goal, Stewart and Steinberg launched the Sacramento Urban Technology Lab, or SUTL, in 2017 as a platform for government to test economic, environmental and transportation pilot programs in city neighborhoods alongside academia and the private sector.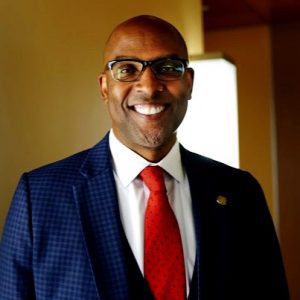 "If we're trying to do climate change, we're trying to make sure that we're talking to companies, and working with the universities to develop and implement strategies around climate change and sustainability that will help the city and the community and the region thrive," Stewart told StateScoop last year. "Ultimately, the civic tech piece is the most important piece."
Stewart also made it a point to ensure that projects from the Mayor's Office for Innovation and Entrepreneurship, of which he was the first director, made Sacramento a more equitable place for communities that may not have had access to technology in the past. As mayor, Steinberg said he didn't allow the word "gentrification" in his office because economic growth should benefit the many, not the few. Likewise, Stewart said he's proud of putting Sacramento "on the map" with technology startups via the SUTL framework, but he also told StateScoop last year that government has to move at the same pace as the technology it uses.
"[Government] has to make sure that it's answering the needs of the community and especially reaching into the neighborhoods where underserved communities haven't benefited from a lot of the advances in technology, advances in economic development over the years," Stewart said.
In dealing with the coronavirus pandemic, Stewart said Friday that the rapid transition to remote learning, working and health care has opened up an opportunity for the city to invest in building a workforce that's equipped to work in cybersecurity and "internet of things" technologies.
Right now, he said, Sacramento residents can look at the city's new "COVID Innovation Portal" for ideas to help "mitigate or stabilize" adverse economic or public health effects of the coronavirus, which he's optimistic will continue to help the city after his departure.