Seattle's new data dashboard highlights city performance
"Performance Seattle" is part of Mayor Jenny Durkan's call to improve accountability and build "the city of the future."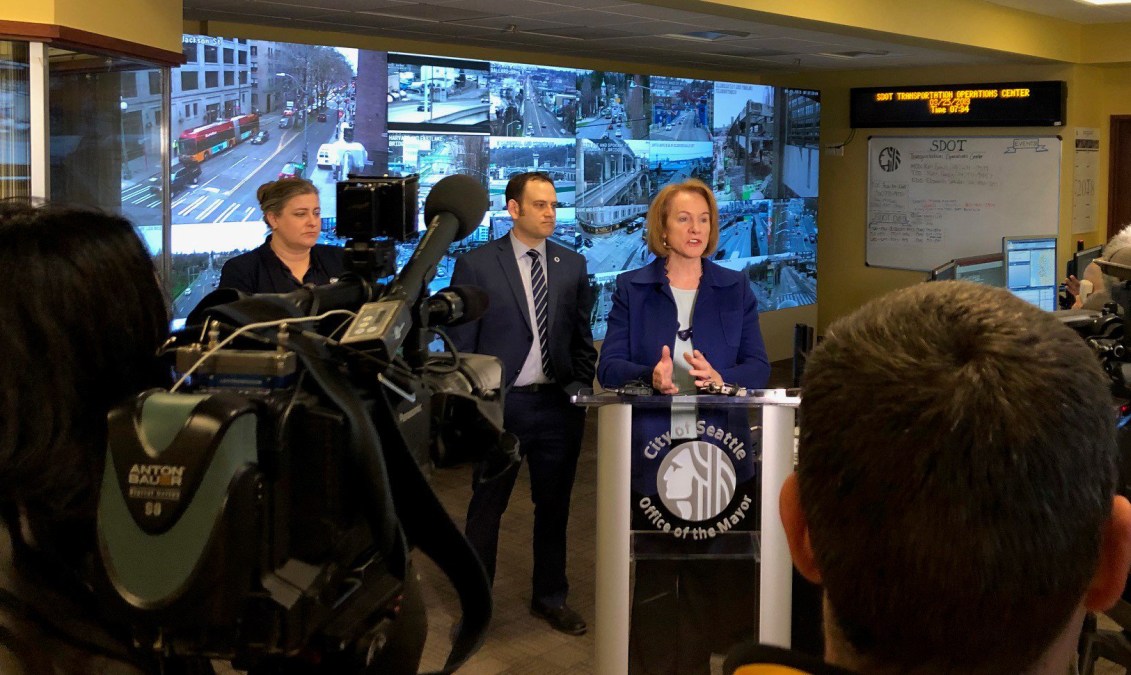 The office of Seattle Mayor Jenny Durkan launched a new performance dashboard Wednesday, providing residents both a central hub to access information about the city's many services and a series of data visualizations showing well the city is delivering on its promises.
The new website, called Performance Seattle, uses charts, maps and descriptions of its goals to provide a window into the city's performance across seven domains, such as homelessness response, capital projects, and "future of work."
The dashboards page for "Safe and Healthy Communities," for example, starts by providing links to citywide initiatives, such as Alert Seattle, a service that allows users to sign up for emergency notifications that are delivered by text message, email, voice message or social media. The page then runs down a series of metrics, showing, for instance, that the city's emergency medical service personnel are able to reach the scene within four minutes (Seattle's current target time for response) 75 percent of the time.
Dense descriptions of the city's methodology and reasoning for its goals follow. The city explains that the four-minute response target was set, for instance, based on the National Fire Protection Association Standard 1710. According to a press release from Durkan's office, this level of transparency into the city's operations is intended to boost confidence in the local government, improve agency performance and ultimately help build "the city of the future."
"Understanding and leveraging the data that cities like Seattle generate everyday is an vital challenge – it will enable us to be accountable, improve services, and generate better outcomes for everyone," Durkan said in the press release. "We are showing how we are improving access to frequent transit, building affordable housing, reducing greenhouse gas emissions, meeting targets in our delivery of basic City services, and increasing people's access to critical services and supports."
Data performance dashboards are an increasingly popular way for state and local government agencies to encourage improvement in services and heighten accountability as data proliferates and cities are able to set specific targets rather than simply outlining broad goals. The Cook County, Illinois, State's Attorney Office, for instance, launched a dashboard earlier this year designed to help policymakers better understand the region's most serious crimes.
Policymakers care about major issues like crime, said Matthew Saniie, the state attorney's chief data officer, but without data that's presented in an understandable way, "they don't necessarily get the whole picture."