NYPD plans drone response to backyard parties, festivals over Labor Day weekend
The NYPD said it will respond to complaints about large, backyard parties over Labor Day weekend with surveillance drones.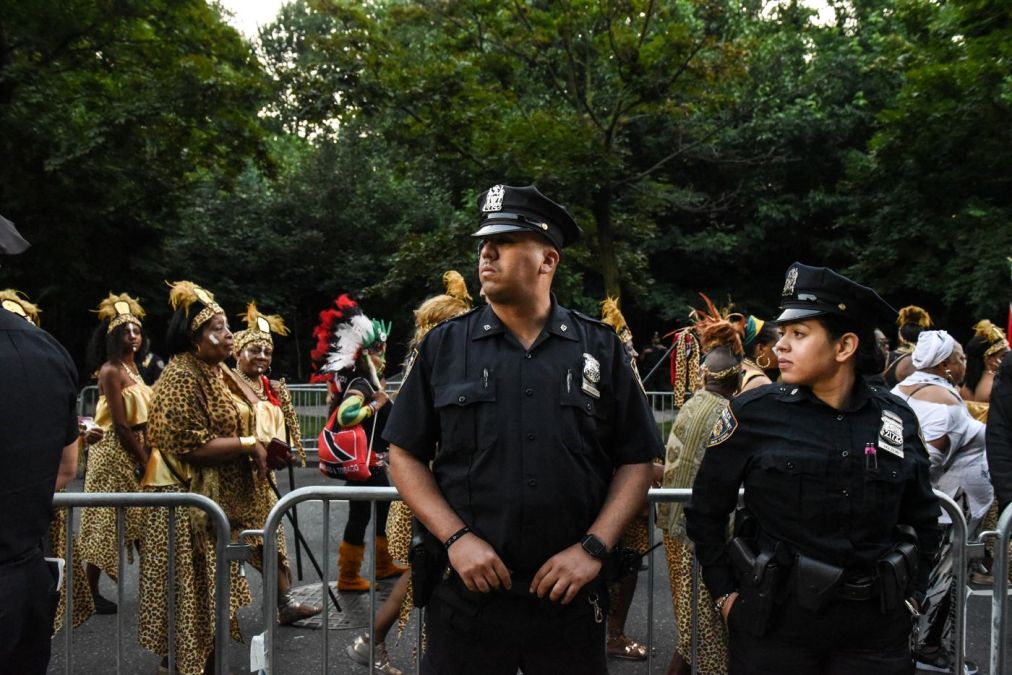 The New York City Police Department said it will deploy its drones over Labor Day weekend in response to calls and complaints about large gatherings, including private events hosted in backyards.
Kaz Daughtry, assistant NYPD commissioner, announced the plans during a Thursday press conference regarding safety and security measures for Labor Day festivities, as well as the traditional Caribbean J'ouvert festival and the West Indian Day Parade. He said the drones will be used to respond to "non-priority calls and priority calls."
"For example, if we have any 3-1-1 calls, our non-emergency line, where if a caller states there's a large crowd, large party in the backyards, we're going to be utilizing our assets to go up, to go check on the party to make sure if the call is founded or not," Daughtry said during the conference. "We'll be able to determine how many resources we need to send to that location for this week."
In response to the NYPD's announcement, the New York arm of the American Civil Liberties Union criticized the department's planned use of drone surveillance. Daniel Schwarz, a senior privacy and technology strategist at the New York Civil Liberties Union, called the practice discriminatory and potentially unconstitutional.
"Deploying surveillance drones over New Yorkers gathering with their friends and families to celebrate J'ouvert is racialized discrimination and it doesn't make us safer," Schwarz said in the statement. "The NYPD is playing fast and loose with our First and Fourth Amendment protections and continues to undermine the POST Act requirements to transparently disclose their surveillance technology policies — and follow them."
Transparency concerns
In a recent report the ACLU called for more transparency on "drones as first responders," or DFR, programs. In New York City, the Public Oversight of Surveillance Technology, or POST, Act requires the NYPD to publish impact and use policies for the surveillance technologies used by the department.
A department patrol guide procedure shared with StateScoop indicates there are limited circumstances in which the NYPD can use drones. It forbids deploying drones "where there is a reasonable expectation of privacy (e.g. to look inside of residence)." One approved scenario is "monitoring vehicular traffic and pedestrian congestion at large scale events."
The department's policy on monitoring activity in backyards, however, is unclear. Some courts have ruled backyards carry a reasonable expectation of privacy.
The department's policies also allow drones to be used for a "a pre-warrant execution safety survey," but when conducting any surveys before a warrant is issued, the policies state, "UAS operators shall take all necessary precautions to avoid capturing video or images of areas not named in the search warrant."
NYC to become the 'leader' on drones
In a press conference Friday, Mayor Eric Adams said the NYPD will over the long weekend use drones in response to the expected large volume of calls about "loud music, disruptive behavior" — not to see into people's backyards.
"Instead of the police having to respond and look at those, they're going to utilize the drones from a safe distance up — not down flying in someone's backyard to see what they have on the grill," Adams said.
Adams said that the NYPD will use drone imagery to assess whether or not to send officers to a location. He also said that while the NYPD lags behind other police departments in implementing a "drones as a first responder" program, he said the city will become a leader.
"This is a smart, excellent tool and I really take my hat off to the police commissioner and how his team — particularly assistant commissioner Kaz Daughtry," Adams said. "They traveled around the country, looked at other police departments and unfortunately we were not leading. We are now going to become the leader in how to properly use drones."