New York City's algorithm task force to hold first public meetings nearly a year after creation
The first public meeting is scheduled for April 30, but transparency advocates say the city has been slow to open its discussions to the public.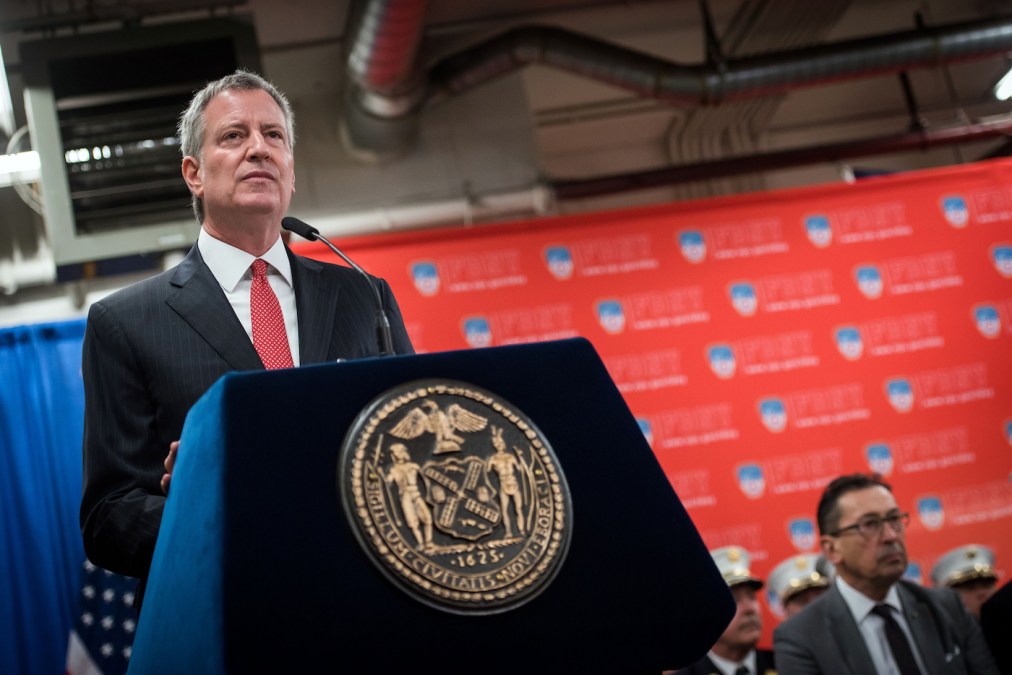 A New York City task force to investigate whether algorithms the city uses to make decisions surrounding policing, housing, education and other areas results in racially biased policies will hold its first public meeting next month, nearly 12 months after Mayor Bill de Blasio first announced the panel's formation.
The Automated Decision Systems Task Force, as the 18-member group is called, will convene its first public forum April 30 at New York Law School in lower Manhattan.
New York, like many local governments, uses algorithms to help officials predict where crimes will occur, schedule building inspections, and place students in public schools. But the use of automated decisions to drive policies has come under recent scrutiny for sometimes exacerbating the problems they are designed to alleviate. The legislation that prompted the task force's creation came about after a member of the City Council read a 2016 ProPublica report that found that law-enforcement algorithms used around the country — including in New York — frequently assign higher risks for recidivism to blacks than to whites, often leading to police failing to catch white repeat offenders.
The issue was also thrust back into public view in January after U.S. Rep. Alexandria Ocasio-Cortez, who represents parts of Queens and the Bronx, raised the problems posed by algorithmic biases during a Martin Luther King Jr. Day event with the writer Ta-Nehisi Coates. "Algorithms are still made by human beings, and those algorithms are still pegged to basic human assumptions," she said.
While New York officials say the task force — which is made up of university professors, nonprofit executives and members of de Blasio's administration — has been meeting "regularly" since its creation last May, the April 30 forum will be its first open to members of the public. (The panel does take submissions from the public through an online form.)
The lag in holding a public meeting has caught the attention of activists and open-government advocates, 12 of whom — including representatives of groups like the New York Civil Liberties Union and New York University's Brennan Center for Justice — sent the city a letter March 1 lamenting the lack of an open forum and pointing out that similar task forces elsewhere have convened publicly.
"While we recognize the City has since developed a webform and email address for residents to share concerns with the Task Force, we believe these options must be supplemented with further avenues for public engagement that are accessible to a broader range of New Yorkers," the letter states. "Additional avenues are necessary to empower the public to help determine how automated decision systems appeals processes are structured, how the impact and harms of such systems might be measured, and which systems should, and should not, be classified within the automated decision systems definition."
The letter went on to remind city officials that while New York was the first jurisdiction in the world to impanel a task force to investigate algorithmic bias, other governments that have followed suit have already convened theirs in the open, including Vermont, which created a panel in September to review its use of artificial intelligence, and Pennsylvania, where the state sentencing commission held public meetings about the development of a new risk assessment system.
"Meaningful public engagement is pivotal to effective democratic governance because it provides policymakers an opportunity to hear diverse perspectives and to critically engage with the potential consequence of future decisions," the letter continues.
The New York task force's April 30 meeting will cover the development of the criteria for choosing which systems fall under the panel's purview, the process for determining whether an algorithm has a disproportionate impact on the basis of race or gender, and how to address those impacts if they're found to exist, according to a city press release.
"We are thrilled that these forums will provide the opportunity for the public to contribute to the task force's important and challenging work," Jeff Thamkittikasem, the director of the Mayor's Office of Operations who is chairing the group, said in the press release.
A second public meeting, scheduled for May 30, will focus on transparency.