New Jersey releases ambitious $10.2 million election security plan
The state plans new drills, a new official to coordinate cybersecurity between Trenton and counties, and a mobile app for voters as part of what it says could make for "one of the most advanced and secure election systems in the nation."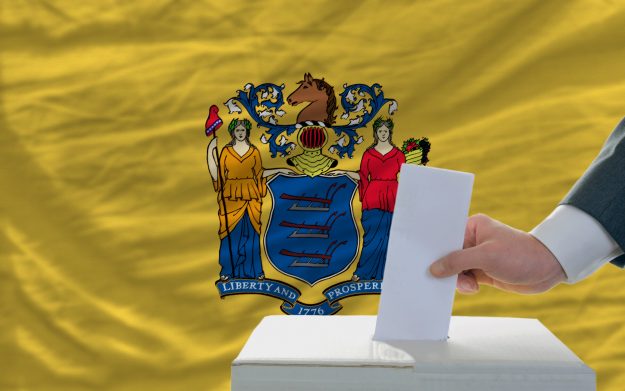 New Jersey officials announced on Friday detailed plans for how they intend to spend $10.2 million in federal and state funds designed to improve election security the next five years. The spending plan reveals what the state plans to do with the money it received earlier this year from the federal Election Assistance Commission, which distributed $380 million among every state and U.S. territory in the wake of foreign attempts to interfere in the 2016 presidential election.
Much of the money New Jersey received will go toward cybersecurity, state officials said in a press release Friday. The state has already started undertaking several activities designed to make its election systems less vulnerable to cyberattacks, including routine scans for improper network activity, reviews of the statewide voter registration system and tabletop drills conducted in conjunction with the U.S. Department of Homeland Security.
New Jersey was one of 44 states to participate in a national exercise earlier this week convened by DHS, that also included the National Security Agency and U.S. Cyber Command.
New Jersey's Cybersecurity and Communications Integration Cell is also collaborating with federal and local authorities, along with third parties, to improve the security of the state's voter file and other election systems. The office, state officials said, conducts continuous monitoring of systems, conducts vulnerability assessments and penetration tests, and provides security training to local elections officials.
"Improving New Jersey's current election infrastructure has been an ongoing process, which has included planned database upgrades and increased cybersecurity partnerships," New Jersey Secretary of State Tahesha Way said in a press release. "But this infusion of funding can help set the foundation for what we hope can be one of the most advanced and secure election systems in the nation."
From many analysts' perspectives, New Jersey currently has one of the country's least secure election set-ups, as one of five states that only use electronic voting machines that do not produce paper backups of voters' ballots. Direct-recording electronic devices, or DREs, do not allow officials do conduct post-election audits.
But replacing voting equipment statewide is a multiyear process, meaning New Jersey's DREs will be in use again this November. The state plans to use some of its EAC funding on a pilot program allowing county election officials to buy new, auditable equipment starting with the 2019 local election cycle. This also means New Jersey will have to develop an audit process — it's currently one of 16 states that do not require a post-election audit.
Swapping out all the DREs will take longer and cost much more than what New Jersey received from EAC. The Brennan Center for Law and Justice, a New York University think tank, estimated in March the state would need to spend between $40 million and $63.5 million to replace all its machines with new equipment that produces a paper trail, though one state official told StateScoop the cost could reach $80 million.
Cybersecurity, however, remains New Jersey's main focus. Along with the increased scanning and testing efforts, Way's office will fund an employee placed in either the state's homeland security or veterans' affairs agency to work solely on election cybersecurity. That person will be the state's liaison to county election boards to assist on security efforts and relay information about cyberthreats against voter files and other election components.
There's also at least one public-facing aspect of the spending plan. The secretary of state's office intends to develop an "election-specific" mobile app designed to help voters find "verifiable, trustworthy" information about elections in their communities, which could prove useful in a place like New Jersey, where state law allows the possibility of polls being open nine times a year between primary, general and special elections.