Mid-Atlantic states' IT agencies prepare as Hurricane Florence approaches
Technology officials in North Carolina and Virginia are bolstering emergency management agencies' resources and securing their data centers ahead of the storm.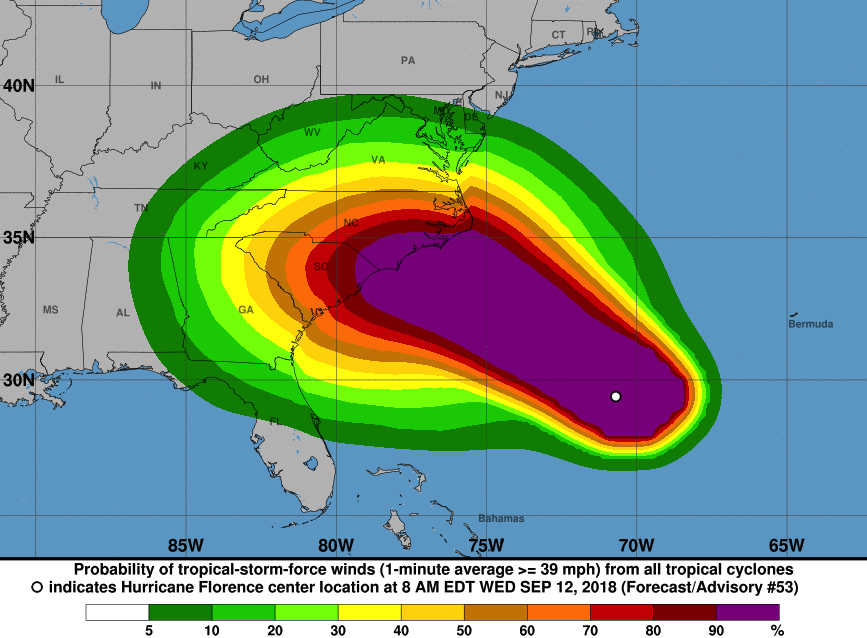 With Hurricane Florence expected to crash into the mid-Atlantic coastline Thursday, several states are racing to evacuate threatened communities and prepare their agencies to provide the services crucial to surviving and recovering from the storm. The Category 3 hurricane is expected to be one of the biggest on record to hit Virginia and the Carolinas, potentially causing as much as $170 billion in property damage, according to at least one estimate .
Florence also poses a major test of emergency management for at least three states, which in no small part includes their information technology agencies.
"Weather situations such as this are a test of the emergency preparedness of IT," Virginia Chief Information Officer Nelson Moe said, adding that the Virginia Information Technologies Agency, or VITA, has been working "around the clock" since last week when Florence was achieving hurricane strength near Cape Verde.
About 245,000 Virginians who live in the storm's path have been ordered to evacuate their homes, while more than 1 million in North Carolina and South Carolina have been told to flee. Meanwhile, Dominion Energy, the major electric utility in Virginia and North Carolina, expects many of its customers to lose power from Florence's intense winds and persistent rain, which could linger for days over a wide swath of the mid-Atlantic region.
In North Carolina, the state Department of Information Technology is bracing for inevitable power outages by supplying the Transportation and Environmental Quality departments with generators to keep traffic signals, road-alert signs and other critical equipment functioning, the IT agency told StateScoop. The department is also working with mobile carriers to deploy moveable cell towers — known as cellular on wheels, or COWs — to boost phone and date coverage in the worst-hit areas.
The Department of Information Technology, headed by North Carolina CIO Eric Boyette, also has a major presence at the state's emergency operations center, located at the North Carolina National Guard's headquarters in Raleigh. And even though the state capital is a couple hours' drive from the coastline, the National Weather Service is warning that inland areas could be inundated by several days of rain.
That's why the North Carolina IT Department is syncing its Raleigh data center with a second facility in Forest City, in the western part of the state, said Maggie Bizzell, an agency spokeswoman. She added that Boyette is also freezing any changes other departments make to their IT policies for the duration of the storm. "This reduces the risk to all customers for any potential outages," she said.
Back in Virginia, Moe said VITA is providing extra resources to the commonwealth's Department of Emergency Management, or VDEM, and Department of Social Services, which will be on the front lines of the storm response. The social services agency has already opened two shelters, while VDEM will be responsible for coordinating the movements of personnel across the state.
Moe's agency is also taking steps to protect its data center about a half-hour south of Richmond, bringing in fuel for backup generators and running tests of the facility's water pumps.
"I think we're as ready as we can be for the upcoming severe weather," Moe said.