In California, civil servants lead the way in open data use — panel
At an event held by the Data Coalition, California lawmakers and IT leaders talked about how the state could boost its efforts to tap data.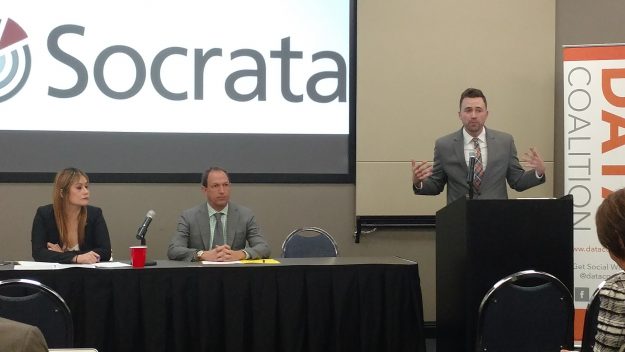 SACRAMENTO, Calif. — California civil servants are leading the way in open data use, even as the state as a whole drags its feet, according to panelists at the Data Coalition's California Data Day Tuesday.
Robb Korinke, a principal for California public affairs firm GrassrootsLab, lamented that millennials can find a date on their smartphone — but may have trouble locating some basic facts about their cities.
"This is kind of embarrassing that a state known for innovation is lagging," said Korinke, who moderated a panel at the event.
During the first panel of the event, Deputy Treasurer Jan Ross highlighted State Treasurer John Chiang's efforts to use his office to push for transparency.
"Chiang wanted government transparency and accountability. He didn't know that it was called open data. Then the city of Bell happened," Ross said, referring to revelations in 2010 that city officials of the low-income city misappropriated millions of tax dollars to pad their paychecks.
Soon after the news broke, the treasurer's office created a database of employees whose salaries are paid with tax dollars, she said.
Meanwhile, Republican Assembly Members Ling Ling Chang, who represents parts of Los Angeles, and Brian Maienschein, a representative of San Diego, said agencies must begin to work with each other and with local governments if the state is going to modernize how it uses its data. They cited decentralization and a lack of trust as two main reasons things haven't moved faster.
"The state was made to be decentralized," Special Assistant to the Attorney General Justin Erlich said. "Trying to unwind that and put the toothpaste back in the tube is challenging."
At the same time, panelists highlighted ways some agencies are experimenting with data.
The California State Treasury has a portal that allows users to see municipality debt, Ross said during the panel. Similarly, the Fair Political Practices Commission is looking to create a database from the 25,000 PDFs it releases annually on politicians' financial interests, Legislative and External Affairs Director Phillip Ung said.
Ung said his office gets so many requests for the documents, having an electronic database could save significant time and resources. And it could make it easier for politicians to submit their data.
"You never want to be in a position where you can't enact law because of a computer system," Ung said.